Planet of the Apes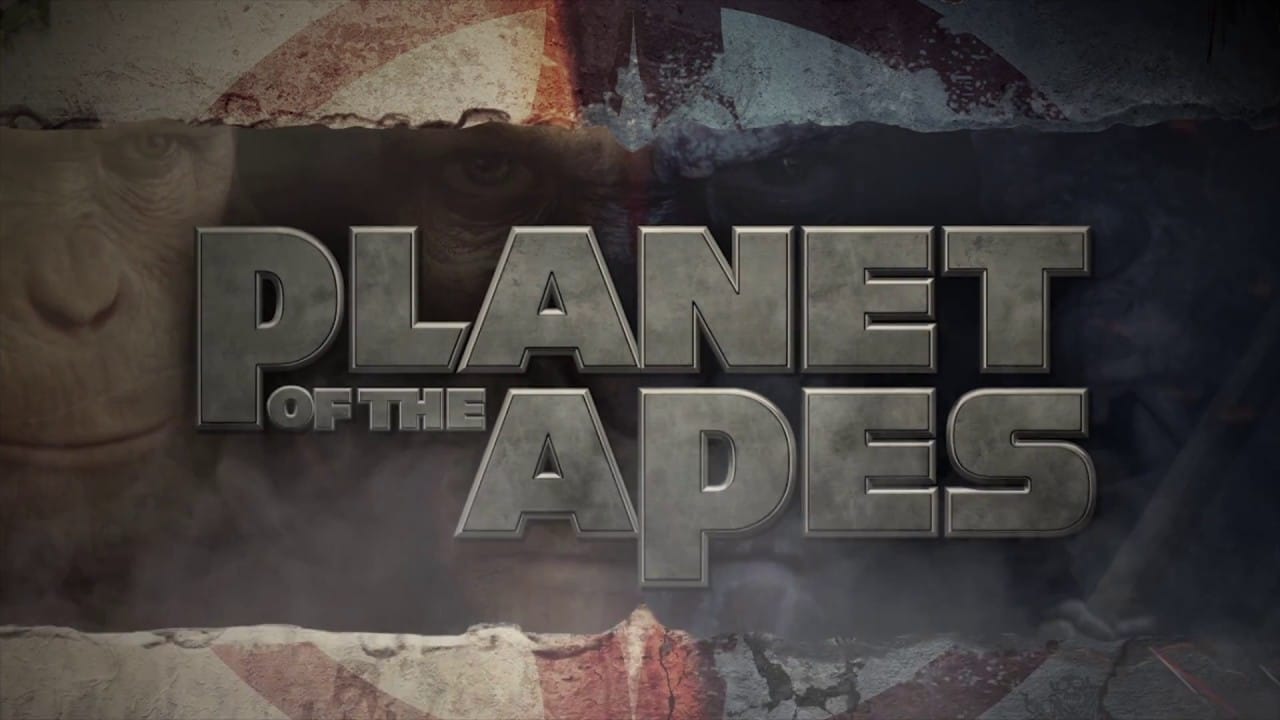 Heres a superb new new slots sites game from NetEnt. Make no mistake about it, the Planet of the Apes franchise is one of the biggest intellectual properties in the movie industry. The original Planet of the Apes movie was released all the way back in 1968, the movie was based on a novel that came out in 1963 so it only took 5 years for them to make the transition onto the big screen. The movie was groundbreaking in terms of a concept and story. The ending scene on the beach with the statue of liberty just peaking above the sand is an iconic image that has forever resonated with film audiences. There are a lot of concepts here that have been tried and tested thanks to the developers NetEnt's other Slots Games endeavours.
In fact, the movie was so good that it spawned many sequels as well as a rebooted series of films that this slot is directly based upon. The success of the movies has kept the name Planet of the Apes within the public limelight for decades. This success is why there happens to be a slot adaptation and it's probably the reason why it is so good compared to another slot/movie tie-ins. Now we should state this first and foremost, the developers NetEnt have gone above and beyond to catch lightning in a bottle by creating the perfect adaption of the movies in this slot. Compare this to other slots in the industry that are simply adapted cash grabs and you will fully appreciate the work put into this slot wholeheartedly.
The action and excitement of the Planet of the Apes franchise are played over 2 action-packed reels at once – an inventive way to create buzz around a slot. Expect to see symbols that feature both ape and human characters that all emote something different from behind the screen. Don't forget to check out our great slots promotions before you start playing.
This slot is one of action and excitement (think we've already said that but what the hell, let's say it again for added emphasis), the split screen aspect of this slot separates it from your regular bog-standard adaptation. In a lot of ways, this acts as 2 games in one, except you only put in one payment to see the outcome. Never have fans been able to appreciate both Rise of the Planet of the Apes, as well as Dawn of the Planet of the Apes simultaneously. We do suggest you have some knowledge of the movies before playing this title as there are spoilers here, and if anything, you'll appreciate all the little nodes they have implemented here for die-hard fans of these movies and the franchise. Both sides of this display are clearly marked out with a different colour scheme and overall pallet. The design is one of simplicity but then again there is beauty in simplicity isn't there. Pretty much anyone who has the good fortune of playing this title will be able to play it from simply looking at it from afar. This is no simple task and will require the utmost attentive player to traverse the reels to victory. There is a free games option which will allow players the chance of trying out the game without putting any money down which is a great incentive to get more players back for more. Like most NetEnt titles, this slot is mobile optimised making you able to play this slot from the comfort of your own home and beyond.
Quick Links: Jimi Hendrix Video Slot | Guns and Roses Video Slot  | Asgardian Stones | Viking Gods | Viking Fire | Thunderstruck 2 | Siren Serenade

The developer of Planet of the Apes Slot
In 1996 Net Entertainment was formed in Sweden as an offline casino operator, today NetEnt is one of the leading names in online gaming that now stretches worldwide. The ever-growing list of games that NetEnt have created have, if anything, inspired many other games within the market, this is something that is completely unheard of in modern-day gaming, where re-inventing the wheel can be difficult when there is already a set path of creating a successful slot. Since its inception, NetEnt has produced over a hundred titles, each with their own significant themes and experiences. These guys are tried and tested and have even stood the test of time itself, over a decade of entertainment and we're sure there will be decades more to come. NetEnt: the dynasty of the online gaming industry.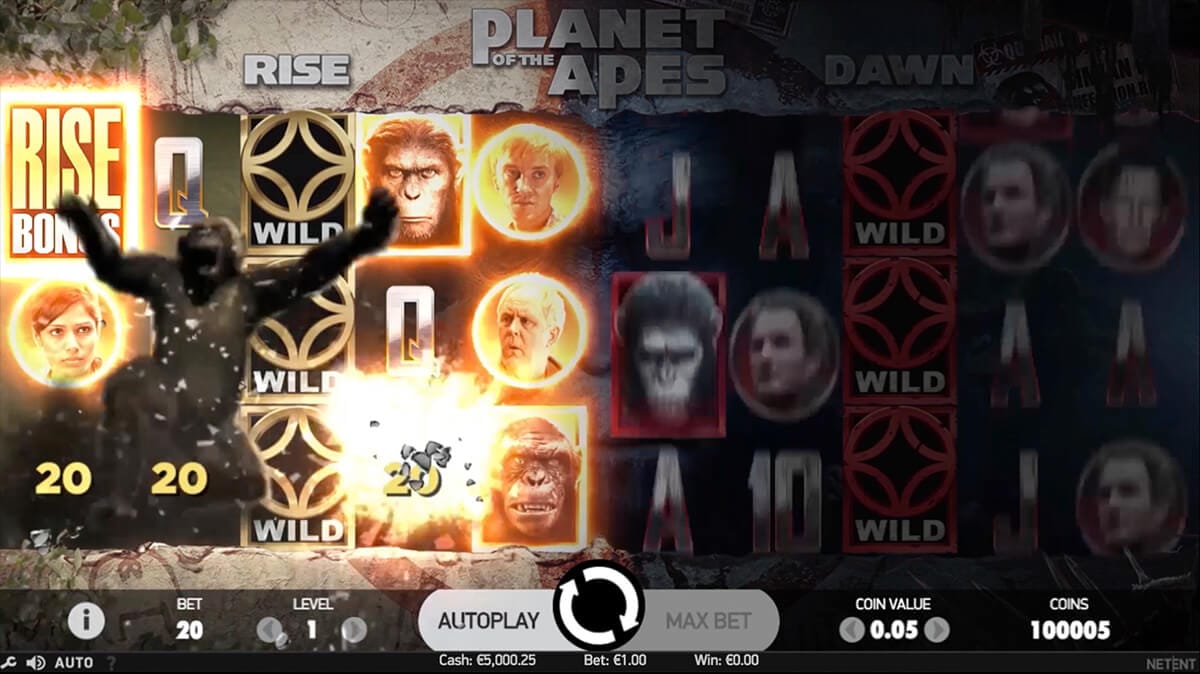 Gameplay Guide to this Ape Slot
We can't stress enough the ways in which NetEnt have managed to make 2 games at once work in perfect harmony. On paper, this idea seems lazy, almost like a way that the developers can just shovel in more features with little thought, but NetEnt has managed to succeed where others would have failed. Both mini-games feature 5 reels and 20 pay-lines. There are lots to see and do here and we encourage players to utilise the free games simulator beforehand just to gain a grasp of what it's like to play with so much action on the screen at once. Try not to get too dizzy and once you gain an understanding of what you see around you then you are ready to take it to the apes (or humans, you traitor).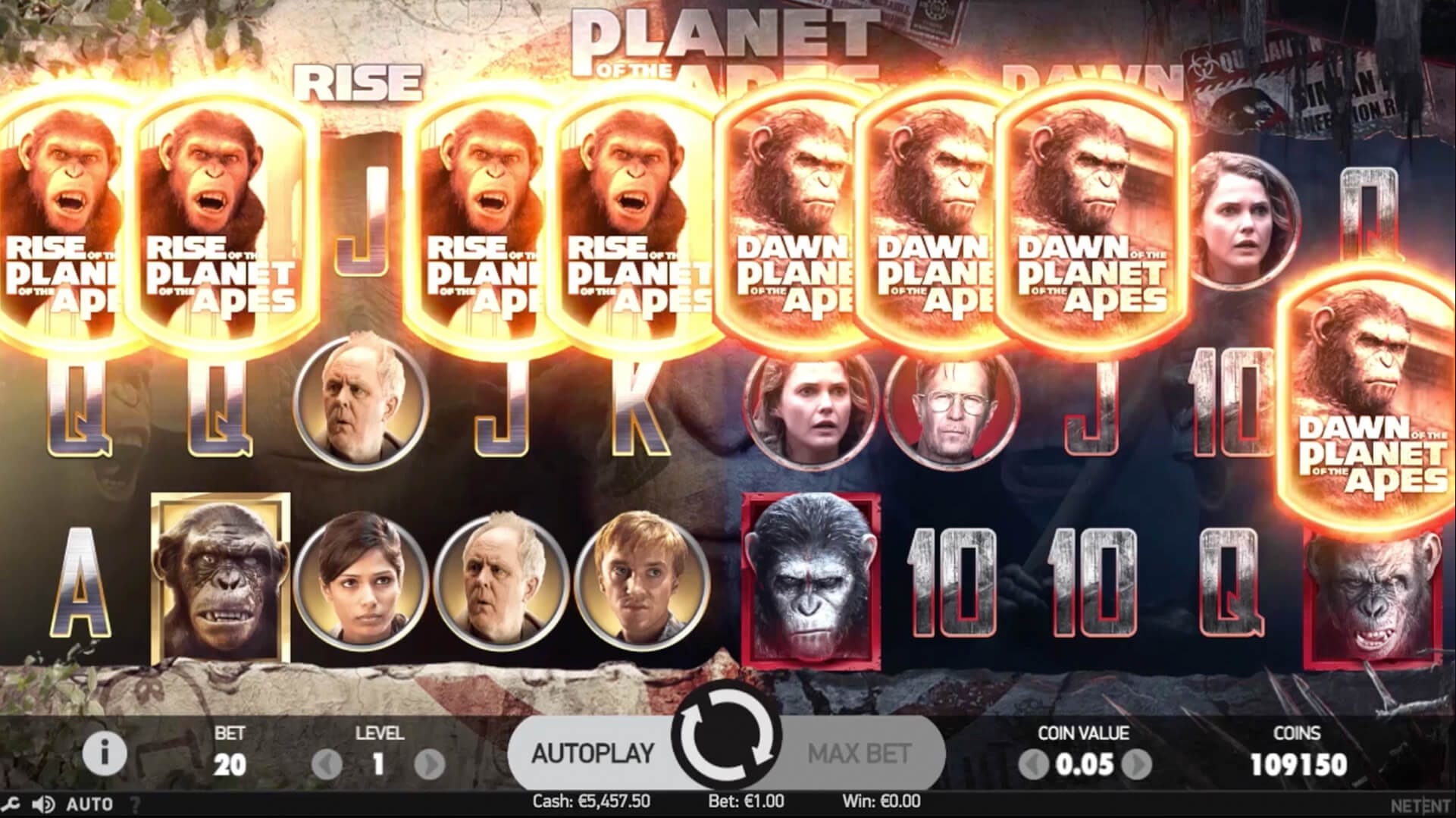 Final Thoughts on Planet of the Apes Slot Game
There is more than enough of damn dirty apes in this game that you'll almost feel like you're a part of this franchise yourself. NetEnt is one of those names that are synonymous with success. Not only are they incredibly swiftly when it comes to slots and their fun and exciting functions, but they are incredibly gifted in taking already existent franchises/IPs and adapting them into an online slot format. This is no easy task as the ties that bound the two are often in disarray, with the slot taking a loose shot at carrying these themes across. Many of these adaptive slots will act only as a cash grab, a basic slot that has minimal functions and only exists to put money in the pockets of those undeserving. We are happy to announce that this slot does not fall into that category. This is a worthwhile slot that is perfect for anyone hoping to get more out of the ape franchise will earn their money back and then some. Play now 9/10 If you enjoyed then you might also like Foxin Wins Christmas.