Mad Mad Monkey
Here's one of the new online slots games from NextGen Gaming which you can play. In the online slot it is your responsibility/duty to help this hairy chap find his best mates as well as picking up some food along the way. It's a simple premise that takes you deep into the jungle in search of this mental monkeys' desires. Mad Mad Monkey features a lot of added incentives to keep you playing well through the stages of a ripening banana (green bananas are disgusting too by the way). Expect wilds, scatters and free spins with over 350 different line and line bet options to choose from once you have settled into your new environment. Players can play this game from the comfort of their concrete jungle homes if they so desire as this game is compatible with both windows and mac operating systems.
The Mad Mad Monkey lives in a secluded jungle in this play slot game, his friends have been missing for so long that he has started to go insane. This monkey clearly has a lot of admiration and love for his friends as without them he's falling apart, thus making your job even more important in the grand scheme of things! If that isn't reason enough then what if we told you that this monkey is quite a rich one and he is looking at giving out some coin if you help him and his mates reunite? Yeah that got your attention didn't it. Every prizes and bonus can be awarded at any given time here making it incredibly fun to play for oneself and discovering the many different avenues you can take to come out victorious. There are a lot of different symbols here that all represent something of a different numerical value, it goes without saying but the more you match the higher that score goes!
As we've previously mentioned, wilds and scatters are here in-game and will serve as alternative perspectives for high scores. Both operate in the same way wilds and scatters do in other slots making them very simple and easy to remember when it comes down to the crunch. If you love promo's, check out SlotsBaby today.
Quick Links: Mad Mad Monkey | Starburst  | Fluffy Favourites | Slingo | Cops and Robbers | Immortal Romance | Thunderstruck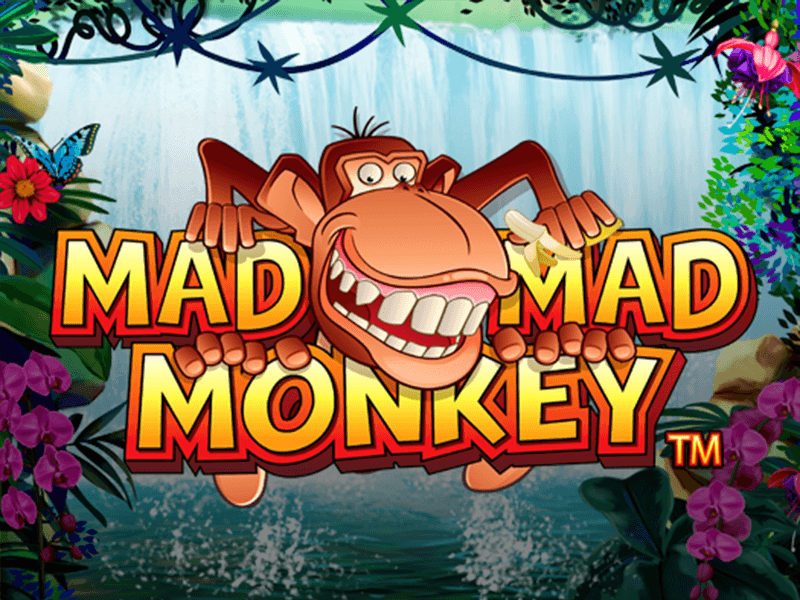 About the Developer
Developer NexGen Gaming is not only a recognisable name in the online slots industry but is also a prominent figurehead for its peers to look up too. With titles such as 300 Shields, to the bloody Blood Lore Wolf Pack, it's easy to see why NexGen Gaming is renown as being one of the go to developers for this kind of entertainment, and that's exactly how they like it. Known for their own take on the online slot and online casino game market, Nextgen Gaming continues to make new strides every day in every digital entertainment avenue they see fit. Nextgen Gaming offers a wide
range of titles for every occasion, from online table games to online slots, so much to play and so little time. With a name like NextGen Gaming you expect the best of new titles for a new generation. Well we can safely say that these guys don't disappoint. Creating titles that could circle the world over in just how creative and fourth wall breaking they are. It's very clear that Nextgen Gaming are the future of the industry — so why not jump on now and follow them on their rise to superstardom?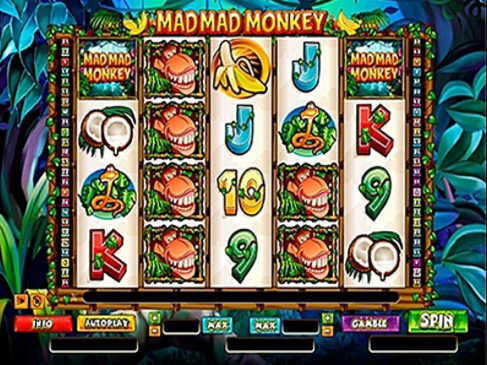 Mad Mad Monkey Slot Game
You'd think that NextGen have gone insane with the 350-possible line and line-bet combinations available here. We have this theory that they channeled all that crazy energy into the monkey himself which is why his name is so fitting. This is a slot of all levels, perfect for those who are maybe looking at starting their journey in online gaming as well as those who know their way around a few reels.
Mad Mad Monkey allows players to play between 1 and 50 lines on every spin of the reels. This is a 5-reel slot game that also showcases a free games feature that is sure to get those fingers twitching, this is the edge of your seat kind of action that could get anyone motivated in pushing their limits to win big and win big you shall. The return to player percentage here sits pretty at 95.40% and is chocked full of winning combinations that will keep you entertained for hours on end. Remember not to go mad mad like the Mad Mad Monkey though, that would be silly, and you'll want your wits about you for the next time you press play!!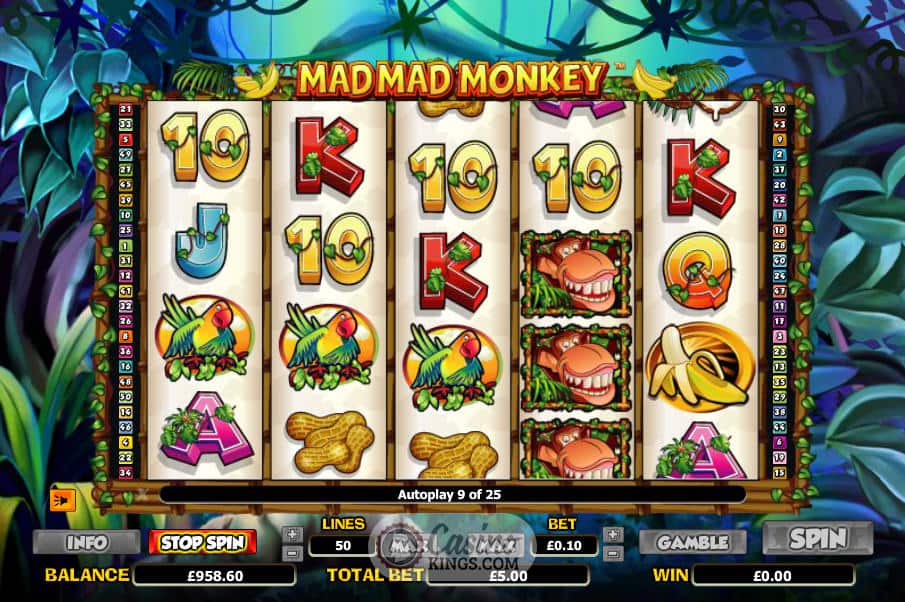 Why should you play this slot game?
The definition of insanity is doing the same tasks repeatedly and expecting change, do you think that's why the monkey in Mad Monkey went so mad mad in the first place? Maybe he didn't have the luck and bravery required to succeed in this slot where others have failed again and again. You as the player will obviously have a different type of experience here, not to say that monkeys are bad at playing online slots because they do possess posable thumbs, so they don't really have an excuse as to how they are so bad at a slot that is so easy that anyone could play this to maximum success. The good folks over at NextGen gaming have clearly put in a lot of effort in crafting the perfect type of experience that blends great gameplay and premise in perfect harmony, it's nice to see so much passion being put into something that could be considered cartoonish and generic on every level possible when the reality of the situation is actually the complete opposite. If you are someone that doesn't take themselves too seriously then you will find solace here in the world of the Mad Mad Monkey, and even if you are stern and overall quite a grumpy git then we're positive that this title will change that tenfold. 9/10. If you enjoyed Mad Mad Monkey then you might also like Red Dragon Wild