Atlantic City Blackjack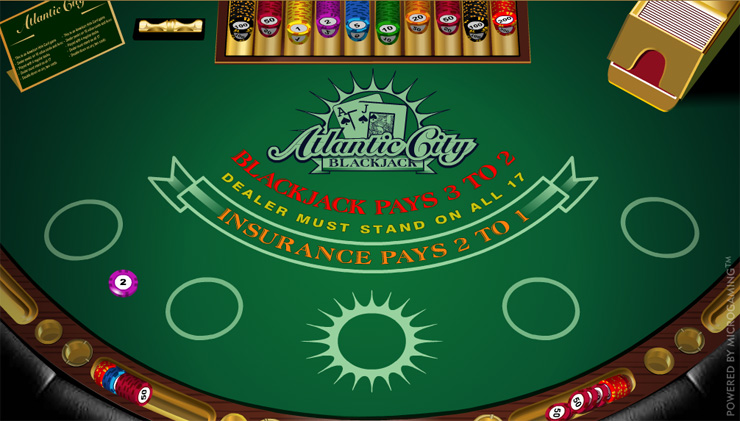 Atlantic City Blackjack - Getting Started
Atlantic City Blackjack, also known as 21, is one of the most popular casino games out there, as players enjoy the simplicity of the game. If you've yet to try out this casino game online, then make sure you read on to discover our guide to the beloved game. If you want to play it right now, then head on over to Slot Games Baby and begin your Atlantic City Blackjack adventure!
Quick Links: Lucky Leprechaun | Lucky Irish  | Shaman's Dream | Enchanted Prince | Twin Spin | Stardust | Mega Moolah

How to Play Atlantic City Blackjack
So how do you actually play Atlantic City Blackjack? Well, the main aim of the game is to not go bust, and this means that your hand can't exceed the value of 21. Unfortunately, if this happens, you have lost the round. Your main aim is making sure that you beat the dealer by scoring as close to 21 as possible. To begin a game of Atlantic City Blackjack you will need to place your initial bet, and then your dealer will place two cards in front of you so you can see the suits, while for them one card is showing and the other is hidden. You will then choose if you want to stay or hit depending on what card values you see.
In terms of payouts, it will be based on your bet amount and how much you beat the dealer by. For example, if your dealer goes bust and you haven't then you will be paid 1:1. Also, if you beat the dealer because you have got closer to the value of 21, then you'll be paid at the same rate. There's another way of winning, and that's if you are dealt a natural Atlantic City Blackjack. This would mean that your first cards are an ace and a 10 in any suit. You will be rewarded at a rate of 3:2. Your bet is given back to you if you and the dealer end up with the same value, and this is known as a Push. New online slots can also be found here.
Strategies for Card Counting
Card counting can be considered a bit risky and we would only recommend this option for the more experienced players, it's also not that easy to pull off! There are some strategies that you could try once get you comfortable with Atlantic City Blackjack.
Insurance Bet: it's important to note that you can only make this bet if the dealer has drawn an Ace for their first card. You are then placing a bet that their hand will be a natural Atlantic City Blackjack.
Double Down: you could gain an extra card by doubling your initial bet. But you can only use this strategy once!
Split: to use this strategy you will need to have a pair of cards, and splitting your hands will mean you can now play with two different hands, at the value of the card you split.
Last Thoughts on Atlantic City Blackjack
21 is a fun online casino game that can give you some big wins! Especially through the Split bet, as your winnings can be doubled! Plus Atlantic City Blackjack is easy to understand. Play it at Slots Baby today, where you can also access Platinum Blackjack!