Enchanted Prince
Here's one of the new online slots game from Eyecon called Enchanted Prince - that you can play anytime you want. You're destined to have a right royal time enjoying the Enchanted Prince slot game. The Brothers Grimm fairy tale 'The Princess and the Frog' has captivated readers for centuries, and has even been made into an animated Disney film. It tells the story of a beautiful princess, who loses her beloved golden ball in spring, and promises a talking frog her love if the little creature will return it to her. To the Frog Prince's dismay, however, the princess breaks this promise, and he's left lamenting at her door, begging for her affection in the Enchanted Prince Slot. Her father the King reminds her of her responsibility (as fathers tend to do) to the doleful amphibian, and the princess invites him into the palace, lets him share her dinner, and sleep on her pillow for three nights (surely unhygienic, but it's important to keep a promise). As luck would have it, this breaks the evil fairy's curse, and the cute little frog transforms before her eyes into a handsome young prince, who sweeps her off her feet, and they both immediately ride off into the sunset.
When playing The Enchanted Prince slot, you're sure to feel immersed in the magical world of this fairy tale. It has all the hallmarks of the classic yarn, from pretty princesses to towering castles, and, of course, some princely winning opportunities, too. So, pucker up, and prepare to lay a smacker on this adorable Slots games, and watch as those smackers magically transform into handsome rewards! If you love promo's, visit Slotsbaby today.
Quick Links: Jimi Hendrix Video Slot | Guns and Roses Video Slot  | Asgardian Stones | Viking Gods | Viking Fire | Thunderstruck 2 | Siren Serenade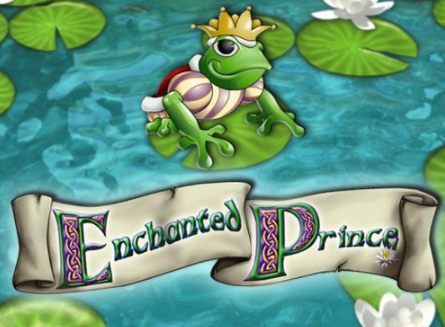 About the Developer
Once upon a time, there was a software developer called Eyecon, who specialised in bringing land-based slots games to the people of the kingdom. Before long, they heard about the wondrous new world of online slots gaming, and set out, fearlessly, to conquer this new land. This was well over a decade ago, so Eyecon are intimately familiar with the formula for online slots excellence. This Australian company now have over 100 slot machine titles to their name, as well as bingo titles, and live casino classics. Indeed, an Eyecon game is sure to be both classic and classy, and their focus on traditional interfaces and nostalgic themes makes their slots offerings sure-fire winners.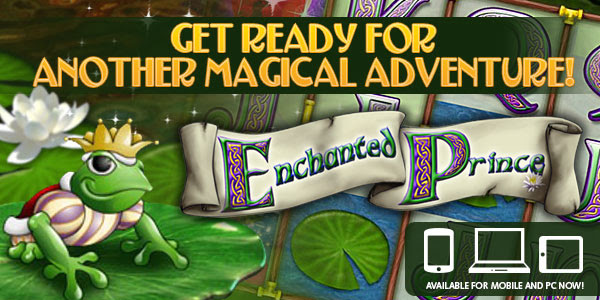 You'll see their distinctive brand of immersive gameplay in their other titles, many of which share Enchanted Prince's magical or fairy tale theme, for example:
· Riding Hood Riches
· Fae Legend Warrior
· Twinkle
They also specialise in favourite arcade staples, with titles such as:
· Doubleup Ducks
· Fluffy Favourites
· Frooty Licious
Eyecon shows savvy awareness of the contingent of slots players attached to traditional, land-based slot games. Their uncluttered feel and accessible user-interface is ideal for slots fans making the switch to online gaming, and won't bamboozle you with extraneous complexities. This makes the Enchanted Prince slots play the real star of the show, and they know how to deliver a feature-packed game.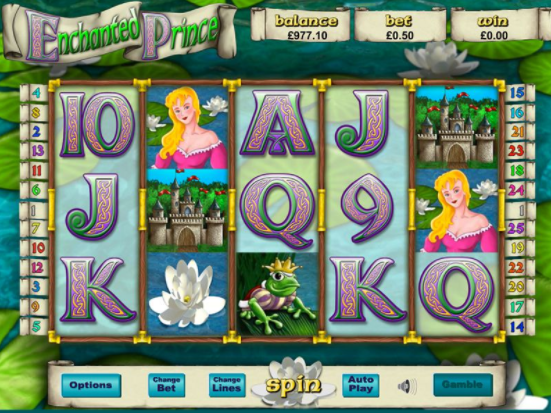 About the Game
Enter the court of the Enchanted Prince and bask in its opulent graphics and rich coffers! With 25 paylines over its 5 reels, and bets of up to 20 credits per line, per spin, this game's elegant design and dynamic gameplay are sure to enchant.
The game Enchanted Prince takes place at the heart of a fairytale land. The title is unfurled on an ancient-looking scroll across the top of the reels. The background is a lush lily pond, home to the Frog Prince while he waits and dreams of regaining his riches with true love's kiss. The reels are housed in a luxurious frame of dark wood and gold, and the symbols are all attractive and suitably regal. There are glistening ruby hearts and regal castles with red flags waving on their turrets. There are also lily pads, princesses in pink gowns, and J, Q, A, 9 and 10 symbols in a Medieval illumination style font, adding that extra touch of olde-worlde feel. Enchanted Prince is a mesmerising experience just watching these pretty symbols spin by, but the magic really starts when the bonus symbols appear:
· SCATTERS – 3, 4 or 5 frog symbols anywhere on the Enchanted Prince reels will trigger a number of free spins, from 15 to 25. The game is generous with its free spins, too, and they can be re-triggered up to 15 times. As a charming detail, SCATTER symbols will also animate when activated, with a short animation of the princess kissing the frog, only for it to transform into a handsome prince, who winks at you and flashes his suspiciously modern-looking dental work.
· WILDS – a glittering crown symbol substitutes for all other symbols apart from the frog SCATTERS, and will also double your win when they appear in a win line on Enchanted Prince.
· GAMBLE – when active, this bonus pays double or nothing on your last win, giving you the chance to transform small wins into big ones in less time than it takes to kiss a frog.
The reels on Enchanted Prince are smooth and silent, which provides a great contrast when the classic arcade sounds trill out triumphantly to herald a win. The Autoplay feature is easily activated by an option beside the spin button and can be set to 10, 20, 50 or 100 auto spins, so you can sit back and watch the wins appear as if by magic. It's simple, too, to adjust the lines, and your bet amount, so nothing detracts from the flow of the gameplay. If you're just dipping into the lily pond for fun on Enchanted Prince, you can set your bet to as little as £0.01, and play for small wins, but a bet option of up to £0.50 is sure to satisfy those with richer blood.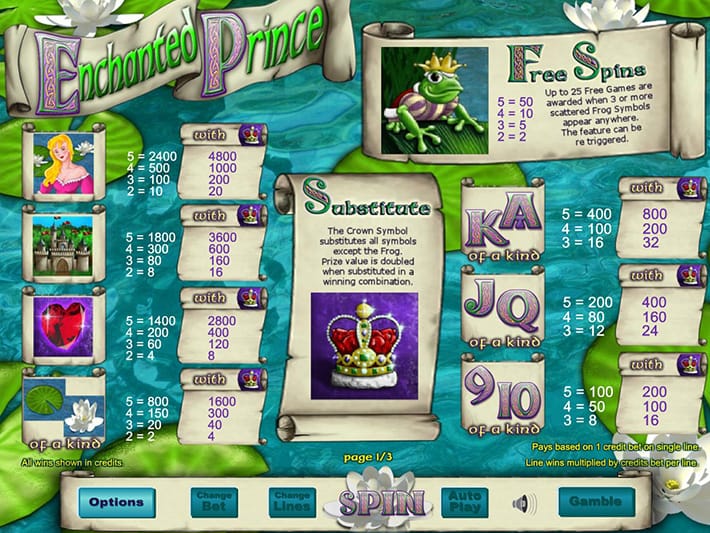 The Verdict
Enchanted Prince is an elegant, absorbing game, with more than enough features to keep the gameplay hopping along with vigour. Its lush graphics and wonderfully-realised fairy tale theme make for a playing experience as handsome as any prince, and the quality of its bonus features is fit for royalty. This beautiful addition to Eyecon's online repertoire is sure to have true longevity, keeping you playing happily ever after. If you enjoyed Enchanted Prince then you might also like Dj Wild