Zodiac Fortune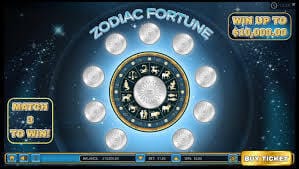 Here's a superb new casino online game from VueTec. Escape the Earth's atmosphere and float into the depths of deep space with this intergalactic slot. With a stellar backdrop (literally) and retro graphics, there is something reminiscent of Space Invaders about it.
The symbols are based on the signs of the zodiac, but there's no need to check your horoscope before you play – this slots games has a RTP of 97.19%. This slot is also super easy to use – it has only three reels and five paylines – so it should be easy enough for you to have a good time! It is a great place to start for beginners, and is a perfect choice for those who prefer straightforward slots that are not overly complicated.
Quick Links: Jimi Hendrix Video Slot | Guns and Roses Video Slot  | Asgardian Stones | Viking Gods | Viking Fire | Thunderstruck 2 | Siren Serenade

About the Developer
VueTec is most famous for their Distance Gaming platform, which enables players to enjoy a real life casino experience as casinos can put their tables live online. As such, their speciality is not slots and their portfolio is not particularly large. The slots they do produce share the same vintage feel, which means people either love them or hate them.
If you enjoy Zodiac Fortune, their Astronauts Luck game is worth a try as it is very similar. Progress to their Tutti Fruiti slot to experiment with five reels instead of three!
If you love promo's, check Slotsbaby today.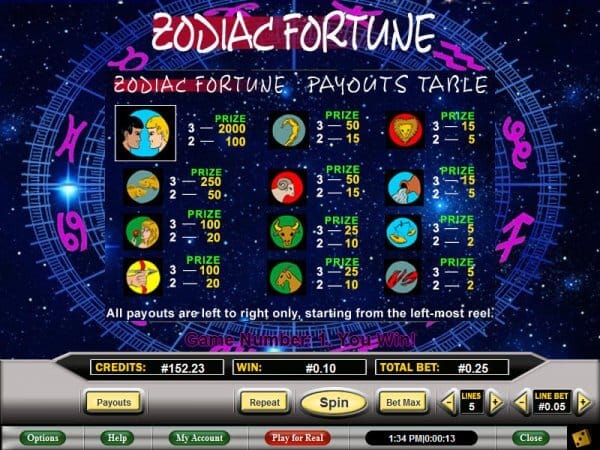 About the Game
The graphics of this game make you feel like you are sat in the driver's seat of a space ship, floating into unknown territories in deep space. Your dashboard is illuminated with blue laser guidance systems, upon which three reels scroll zodiac signs before your eyes.
Players can choose between a minimum bet of 0.05 coins all the way up to a maximum of 5.00 coins. This bet can be played across 1 to 5 of the paylines. Accordingly there is a massive range in the size of available bets, which span from 0.25 coins to 25.00 coins per game! This great diversity in available stakes means this slot can be exciting for all types of players.
The game is very easy to play and the retro design is appealing. However it might be a little too simple for some people's tastes as there are no bonus features and no wilds.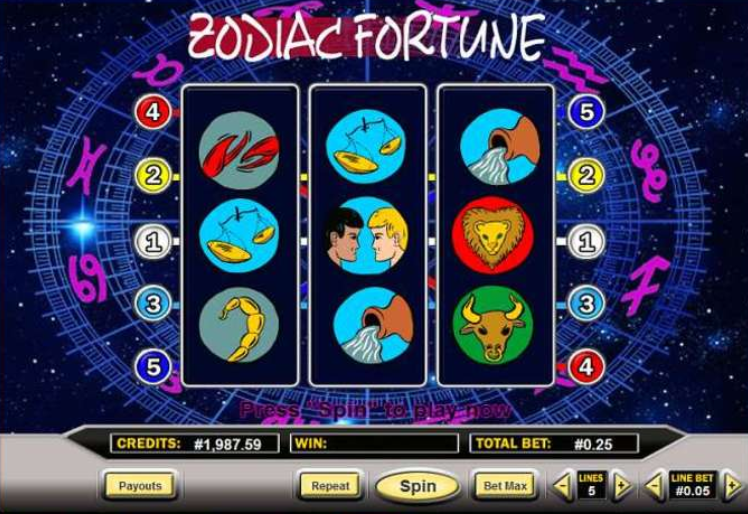 The Verdict
I really like the novel theme of this slot and star-gazers will love the chance to read their fortune in the reels! The visuals are easy to read and appealing in their retro design.
That being said, if you like immersive games with great graphics and catchy theme tunes, you will certainly love Zodiac Fortune. Similarly, players who like lots of bonus features, busy design, and complex betting options will most likely find this game very dated. However it is a great place to start for beginners who are getting to grips with the world of online casinos, particularly thanks to the high RTP which takes a lot of the risk out of the game. Equally those who prefer something less overwhelming or who are nostalgic for their old retro favourites will enjoy the vintage feel of this slot. If you enjoyed Zodiac Fortune then you might also like Super Fast Hot Hot.