Warlords – Crystals of Power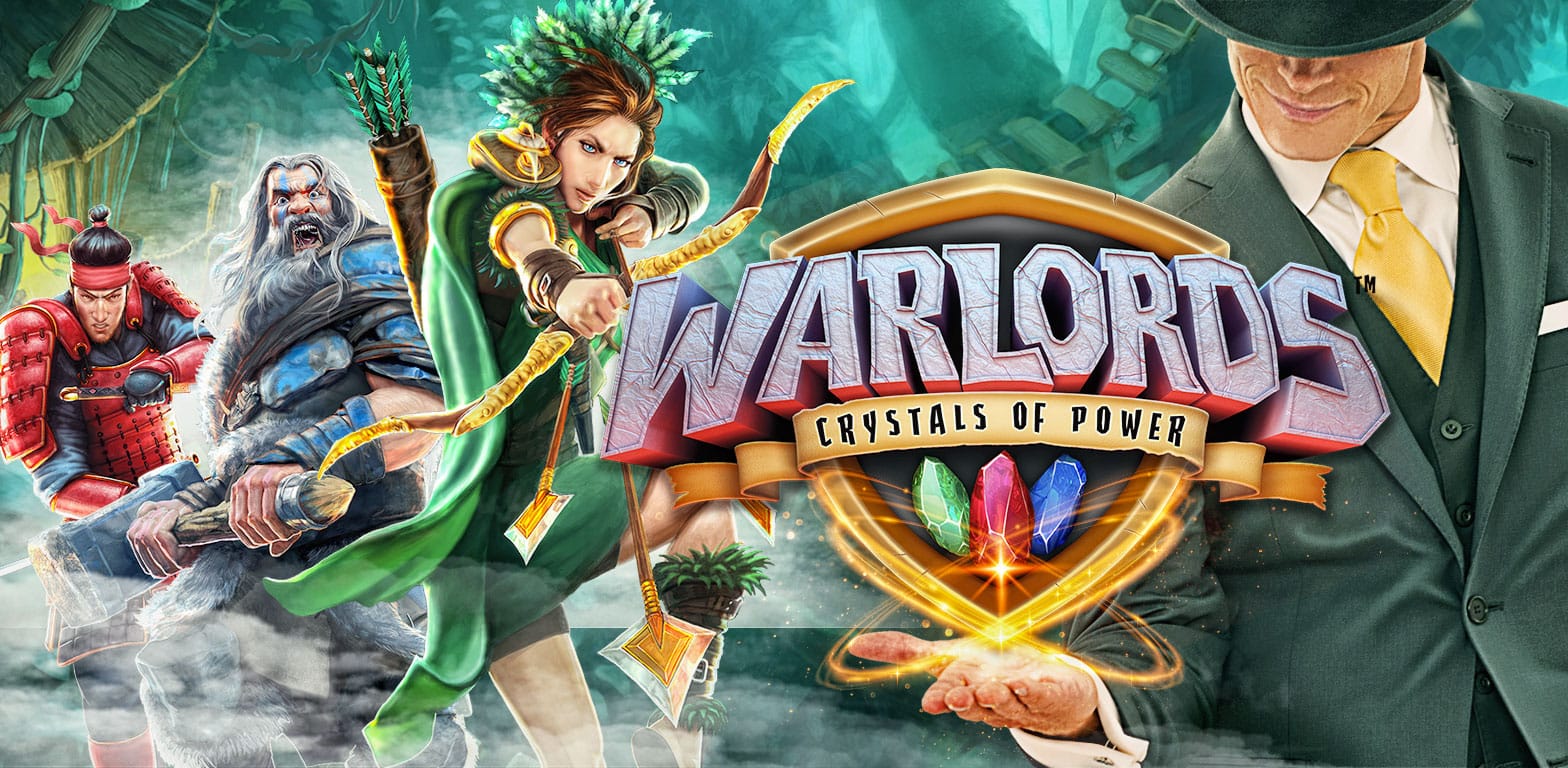 Here's a superb new online slots game from NetEnt which you can play. Strap on your armour and prepare for an epic encounter, with Warlords: Crystals of Power online slot game.  It is the eve of battle, and the air is thick with anticipation.  Throughout history, many noble opponents have clashed on the battlefield.  This opulent, mesmerising slots title conjures up the atmosphere of Medieval combat, and is also rich in fantasy elements reminiscent of J.R.R. Tolkien's Lord of the Rings.  And whatever type of warrior rests within your soul, you'll feel drawn to this game.  With three distinctive starring characters, each of whom embody different kinds of warrior spirit, the game is sure to have wide appeal.  Samurai are known for being masters of military tactics and Japanese martial arts.  Priestesses are powerful in their manipulation of magic and ancient medicines.  Barbarians are fearsome in their brute strength.  You'll find all three in Warlords: Crystals of Power.  So, steel yourself to meet a triad of mighty warriors, take up arms, and join them in a fantastical quest for Slots Games supremacy!
Quick Links: Mad Mad Monkey | Starburst  | Fluffy Favourites | Slingo | Cops and Robbers | Immortal Romance | Thunderstruck

About the Developer
NetEnt's games are strategically developed and expertly executed, making them a force to be reckoned with when it comes to online slots.  They have their own progressive jackpot network which has paid out tens of millions, and have also conquered mobile gaming, with their platform NetEnt Touch. And it's expansive, self-assured offerings such as Warlords: Crystals of Power that make them known or combining stimulating play with gripping narratives, and realising bold, creative visions in impressive, infinitely playable online slots games.    
Some other immersive online slots adventures by NetEnt include:
Hall of Gods
Fantasini Master of Mystery
Lost Island
Excalibur
Gonzo's Quest
NetEnt is a developer that can fly its flag triumphantly, and their colours always signify the very best online slots content. Check out SlotsBaby for promo's and bonuses!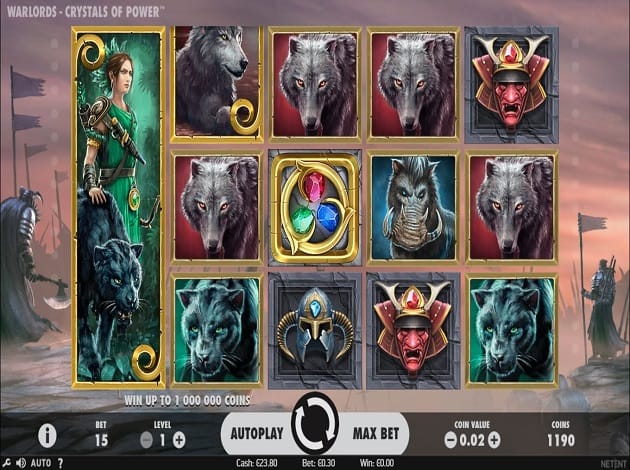 About the Game
Warlords: Crystals of Power opens with a truly cinematic animated sequence.  We're introduced to the three starring characters, the Samurai, the Priestess, and the Barbarian, as their respective spirit animals bring them differently-coloured, mysterious, glowing stones.  The animation is exquisite and detailed (you can even see the texture of the skin of the warriors in close-ups), and it's clear from the outset that you're about to experience a game of the highest production values.
After a handy screen summarising information on the game's special features, we get right into the heart of battle, entering the game's main screen.  The background is a moody battleground, with silvery stone crags underfoot, fluttering standards on the horizon, and in the distance, a striking sky in misty, glowing tones of orange and purple.  To the left and right of the reels stand warriors clad in ornate armour, one wielding a fearsome-looking battle axe, the other clutching a waving flag.  In the bottom right, we can see a stream of brave soldiers continuously marching towards their fate in battle.
There are five reels, housing an array of exquisitely illustrated symbols.  These include a wolf (the Samurai's spirit animal), a cougar (the Priestess's spirit animal), and a warthog (the Barbarian's spirit animal), all staring into the player's soul with eyes glowing the colour of their respective Warlord's jewels.  Colour is used to striking effect, with red representing the Samurai, green the Priestess and blue the Barbarian.  This gives the game's look an engaging consistency and overall cohesion that's a feast for the eyes.

The soundtrack is dramatic and stirring, and conjures up the sense of fantastical quests, heroic battles and vast, mountainous landscapes, as in Lord of the Rings.  The musical track is long enough that it's hard to notice repetition, and contains some thrilling crescendos, taking the player on an emotive journey as they spin the reels.
WILDS – watch out for the WILD symbols – golden decals with the red, green and blue stones inset. These substitute for any symbol apart from SCATTER symbols.
RANDOM OVERLAY WILDS – in a fascinating twist on the WILD mechanic, there is a chance with every spin to activate a Random Overlay Wild, which uses a different set of reels (without SCATTERS). This might be a Barbarian Hammer Wild, featuring 4 Wild symbols in s square formation, a Priestess Arrow Wild, with 2-5 Wild symbols over the five reels, or a Samurai Sword Wild, with 2-5 Wild symbols on the first 4 reels.  This provides more winning opportunities, adding an extra element of drama to the adventure.
SCATTERS – the game has a complex and interesting system of SCATTER features, based around three different SCATTER symbols, each of which is a flag bearing the colours of one of the three main characters. Should 1 of the 3 symbols appear, this will trigger 3 Free Spins, 1 Multiplier or 1 Sticky Wild.
BATTLE – in a feature that embodies the game's combat theme, should a combination of different Scatter symbols appear on the reels, this will trigger a battle, and whichever symbol is wins will transform the other symbol to match it. The chances of a certain type of symbol winning are proportional to the frequency that symbol occurs.  If multiple symbols are the same, this skips the Battle feature. 
RESPINS – with or without a battle, multiple Scatters will trigger Re-spins. The active Scatters will remain in position, other symbols will deactivate, and Re-spins will occur on a different reel set to the base spin.
FREE SPINS – 3 or more Scatter symbols during Re-spins will trigger Free Spins.
FINAL CHANCE – should Re-spins end without any Free Spins triggered, this will activate the Final Chance feature. This reveals either a coin or an additional Scatter symbol.  The coin awards a win anywhere between 3 and 100 times the player's bet, whereas the Scatter symbol will take a random place on the reels to trigger Free Spins.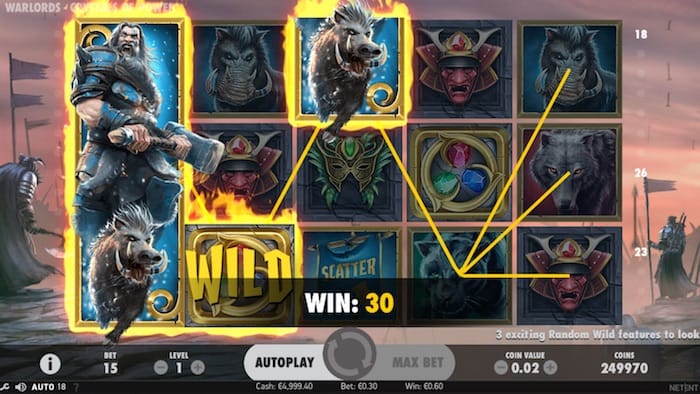 The Verdict
Warlords: Crystals of Power is a magnificent piece of world-building, as well as a gripping slots experience.  Its outer appearance is as sumptuous as a shining set of Medieval body armour, but beneath, there is robust, elite fighter of a slots game fortified with specialised features.  Whether you're a Samurai, a Priestess, or a Barbarian at heart, you're sure to find your spirits roused by this splendid NetEnt title. If you enjoyed Warlords – Crystals of Power then you might also like Beauty & the Beast.