Fruitoids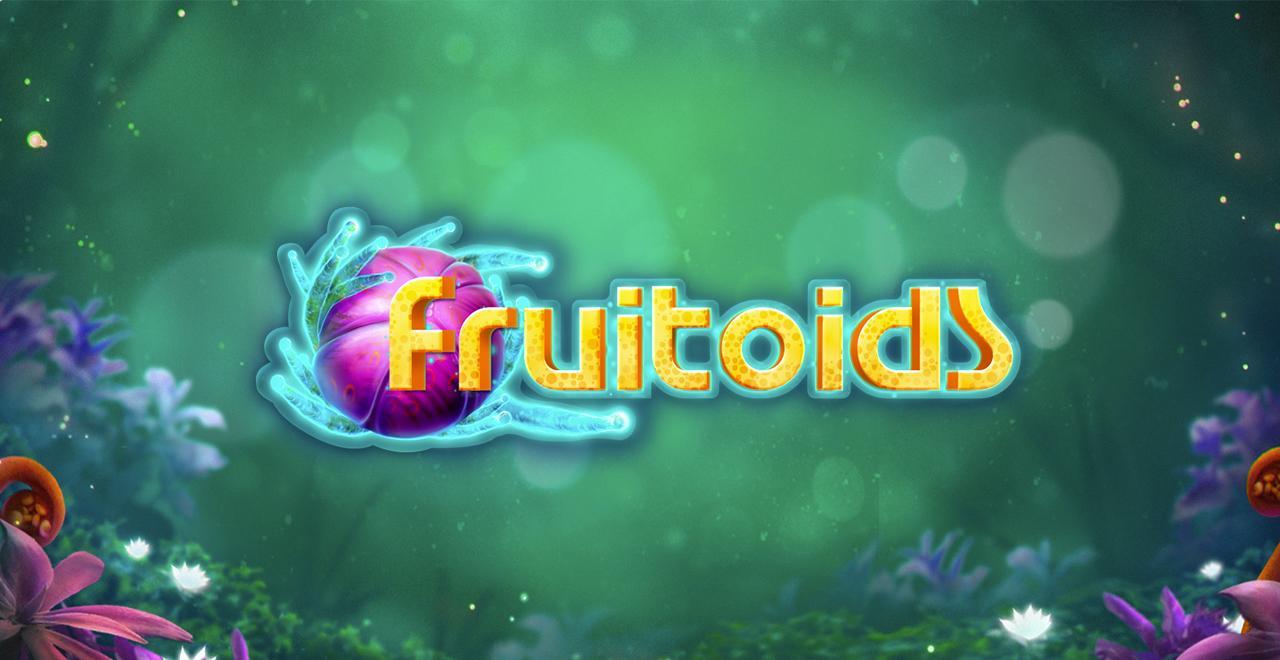 How much do you love new online slots at Slots Baby? How much do you love Fruit? Well, the theme of this game is fruit, but it's far more exciting than that sounds. Mixed with some seriously high-quality and flowing graphics, as well as an essence of sci-fi, Fruitoids is a very good-looking to play slots games the potential for some decent wins.
Quick Links: Lucky Leprechaun | Lucky Irish  | Shaman's Dream | Enchanted Prince | Twin Spin | Stardust | Mega Moolah

About the Developer
Yggdrasil is the developers of Fruitoids and they are certainly an esteemed creator of online slot games. They always bring graphics of the highest quality, no matter whether you're playing on a tablet, phone or desktop, and many of their games are inspired by original themes. Fruitoids is no different in that respect, but it's also one the more simple to play slots that Yggdrasil have developed, something that opens the game up to players of all levels.
Get the best out of our bonus spins before you play the game!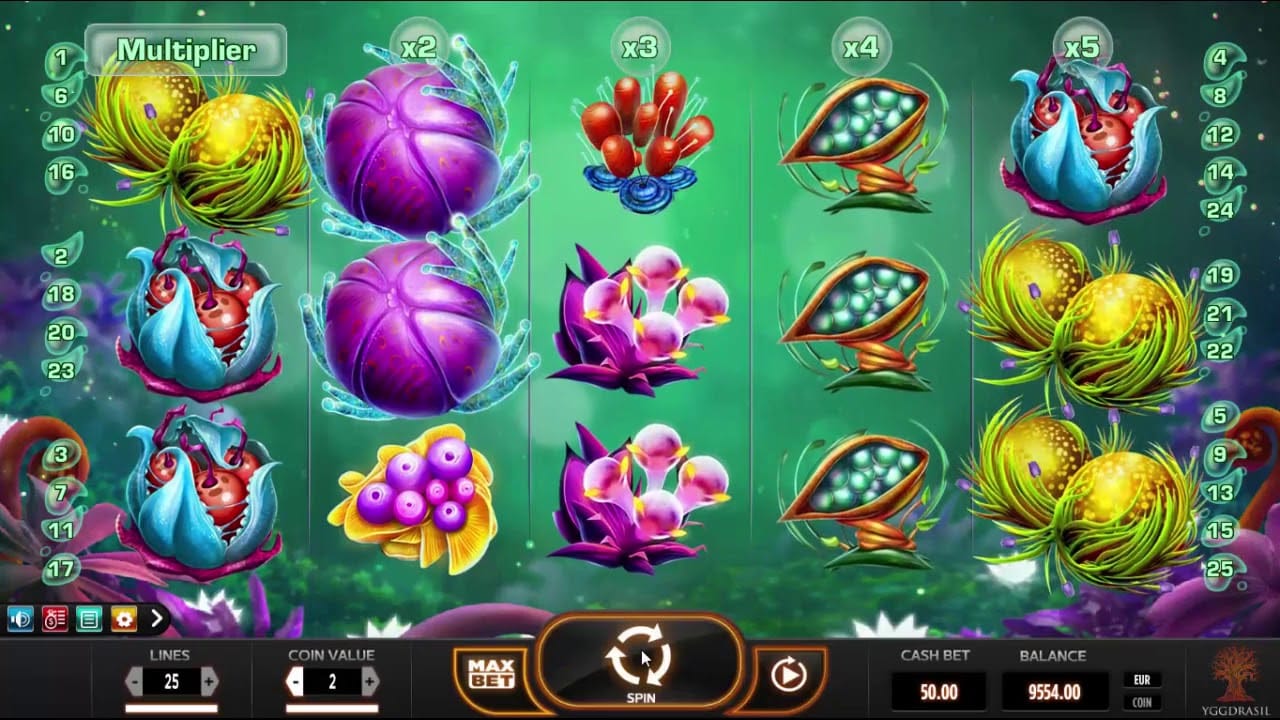 About the Game
The symbols are all very well crafted and incredibly detailed. Whilst you may not be able to name what exactly these fruits are - you've certainly never eaten five of these a day, despite your best efforts, no doubt - you will certainly be able to easily differentiate each and every one. What they are, is fruit from another planet and of all of them, Violet Berry is the highest value. So try to snack on them if you can for a juicy prize.
The pay lines are all fixed in this game, so the only thing you need to do to get going is elect your coin value and then start spinning. Simpler still, all of the winning combinations go from led ft to right as you read, so no need to worry about various angles and complicated wins here.
The auto-spin feature is a very welcome one, too, as this let's you auto-spin between ten and a thousand spins. All you'll have to do is sit back and watch all of these tranquil, pretty colours get to work and hope that the right fruits match up. What's more is that there's an 'Infinity' option, here, too. This means you can leave the game spinning on it's own. Go to work, go to the pub, take the dog for a walk, whatever, and the game will keep spinning and leave your winnings in a deposit.
As for special features, Fruitoids is another slot game that comes with a Respins feature. You win in Fruitoids every time you get three or more matching symbols on an active pay line and when you get a win it will freeze whilst the other reels keep spinning on their own. The more similar symbols you manage to land not he reels the more re-spins you're going to get and it's here where much of your money will be made.
There is also a multiplier bonus at work whilst you play. When you get a win, there's always a chance that you'll get a win successively after and this will mean your wins are multiplied by a 'col-umn multiplier.' This will correlate with however many columns you've filled with winnings combos - so a chance of up to five times your winnings! Do you love slot games, there are tonnes available on Slots Baby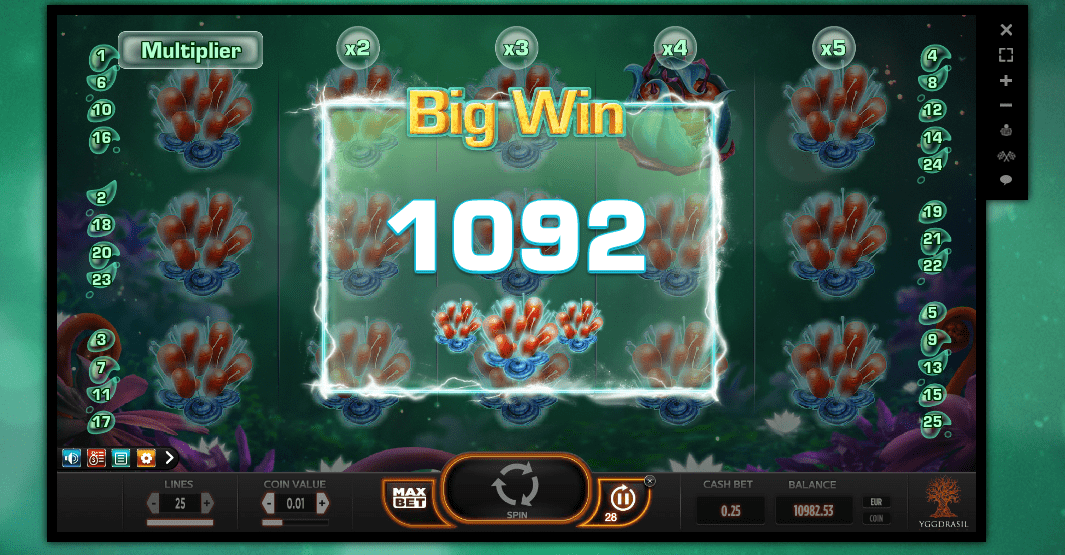 The Verdict
Despite the futuristic, mythical and almost mystical nature of the fruit from which this game takes its main theme from, this actually a very simple and very playable slot game. Really slick graphics and a great game engine make this an enjoyable play for gamblers of all levels and budgets. If you're looking for something new then why not play Great Rhino!