Fruit Blast
Here's a superb new slots online game from Skillzz Gaming. If you love Candy Crush or Bejeweled you'll absolutely love Fruit Blast. This cute game is a fruity little number that puts a spin on the standard slot format. Bringing something fresh to the online casino world and offering some pretty tasty prizes of up to 1000x your stake. If you love promo's don't forget to check out our slot offers
Check out our entire list of slot games here at Slotsbaby
About the Developer
Skillzz Gaming is a new software company that's bringing new and exciting games to the market. Focuses on new trends, mobile optimisation and providing games for the next generation Skillzz are one to watch.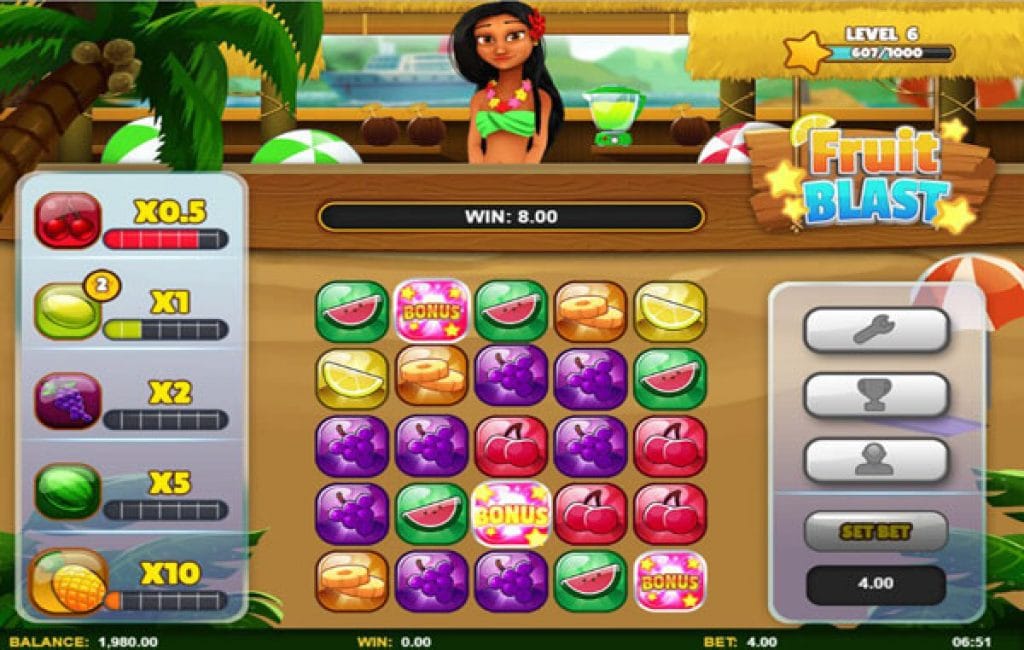 About the Game
The unusual thing about Fruit Blast is it's got a 5x5 grid structure rather than the usual 5 reels on an online slot. Reminiscent of Candy Crush and Bejeweled this means you just have to find three or more matching tiles in adjacent positions to get yourself a potential win. This game is all about using your brain power to maximise your chances. Plus the fun never stops with a level-up feature unlocking special bonus games and new characters, keeping the game fresh and exciting. If you're used to regular slots it can take a bit of getting used to but you'll soon get the hang of the different format and it's really fun mixing it up a bit. Why not try it out for free before you put any cash bets at stake?
When you're ready to get started just choose your stake as usual from 0.60 to the max bet of 100 coins. Then the aim is to blast the fruit combinations to collect seven of each fruit to win your total prize bet. A full bar of cherries will return 0.5x, lemons 1x, grapes 2x, watermelons 5x and pineapple 10x. You can fill a bar up more than once with a maximum total bet win, so the fruity fun keeps on coming!
Once you're into the game you'll start collecting stars and these are the key to levelling up. With each new level achievement goals will appear and once you reach these you'll get more stars. Look out for achievements like 'play 10 games', 'win 3 consecutive games' and 'fill 1 cherry and 2 lemons in a game'.
As you reach higher levels you'll also unlock cool new bartender characters and in turn new potential bonus game features – which you can access when three bonus symbols are collected. For example get to Level 2 and meet Aloha who will offer an instant bonus win with a Hawaiian Shake feature. Unlock Pat on level 5 and you'll get a Dance Nights feature of 5 free games with guaranteed wins.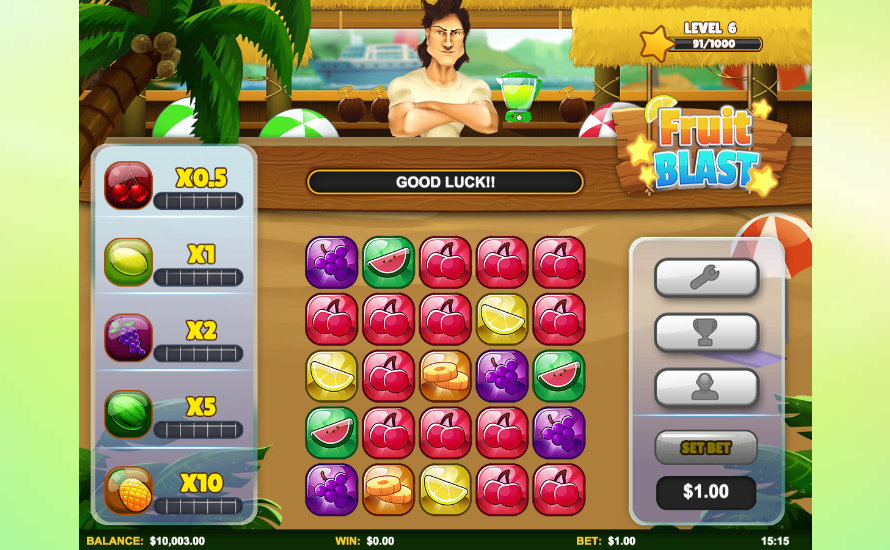 The Verdict
The gameplay might seem a bit unusual if you're not used to playing tile-matching games but Fruit Blast is a really original and fresh take on the online slot format. Once you start collecting the stars you'll soon see the process of the game and hopefully the bonus features and prizes rolling in! Set in a tropical paradise and featuring a range of fruit treats, the graphics are tasty and the potential wins even tastier. If you enjoyed Fruit Blast then you might also like Fur Balls