Rainbow Riches
Within the Irish Theme of recent casino slots, there's a lot of competition. Presumably because everyone wants some of that luck of the Irish. However, in a crowded field, in which a rainbow presumably ends and points towards a pot of gold, Rainbow Riches stands out as one of the better games and the better series, as there is plenty to choose from in the Rainbow Riches franchise. This, though, is the original game. The one that started it all. The rainbow that would lead to so much more as this loveable Irish themed demo slot game made way for not just big wins, but for several more games of this ilk to made with the same lively leprechauns and Irish charm. You can also take a look at some of the amazing promotions available on SlotsBaby.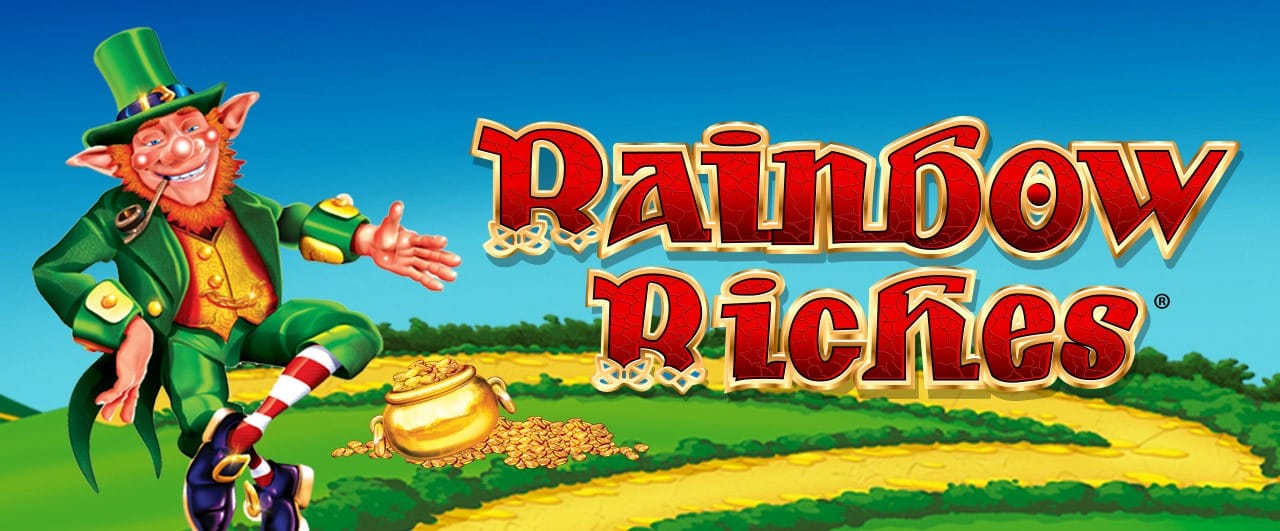 Expectation Vs Reality
What do you expect from a game with a theme like this? You expect a lot of colour, what with it being named after a rainbow and all, and you also expect a game with a decent sense of humour when it comes to that Luck of the Irish theme. That's all here in this one with vibrant graphics and smooth animation making for a colourful game and more than anything, a game that is simply quite a good bit of fun.
As a game from Barcrest, a developer who have been making slot games long before they were an online medium, you expect an certain amount of authenticity, too and that's definitely present. The game feels like a classic as you play it and it's to no surprise that Barcrest games can still be found in pubs, clubs and chip shops even today.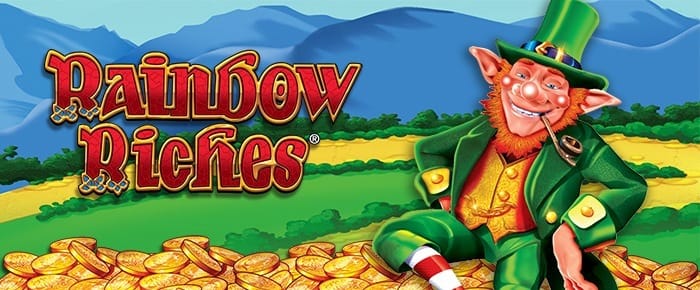 About the Developer
As mentioned, the developers of this game are the wider respected, BarCrest. This company is one of the most established creators of slot games and that isn't limited to online slots, either. BarCrest can be found in all of those places where you first found slot games; your local pub, your local bar, that arcade on holiday where you lost your weight in 2p coins, your local chip shop where you used to have a flutter whilst you wait for your saveloy.
They are true legends of the fruit machine game and are now part of a larger organisation called SC Gaming. It is through SC that this developer has developed itself, evolving into the online slot game realm with style and adapting classics for a new market and exploring the potential that you can do with slot games online. However, proud of their history, all games from this developer still wear the BarCrest badge with pride. Expect a classic when their name is on it.
They're also responsible for the rest of the game series that includes:
Rainbow Riches Pick n Mix
Rainbow Riches Reels of Gold
Rainbow Riches Free Spins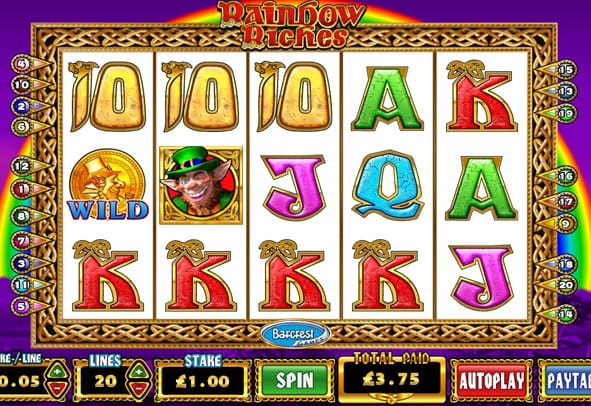 About the Game
The game itself is made up of symbols that all adhere to the theme at hand which, as we've already established, is an Irish one. A particularly popular game around St. Paddy's Day, this is good enough and not random enough as a themed game to be enjoyed all year round. So, expect to see a lot of the borderline scary-looking leprechaun, the wishing well, the pot of gold underneath a rainbow and the gold coin that make up the higher paying symbols in this original Rainbow Riches slot game.
That gold coin acts as the wild symbol in this game, making it quite literally worth it's weight in gold. However, the gold coin isn't the only symbol to have some quite unique powers, as the leprechaun symbol himself has the ability to launch quite a classical slot game bonus feature; The Road to Riches Bonus. More on that below.
Bonus Games and Special Features
In terms of bonus games and features, there's definitely a few to enjoy here on Rainbow Riches.
Landing three of the leprechaun scatter symbols will launch this mini game, similar to the ones you might find to the side of the reels if you still play fruit machines down your local. Here, though, as an online slot, you will be taken to a new screen in which your possible road to riches will appear before your eyes. Before you can start taking a merry stroll along it, though, you must first click 'Spin' to get a wheel of fortune spinning around which can land on a number between one and six, or land on 'collect.'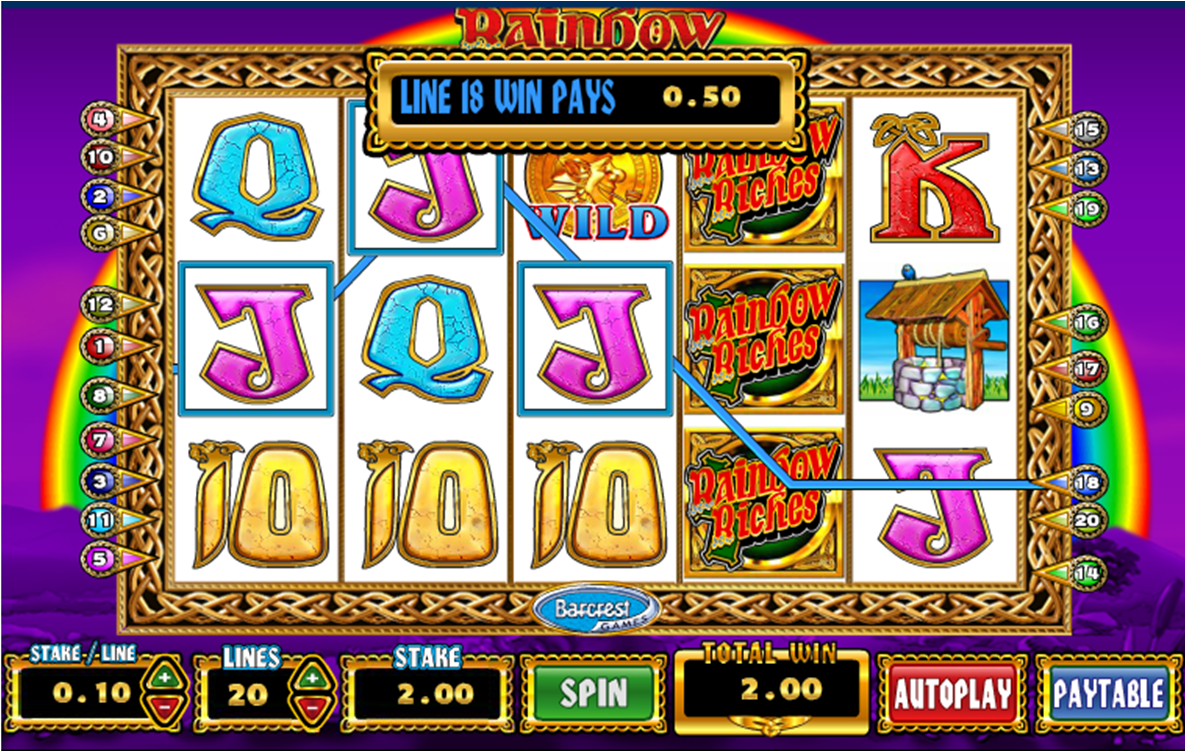 Landing on the latter will end the feature but the numbers will determine just how far along the path you get. The further you go, the more money you're going to take back to the original game so you're going to want to wander along the path for a little bit before you hit collect. What you're actually landing on is a multiplier, so hope for some of that Irish luck and hope to land on a big one, as this is where the best money in Rainbow Riches can be made. The Road to Riches bonus is a great example of how an element from a fruit machine classic can be translated into the online medium of slot games, making for a somewhat retro feel as you play Rainbow Riches, despite very much being a modern take on the format.
Elsewhere, there's a Wishing Well Bonus, too. This one is slightly more simple and less of a journey, but no less important to the game. It will be activated when you land three or more of the wishing wells across the reels and after this, you'll be taken to a different mini game. Simply, you pick one of the thee or wishing wells that emerged to trigger the bonus and you'll receive whatever multiplier is inside it. Easy.
This may one may not be the most captivating feature on offer here but don't underestimate it. Any multiplier you take from it can go a long way to making your eventual pot of gold bigger and bigger. Speaking of which…
Finally, look out for the Pots of Gold Feature, too. This one that will be activated when - you guessed it - you land some of the Pots of Gold. Get the on reels two, three and four to activate this bonus game which again, will open in a screen separate to the reels - something you just don't get in your local arcade. Here, a leprechaun is standing on a rock in a field and around the little guy's head you'll see no less than twelve pots spinning around. Each of them has a different value, varying in amounts and so you'll be hoping for more of that Irish luck as you'll only end up with one of them. The one that stops at the bottom of the screen above the arrow is your prize and whatever multiplier that pot has is the multiplier that will be applied to your total stake.
The Verdict
The game itself is made up of symbols that all adhere to the theme at hand which, as we've already established, is an Irish one. A particularly popular game around St. Paddy's Day, Rainbow Riches is good enough and not random enough as a themed game to be enjoyed all year round. So, expect to see a lot of the borderline scary-looking leprechaun, the wishing well, the pot of gold underneath a rainbow and the gold coin that make up the higher paying symbols in this original Rainbow Riches slot game. If you enjoyed playing Rainbow Riches, why not take it a step further and play Rainbow Riches Reels of Gold