Eggomatic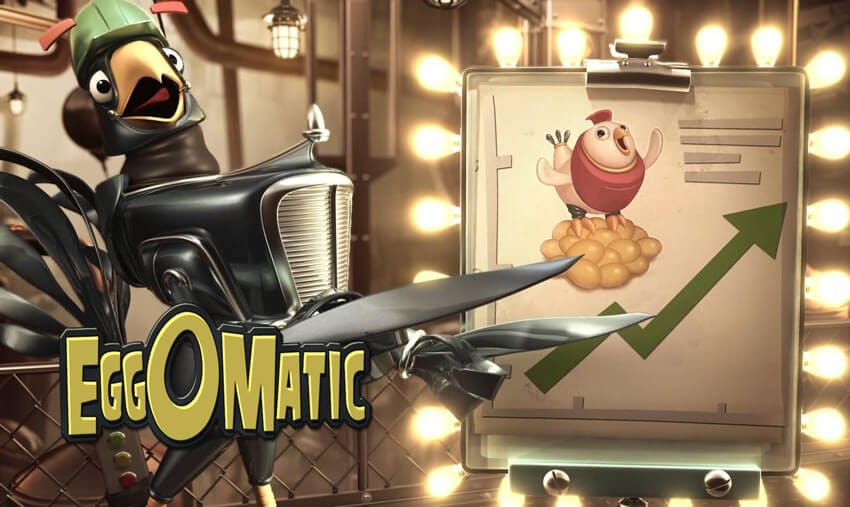 Heres a superb new online slots game from NetEnt which you can play and have fun. If we could also make another comparison, then we would say that Eggomatic is also like Hotel Transylvania: a movie that has a very unique art style and premise. We make the comparison due to the premise of this game being a rather eclectic mix of symbols looking like mismatched hybrids of different elements and animals that all would fit perfectly within the film that we just mentioned.
In case you haven't already noticed, we've tried to paint a picture on the design of this slot. The reason for this is because this slot is its own beast in terms of art style and delivery. NetEnt clearly had an idea as to what they wanted to make, and they have gone above and beyond to succeed in their vision — something quite difficult to pull off if you consider the ever-expanding world of online casino. The graphics here don't stutter and will not shake throughout your playthrough of this online slot games which once again, is a thumb up from us to the developers again. Reels will feature these wacky hybrid creations, you will no doubt pick your favourite beasties like we did (we liked the chicken, yes, we know he's the mascot but what can we say? We're easily pleased).
Quick Links: Mermaid Millions | Vikings Go Berzerk  | Gonzo's Quest | Aloha | European Roulette | Vikings Go Wild | Irish Eyes | Fluffy Too

Developer of Eggomatic Slots
In 1996 Net Entertainment was formed in Sweden as an offline casino operator, today NetEnt is one of the leading names in online gaming that now stretches worldwide. The ever-growing list of games that NetEnt have created have, if anything, inspired many other games within the market, this is something that is completely unheard of in modern day gaming, where re-inventing the wheel can be difficult when there is already a set path of creating a successful slot. Since its inception NetEnt have produced over a hundred titles, each with their own significant themes and experiences. These guys are tried and tested and have even stood the test of time itself, over a decade of entertainment and we're sure there will be decades more to come. NetEnt: the dynasty of the online gaming industry.
If you love promo's, get the best slot offers now!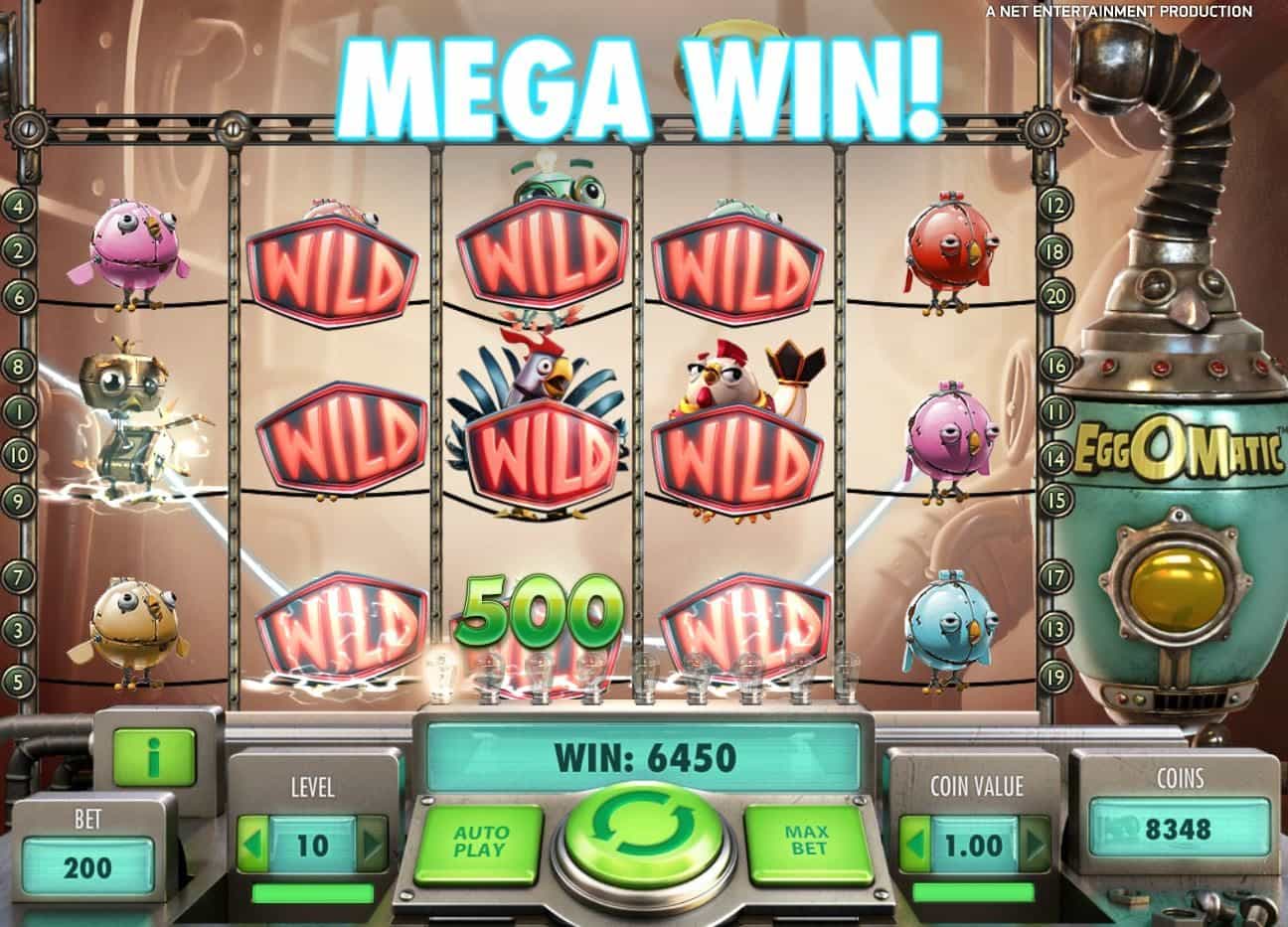 Gameplay guide to Eggomatic Slots Games
Joining the NetEnt catalogue of great titles is the rather eggs-trembly poignant title known simply as Ergometric: a game that is as fun as it is to use egg puns (there will be a couple in this review, we can only apologies now). This game is so addictive that it's quite confusing to think about. You'll often question why you are playing this 5x3 slot with 20 pay-lines/10 betting levels. There is lots to see and do in this game despite you may be turning away from the game on name or face value. We highly recommend you give it a chance for this is a game worth your time and your attention. All it needs is a chance to crack that demeanor.
The game begins with a short video detailing the story of EggOMatic. The basic premise is based on a rooster who invents a machine called the EggOMatic to make more eggs. It's your job in the game to help this friendly rooster in making as much eggs as possible. He's quite a rich animal for having no pockets as he'll be giving you cash in hand for a job well done depending on the amount of eggs matched. The design leans very heavily on machinery which works very well for this type of game. It's immersive and you'll never stop wanting to please the rooster (he's quite hard to please so the more you play the more chances at higher rewards).
Higher-value symbols in EggOMatic take the shape of various robotic chickens. They are, from highest to lowest value, a white and red rooster with a crown tail, a lavender hen with a heart on her chest, a green and white young chicken with huge eyes, a blue rooster with a red comb and propeller-shaped tail, and a rather sad little chicken who happens to be brown. Lower-value symbols also appear in the form of much smaller chickens at different colours again. The soundtrack of the game is very reminiscent of what it would be like to work in a factory. Heavy machinery noises play in the background, we know it can be loud but there are eggs to be made! There is also a mute button if you want to rest your ears. The wild will also cluck whenever matched so be sure to be prepared for that, we nearly laid an egg out of fright when it happened the first time to us!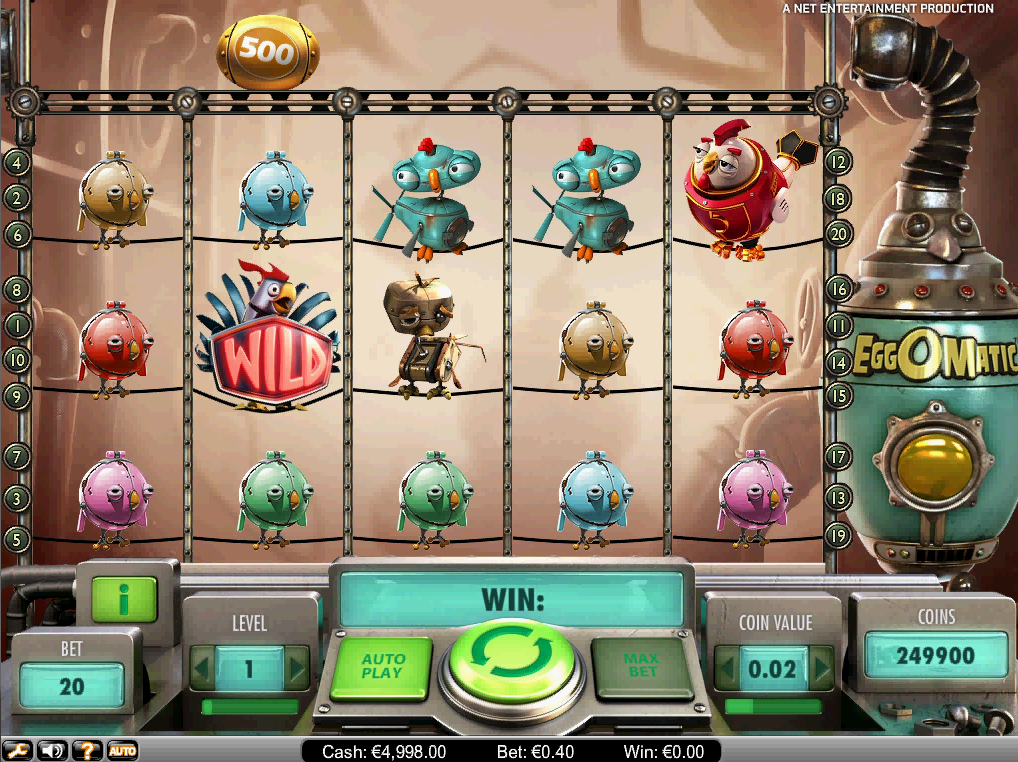 Final thoughts on Eggomatic Casino Slots
Let's get this over with straight away, if you like eggs and want to continue your obsession then this is the game for you. An excellent experience that is sure to put a smile on any avid gamers face. The graphics are simple, and the gameplay is great for any first-time player. So many egg puns and so little time but we could no doubt continue our never-ending list of puns (we have notebooks full of puns, is that sad or extremely cool, we'll let you decide). EggOMatic is a slot that doesn't take itself too seriously which is why it works so well in grabbing players attention for long spaces of time. EggOMatic is most definitely worth your time, especially if you are someone who enjoys something a little offbeat and eye-catching when running reels upon reels in hopes of victory. 8/10 If you enjoyed Eggomatic then you might also like Avalon II Quest for the Grail.