Gonzo's Quest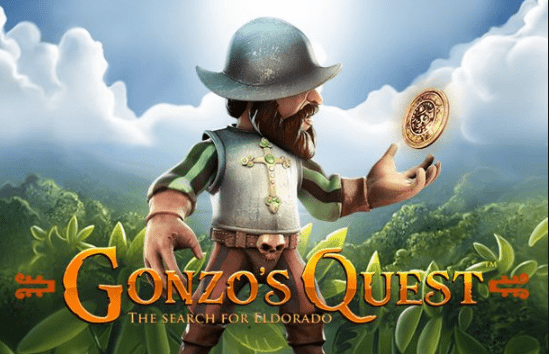 Here's a superb new online slots game from NetEnt. Embark on a quest of discovery, adventure, and hidden riches with NetEnt's latest conquest, Gonzo's Quest: The Search for Eldorado. The inspiration for the title character, Gonzalo Pizarro, was a Spanish Conquistador who, along with others, sought the fabled lost empire of El Dorado, and the treasures said to reside there. El Dorado has long fascinated European explorers, and prompted many expeditions with the aim of attaining gold and glory. Conquistadors were determined Spanish explorers during the Age of Discovery, when European travellers left their homes to discover far-away lands previously unknown to them. Though this history lesson carries a serious message about colonisation, Gonzo's Quest captures the spirit of these expeditions with a light touch of humour. This is, after all, a fun slots casino game. The story pairs you up with the charismatic and amusing little conquistador Gonzo as together you seek your fortune amongst the intricate stone carvings and ancient artefacts of the Peruvian jungle. And there are many treasures to discover! One starts by looking at our promo's on Slotsbaby!
Quick Links: Diamond Strike | Bonanza  | Jungle Jim - El Dorado | Big Bad Wolf | Irish Luck | Fluffy Favourites Fairground | 3 Genie Wishes | Chilli Heat

NetEnt's Latest Slot Game Release
You know what you're getting with NetEnt, and that's invariably a visual treat and cracking good slots play.   Their slots games are characterful and distinctive, so much so that you can tell they're NetEnt at a glance.  What's more, their high production values and attention to detail makes them truly immersive.  As in this slots short opening animations and cut-scenes often kick off the gameplay.  Some of their other outstanding titles include:
Jack and the Beanstalk
Boom Brothers
Ghost Pirates
Secrets of Atlantis
NetEnt's games often feature a quirky, sometimes comical, but incredibly detailed cartoon style, which gives their games an absorbing narrative, increasing the player's feeling of investment in their world.  We've come to expect an immaculate level of quality from this team, and Starburst certainly doesn't disappoint.  Though it isn't opened by an animated cut-scene, the beauty of this game is in its classic simplicity, and it seems right that the player is launched straight into the action.  It has all other the hallmarks of a NetEnt offering, including stunning visuals, user-friendly controls and captivating bonus features.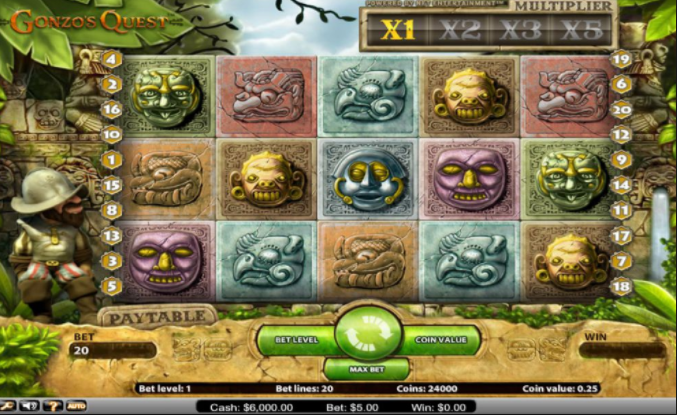 Play Gonzo - One of the World's Best Slot Games
As with many NetEnt games, we open with a short, animated intro, introducing us to our friend Gonzo, a bearded fellow in a conquistador's outfit, complete with metal helmet, as he jumps ship in the middle of the night to strike out on his own in search of the lost city.  We follow him to the game screen deep in the jungles of Peru. The background consists of jungle foliage and the relics of ruined Incan temples, and as the reels spin, we get a glimpse of an Incan pyramid behind them, adding to the realism of the game environment.  Jungle birds sing quietly in the background, and there's an immersive sense of being alone (bar Gonzo) in the jungle.
Gonzo stands to the left of the five reels, keeping us company and occasionally consulting his map, as we spin.  This is a great device, as his reactions motivate continued gameplay.  For example, he will sometimes react to large wins with a celebratory anachronistic moonwalk across the front of the reels or a fist pump.  Once in a while, he will even take off his hat, flip it in the air and spin it upside down on his finger, and it feels like a real achievement when you get him to do this while playing Gonzo's Quest!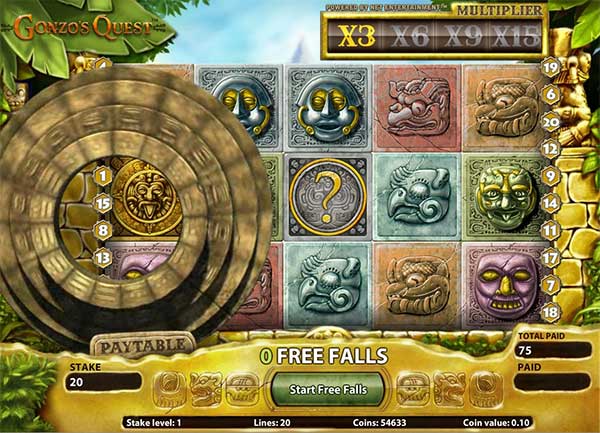 The reels themselves for Gonzo's Quest are innovative in design.  They consist of piled carved stone symbols, which tumble realistically when you spin, as though they are falling from above.  Win lines will smash and crumble in an 'avalanche' effect, providing a sense of great satisfaction, as well as an interesting additional gameplay mechanic in which new symbols tumble down to fill the gaps.  This can create new win lines, leading to large multipliers, meaning more 'bang' for your buck.  Some of the game's inventive bonus features are:
FREEFALL – Gonzo's Quest includes a unique spin on the classic SCATTER feature, with 3 golden face Freefall symbols in succession from the leftmost column triggering 10 freefalls
WILDS – the golden stone carved question mark acts as a WILD symbol, and is a substitute for any other symbol
MULTIPLIERS – this standout feature cleverly uses the concept of avalanches, as mentioned above, to effect multipliers. The more avalanches, the more multipliers accumulate, with the initial avalanche creating a 3x Freefalls multiplier, a second creating a 6x multiplier, the third avalanche a 9x multiplier, and 4 or more avalanches a whopping 15x Freefall multiplier.
The handy 'paytable' button at the bottom of the screen keeps you clued up on all the gonzo's Quest mechanics, bonuses, and the details of multipliers, which is great, as some of these operate in original and creative ways that might not seem obvious at first.  You can quickly and easily set your bet level and coin value with shortcut buttons, and there is also an autoplay function if you'd like to take your hands off the rudder for a while.
Also worthy of a mention are the spectacular sound effects.  The sound of the stones tumbling as you spin the reels is remarkably real, and each spin (and some wins) are enhanced by the sound of pan flutes.  This only adds to the completeness and consistency of the game world, and makes this game really shine in its quality.
Gonzo's Quest Slot Verdict
The Search for Eldorado is one of NetEnt's most impressive productions.  It's quirky and absorbing, with seemingly-infinite little secrets and treasures to uncover along your journey of play.  Gonzo's presence and characterisation mean this game is brimming with personality and entertainment value.  So often slots games focus on cash rewards, and this is, of course, a large component of this slot, but the game stands out amongst others because cash wins are accompanied by small, tantalising snatches of entertainment, that glint like jewels in an archaeological dig as the game progresses.  El Dorado might be nothing more than a legend, but Gonzo's Quest is definitely legendary. If you enjoyed then you might also like Planet of the Apes.