88 Fortunes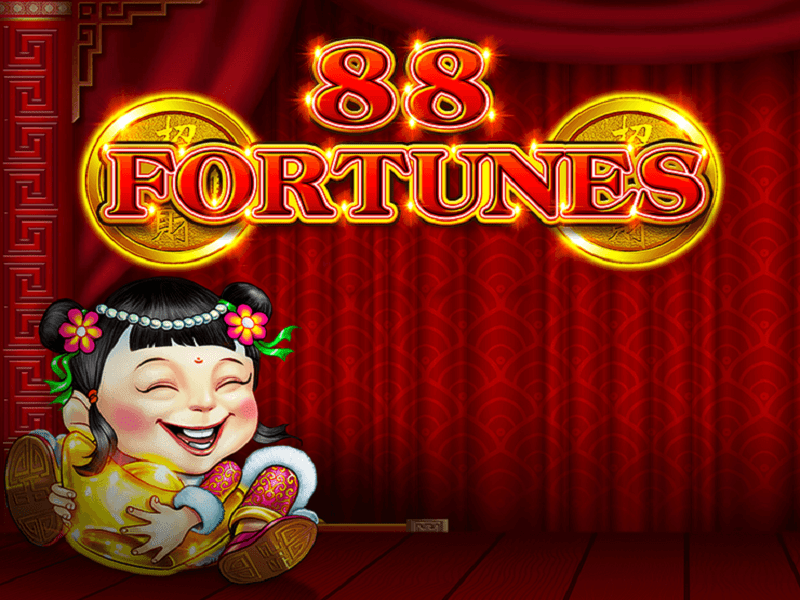 At Slots Baby, it is starting to get groovy, baby. Barcrest have released their luckiest game yet, 88 Fortunes! An Eastern-Asian themed online casino slot game that is full of xìngyùn and qián. When you visit 88 Fortunes bring a belt because Eastern-Asian coins are pretty heavy. 88 Fortunes is a 5 reel slot, sporting 3 rows with a massive 243 different ways of coming out on top. If you wish to learn more about this slot then we highly encourage you to read the rest of the review! Will Barcrests latest release get the critical acclaim of its other titles?
Gambling is ingrained in Chinese culture. In fact, gambling is said to have been invented in China! Thank you, China! I guess it is not just paper, silk, printing, iron smelting, tea, rockets, fireworks, kites and compasses that we have the Chinese to be thankful for. One of the earliest gambling games played in China was Keno. Keno is very similar to a lottery or bingo game, and it is played to this day! Gambling is still extremely popular throughout Asia to this day! Macau is known as the Las Vegas of Asia! Many wealthy Asian gamblers travel there to participate in their favourite hobby.
Quick Links: Lucky Leprechaun | Lucky Irish  | Shaman's Dream | Enchanted Prince | Twin Spin | Stardust | Mega Moolah

About the Online Casino Developer
This game looks stunning. As you would expect from an Eastern-Asian online slot game, there are many reds and golds throughout the colour pallet of the game. In fact, in China, red represents good luck. Which is suitable in this fantastic online casino slot game. The colours are very eye-catching and visibly appealing. Find this and more amazing slot games in the cradles of Slots Baby!
We also loved the sound of this game, yes I said the sound! The authentic Eastern-Asian musical soundtrack is fun and catchy. We have been humming it all week. The sound effects in this game are beautiful. The clinking of dropping coins is orgasmic for the ears and the bank account.
The game uses a traditional playing card lower-paying symbols: 9, 10, J, Q, K and Ace. The 9 symbol is a shade of emerald green. The 10 symbol is a ruby red. The Jack is a sapphire blue and the queen is gold. The King symbol is a warm orange and the Ace is hot pink! The higher paying symbols include a Chinese warship, a golden pot, a golden turtle and a golden gong!
There are two Eastern-Asian characters who help you play the game. These are a lovable pair, with a romantic backstory.
There are many great features in the game. These include:
A Gigantic Jackpot. In this slot, there is a progressive jackpot element at play. This means that there are a variety of different ways to come out with the highest scores possible. This jackpot is progressive. This means you will have plenty of opportunities to win it!
Free Spins. To achieve this, you must match 3 SCATTER symbols. In this game, the SCATTER is represented by the gong symbols on the reels. Once this is done, you will be granted free spins in return. Free spins come with additional multipliers. Multipliers increase your scores to even greater higher than they were originally. This will help you rack up those credits as fast as the spread of the Mongolian empire!
WILD. In this great game, the WILD symbol is represented by a Mandarin character, Fu Bat. The WILD functions as a symbol which can represent all the other symbols o the reels, apart from the SCATTER. It can help and complete combinations and give you more wins! Fu Bat is a symbol of good luck in Chinese culture.
We really enjoyed the vast amounts of research that Barcrest put into creating this game. All references to Eastern-Asian culture are accurately represented and are educational.
The minimum bet is 0.08 per spin and the maximum is 88. How suitable! The maximum jackpot win is a whopping 250,000! These statistics are so exciting. This online casino slot game is extremely fun. The great features within the game mean that you never know what is about to happen next. The gameplay is unpredictable but predictably enjoyable! If you enjoy this game, try Slot Baby's other great titles.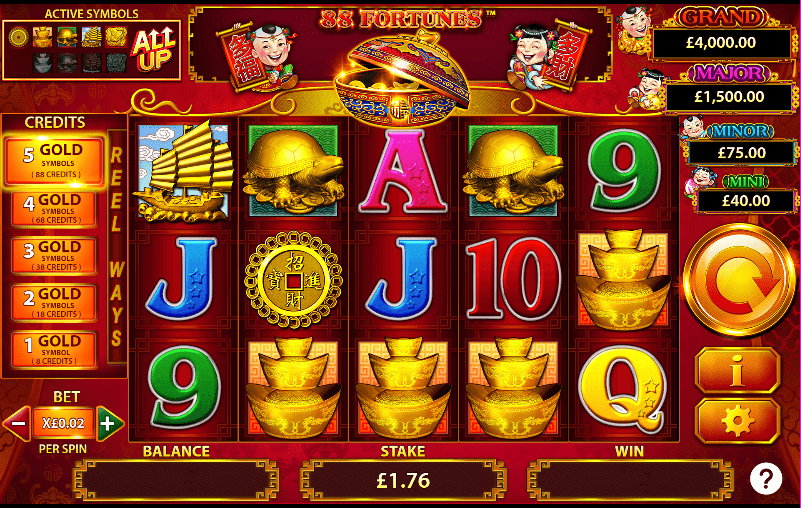 About the Online Slot Game
Since this is an Asian-centric slot, you can expect the colours here to be of a mix of gold and reds, which are incredibly pleasing on the eyes and do a great job in encouraging players to keep playing. Barcrest have done an incredible job in offering something unique while still including exciting slot promos, the same goes for the additional features within too:
A Gigantic Jackpot: In this slot, there is a progressive jackpot element at play, this means that there are various different ways for you to come out with some of the highest scores possible. This jackpot is progressive meaning you will have plenty of opportunities to win it all.
Free Spins: Matching 3 gong symbols on the reels will grant one free spin in return. Free spins come with additional multipliers that will throw scores even higher than they were meant to go. The more scatters you match the more free spins you will win in turn, remember that.
Find more online casino games here!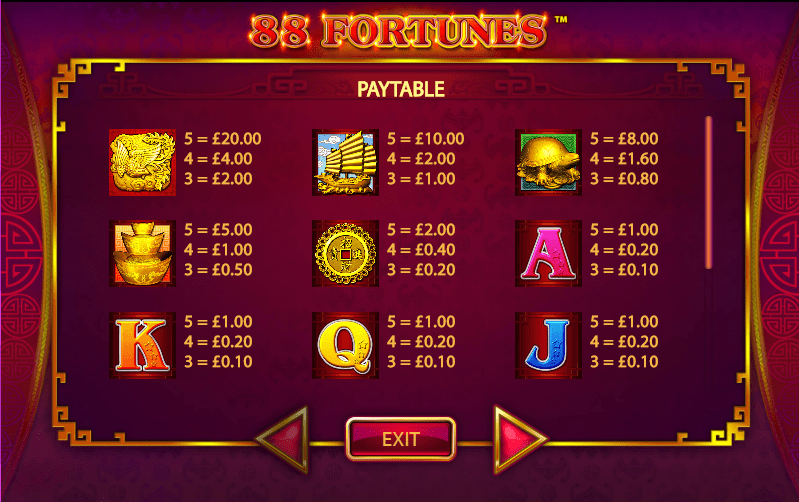 The Verdict on 88 Fortunes
There is no dispute, 88 Fortunes is the greatest online casino slot game we have played all year. 88 Fortunes is a slot that every avid slot enthusiast should be playing. Among the many Easter-Asian themed online casino slot games, this is probably the best of the genre. Endless amounts of fun. We have not been able to put this fantastic game down. This game has beautiful graphics and has a pleasure is to listen to. The symbol illustrations are unique and a delight to watch spin! Play Spartacus now at slotsbaby.com.