Vegas Single Deck Blackjack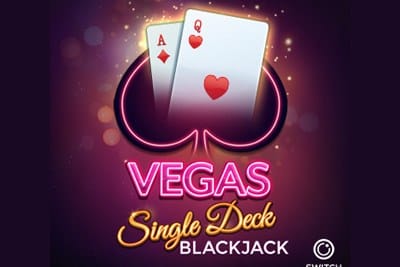 Vegas single deck blackjack  is a popular variant of the casino game Blackjack. It's played with just one deck of cards, and offers a good house edge for players. The good news is that if you're already familiar with the basic principles of regular Blackjack then you are at a good starting point. Make sure you read on to find out all you need to know about Vegas single deck blackjack . If you want to play it, or new online slots, right now, then head on over to Slots Baby and begin your gaming adventure!
Quick Links: Lucky Leprechaun | Lucky Irish  | Shaman's Dream | Enchanted Prince | Twin Spin | Stardust | Mega Moolah

How to Play Vegas single deck blackjack
So how do you actually play Vegas single deck blackjack ? The essential aim of the game is to not go bust, and this means that your hand can't exceed the value of 21. If this happens then it means that you have lost. You want to try and beat the dealer of the game, and you do this by scoring as close to 21 as possible. You will need to place your initial bet to begin the game, and then the dealer will shuffle the one deck of cards. Vegas single deck blackjack  has specific rules in place compared to other variants and you will need to keep these in mind. The dealer could stand or hit soft on 17, you may not be allowed to double down after a spilt and whether you can surrender. A Natural Blackjack will pay you 3:2, a winning hand will pay you 1:1 and a winning insurance bet will pay 2:1.
Strategies or Card Counting
Card counting seems like a good strategy for this game, as it's easier to achieve the results you want. It's a technique typically used by more advanced players, but it's definitely one that you can practice. There's also a few strategies that you can use:
Pairs: split if you have a pair of aces or 8-8.
Soft hands: if you have an ace then you stand a better chance of winning. For example, if you hit an ace and land a 7 then you are closer to reaching 21. You can sometimes successfully use this to stand soft.
General tips: never bet more than you can afford as you lose your hard earned money. Also, never rely on dealer's tells if you are playing a live version of the game. It's a piece of advice that some people give out but it couldn't be more wrong! Dealers don't know the value of the cards they have dealt, so it's impossible for them to give anything away.
If the strategies for this game seem to complicated, why not try some slot games uk instead?
Last Thoughts on Vegas single deck blackjack
Vegas single deck blackjack  is a fun variant of the traditional Blackjack game! It's different from the multi-deck versions in terms of its specific rules. The game has a lower house edge and that's a big advantage to players. What's more, it's an easy game to understand and that's always a bonus! Head on over to Slots Baby to enjoy a couple of games of Vegas single deck blackjack or try Classic Blackjack instead!