Baccarat


Baccarat is mostly a classic casino game, and the fact that it can be played online makes it more exciting for players who can enjoy the classic gameplay in their homes. Although baccarat is a classic James Bond casino game, it is also quite easy to play as long as you get the standard rules, have some strategy to back it up, and a grand online casino where you can practice. This guide has it all.
Keep on reading on how to play baccarat, and if you already know how to play, you can log onto Slots Baby right now and give it a try. Here, you can also play other new online slots and casino games.
Quick Links: Jimi Hendrix Video Slot | Guns and Roses Video Slot  | Asgardian Stones | Viking Gods | Viking Fire | Thunderstruck 2 | Siren Serenade

Playing Baccarat - What to Expect
Baccarat is one of those games where you make your bet, wish for luck, and watch the game unfold in front of you. The game is played with space for 14 players, but only 13 are allowed as the 13th chair is always skipped.
There are three bets to be made when playing baccarat, and this is the most crucial decision. You can either bet on the player to win, the banker, or a tie between them.
After you make a bet, the dealer will give the cards to the player and banker. Depending on the baccarat variant you're playing, you will get six, eight, or nine cards.
The hand will always be reshuffled after each round. Keep in mind that the banker in baccarat does not mean the casino but just one of the two parties playing on the table.
This is unlike blackjack, where players are gambling against the casino. A player's aim in baccarat is to get as close to 9 points as possible.
Apart from this, there isn't much you need to do, as the game's structure is predetermined. With these steps, you can start playing at Slots Baby and try out some of the best slot games too.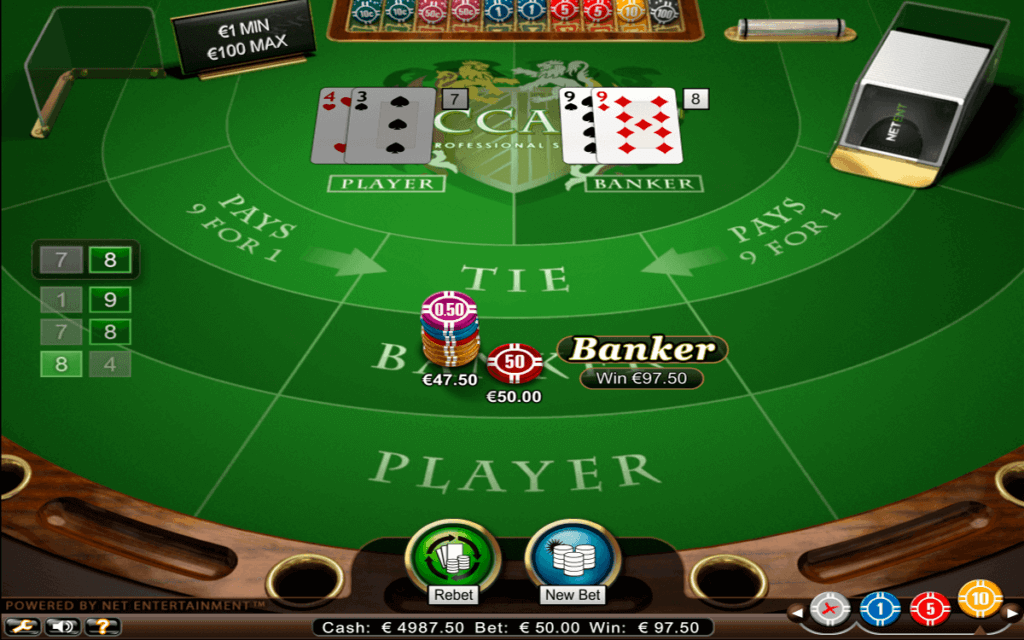 Baccarat

Gameplay
This is the standard gameplay that a game of baccarat will follow. This can differ according to variants, but it's mostly the same process.
You place your bet on either the player, the banker or the tie. You won't get any cards until you have placed your bets.

Then, the virtual dealer will give the player two cards facing up and the banker two cards facing up too.

If the cards dealt out to either the player or the banker have a value of 8 or 9, the hand wins. This is an automatic win, and if you bet on the winning hand, you can cash out on your gains. In the case where they both have the same hand values, then it's a tie.

If there's no automatic win, then the player will either stand if he has a value of 6 or 7, or draws if the value is below 6. This will then determine if the player wins.
There are three house edges in baccarat, depending on the bet you make. If you bet on the player, the casino has a house edge of 1.36%.
For the banker, it's 1.17%. Betting on a tie is a risky move as it comes with a house edge of 14.2%.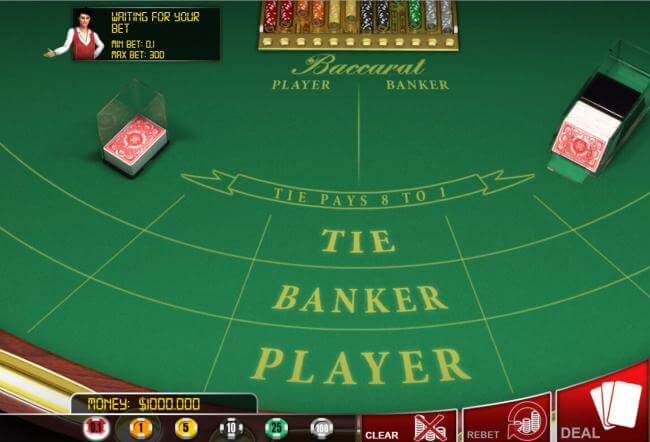 Value of Cards in Baccarat
When playing at an online casino, your cards will be counted automatically for you. Even with this, a real baccarat player knows the value of their cards. These are the values of cards when playing baccarat.
Cards with 2 to 9 are counted based on their face value.

Queen, King, and Jack are counted as 10.

Ace is worth only 1.
If you have a hand value of more than 10, 10 will be subtracted from it because you are trying to get close to 9 points. For example, if you have a card with a face value of 5 and a Jack, this means your hand value is supposed to be 15 but will be five instead.
Baccarat Winning Strategy
Choose Your Winning Side Wisely:

Although betting on the banker may seem obvious because it has a lower house edge and better odds, banker bets have a higher commission. So, if you bet on the banker, even if you might win, you still get less value because of the higher commission. If you don't mind the high commission, then it's always best to bet on the banker to win. Remember that you should never bet on the tie.

Stop While You're Ahead:

If you're already on a winning streak, you should cash out and leave that baccarat game. Baccarat is a fast-paced game based on luck more than it is based on your strategy or the way you count cards. It's best to take the wins that you have rather than take a more significant risk and lose it.

Don't Change your Betting Strategy:

If you have a betting strategy that works for you, you shouldn't change it. Instead, it would be best if you stuck to it. Don't feel discouraged when you have losing sessions. Baccarat is a game that doesn't guarantee wins at every session, which is why the classic game is exciting and fast-paced.

Check the Odds of the Game:

Before playing at an online casino, check the commission placed on their bets, especially the banker bets. Most casinos, like Slots Baby, offer commissions as low as 5%. Others go all the way up to 25%, discouraging players from betting on the banker.
With this strategy, you can win more than you lose at baccarat. You can start playing this casino game at Slots Baby and check out some new slots while you're at it.
Last Thoughts on Baccarat - Hit or Miss?
Baccarat is a classic casino game that all players must try once or twice. It is exciting to play, offers no dull moment, and does not require a lot of decision making.
The best online casino to play baccarat at is Slots Baby. Here, you also get access to other casino games and their variants, as well as new games such as Lady Earth Slot as they are released.