Tree of Riches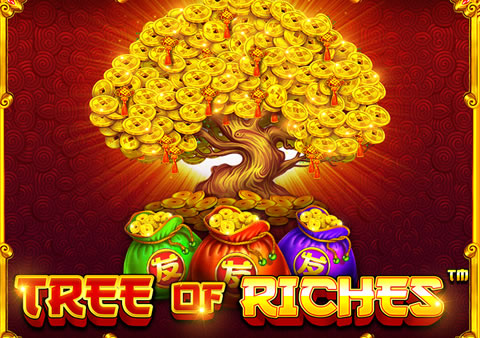 Developer Pragmatic Play has gone for a more stripped-back approach in the slot we're going to be reviewing for you today, something that should sound like music to the ears of many who consider themselves avid players of some of their titles. Tree of Riches is a Chinese-themed game, one that can bring great wealth to those who play, just as long as they play smart, and play right. We sit by this tree often, it's cosy. 
Tree of Riches is a 3 reel slot, one that is played across a single pay line - you can play on Slot Baby's slots uk online. Know that you can spin here from as little as 1p a spin up to £50 depending on your own preferences. We won't tell you everything (we're saving that for the rest of the review down below), but we will tell you that there are features here that can net you up to 2,888x your stake — not to mention various additional bonuses to boot!
Quicklinks: Fiddle Dee Dough Slot | White Wizard Slots | Rio Bingo | Forest Mania | Burning Desire Slots | Tornado Farm Escape

Pragmatic Play - The Developer of the Tree of Riches Video Slot

Ladies and gentlemen, it's our privilege to introduce to you, Pragmatic Play, a developer that is on the cusp of greatness (some would argue they've already made it)! Slots such as Tree of Gold have more than proven themselves worthy of your attention. Did you know that over 50% of their games are played by tens of thousands of people on a regular basis? These guys have a knack of crafting all-round experiences that only get better the more you spin them, you can bank on that. 

There's plenty of fantastic titles to pick and choose from out of the Pragmatic Play catalogue, each as distinct as the last! Not a lot of developers are crafting slots with the heart that Pragmatic Play has, it's one of the main catalysts in why their games are so good. Be sure to find the time to check out the slots down below if you want to keep the good times rolling — and make a hell of a lot of money too:
3 Genie Wishes

Beowulf 

Monkey Madness  

And many, many more!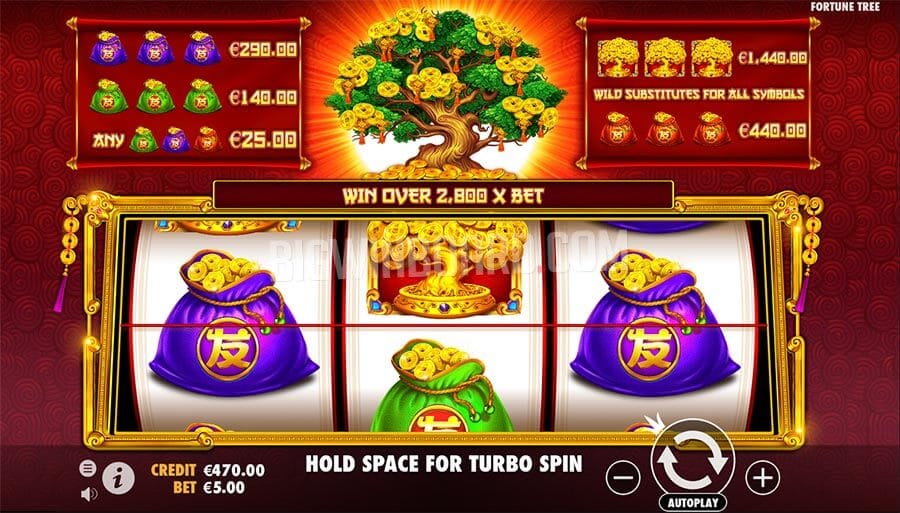 About the Tree of Riches Casino Game/Bonus Features 

When playing this slot for the first time we got the sense that this was somewhat of a homage to the slot machines of old, the kind that you could pick up relatively quickly despite having never played it before. The fact that this slot is set up using only 3 reels and one payline is definitely telling, it tells us that Pragmatic Play is going for quality over quantity. 

In order to spin here in Tree of Gold, punters must first present this firmly rooted giant with an offering — in other words, set down a starting bet. Bets in Tree of Gold are varied, to say the least — one can play from as little as 1p up to £50 with every spin, this allows you to approach every spin at your own pace, or simply just play for fun if that's why you're here! Once you're happy with the bet presented, just hit spin and get ready for the reels to start shifting. They offer fantastic bonuses and slot promotions!

We'll tell you this right now, Tree of Riches might be one of the most streamlined online slot machine experiences we've had in a long time. The gameplay here is incredibly simplistic, so simple in fact that we can guarantee you could sit a trained monkey down in front of the screen and have it come out on top! We can't even liken it to a fruity either, it's just its own thing! 

The look and feel of this slot is very well done, a slot that utilises a lot of gold on red to help really drive home that fortuitous feeling. There is an obvious Chinese influence here in the design, but this was always a-given due to the nature of this slot and the sort of audience Pragmatic Play are trying to attract — we've recommended Tree of Riches to players of multiple entry levels, and they all love it! 

Symbols in Tree of Gold take the shape of various money pouches, each presenting a different amount to the player depending on the colour of the said purse. If you are able to match three of the green pitch, you'll receive 28x your bet just like that. Matching the purple bag will net you 58x your stake. The red bag will award 88x your bet too, so be sure to look out for those — or any high scoring symbol for that matter. 

Like we mentioned at the top of the review, the Tree of Gold online slot is not without a few bonuses to keep things interesting as you spin. Wild icons are present here, and matching them will cause most icons on the board to be substituted. If you are able to form a win using standard symbols and a wild, you could earn a special multiplier prize. Know that this doesn't trigger with every wild win, but when it does, you'll know about it. 

If the player is successful in planting three wilds on the same line, the result will be 288x your initial stake — this is quite uncommon to pull off, but if you are playing often enough we see no reason for you not to take advantage of this multiple times. If you are lucky enough to trigger that multiplier we just mentioned with three wilds on the screen, you'll earn a gigantic 2,888x your stake, a number that could make you very rich indeed! Discover the best slot games here.


Final Review of the Tree of Riches Slot
Tree of Gold is its own beast, and we love it! This is a simple yet effective slot machine that comes with just enough to keep you hooked but doesn't bloat the experience with pointless bonuses and whatnot. Pragmatic Play has done an excellent job in crafting a slot that exists on its own when compared to other slots in their catalogue. There's plenty of room under this tree for everybody, so come on, take a seat!