Rainbow Riches Megaways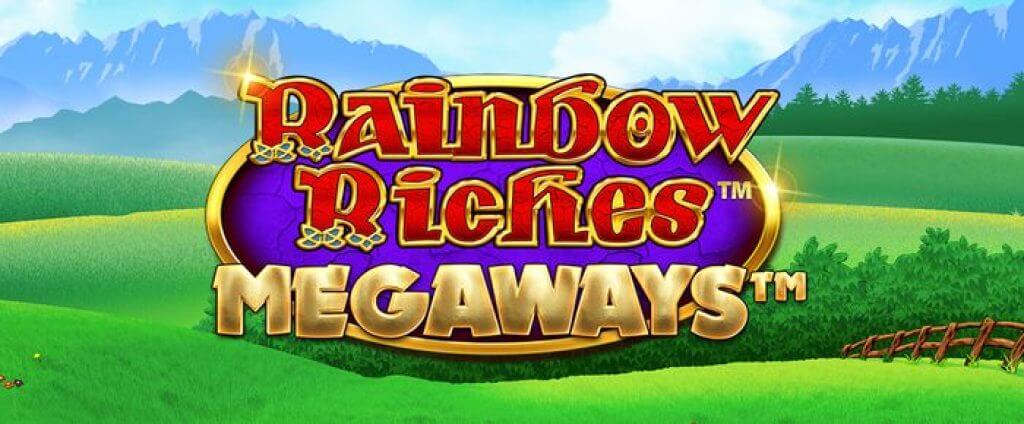 Irish-themed slots are ten a penny, which does make it somewhat difficult in finding one that isn't out to rinse you for everything you have, thankfully Barcrest have you covered. When it was released a few years ago, Rainbow Riches made all the front pages of your favourite online casino sites, and now they've one-upped themselves with a Megaways version, can you believe that — we're still trying to wrap our head round it! Discover the best slot games here now!

Unlike the original, Rainbow Riches Megaways is a 6 reel by 117,649 payline video slots uk online, brought to you by the good folks over at Barcrest (we aren't kidding, there really is that many paylines here). Punters can spin here from as little as 20p a spin up to £20 depending on how they like to spin. We don't want to spoil too much as we want you to play the game, but know that this slot is almost identical to the original with a few additions — you can learn more by reading on!
Quicklinks: Fiddle Dee Dough Slot | White Wizard Slots | Rio Bingo | Forest Mania | Burning Desire Slots | Tornado Farm Escape

About the Developer of the Rainbow Riches Megaways Slot: Barcrest 
Founded in 1968, Manc developer Barcrest currently stands as one of the oldest names in the game right now, a name that is respected by their peers and audiences alike! These guys have seen it all and practically done it all since opening their doors for the first time — bet they have some quality slot stories to share! They say that no matter where you go, you'll always find a Barcrest slot near you — most of their games are mobile-optimised to be fair…
These guys have treated us to many eventful evenings in the past courtesy of their slot machines, and we're pretty sure the same can be said from a lot of other people out there. Did you know that Barcrest has well over a hundred slots waiting for you to experience right now in their stacked catalogue? If you enjoyed Rainbow Riches Megaways and want to keep that money train chugging along, then definitely look at these games: 


Rainbow Riches 

Pearl of the Caribbean 

Lady of Avalon  

And many, many more!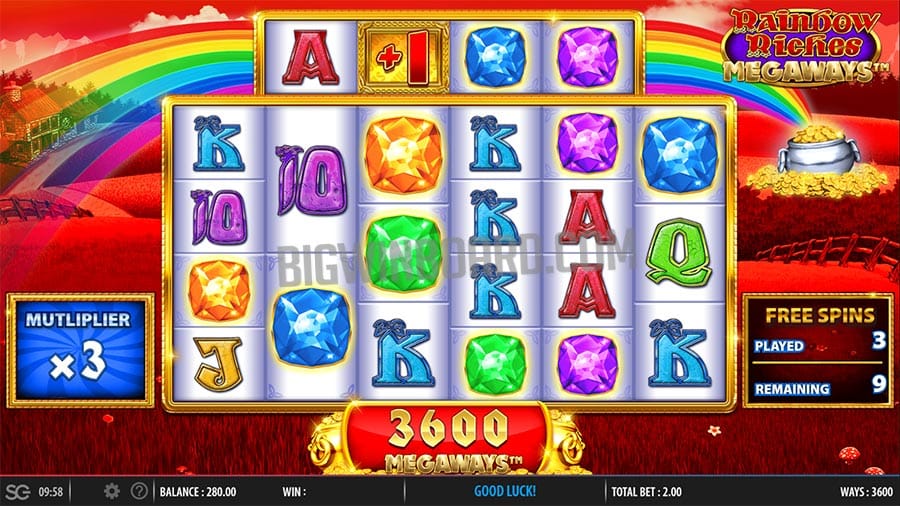 About the Rainbow Riches Megaways Slot Game/Bonus Features 

A valid argument could be made that Rainbow Riches is the best slot in the Barcrest catalogue — we've even questioned it a few times. So when we heard that they were coming out with a Megaways version, we started getting excited at the prospect of a Rainbow Riches with much higher stakes, and boy did Barcrest deliver in a big way! Disclaimer: you don't need to have played the basic Rainbow Riches to play the Megaways version. 

Let's talk about the look and feel of the slot before we go into the specifics. The look of this slot is identical to the original Rainbow Riches, utilising incredibly bright colours in the design to help push the theme of positivity with every spin! Look off in the background, and you'll find a rainbow pointing to the centre of the reels here — are they trying to say that this slot is a pot of gold? Of course, they are! 

Because this is a Megaways version of Rainbow Riches, punters should expect everything to be heightened here in some way shape or form. For example, in the original Rainbow Riches, finding five of the same icon on the same line would have net you quite a decent amount. In Rainbow Riches Megaways there are six reels total to contend with, thus meaning there is a lot more money on offer if you're lucky enough.

This is an Irish slot so you should expect to see all your favourite symbols appear here with every spin. Leprechauns, pots of gold and other symbols are all featured here. Low-value symbols are also present in the game and will add to your scores in small doses when found. Some of the symbols presented here do have a few hidden tricks, take the horseshoe symbol, for example, the wild icon here in Rainbow Riches Megaways. 

Wilds are a big part of why so many people have come out with massive cash payouts as they work as keys to bigger and better features! Matching the wilds here in Rainbow Riches Megaways will substitute everything on the reels aside from the scatter icon. If you care at all about making some serious cash in Rainbow Riches Megaways, then you can do no wrong by taking the wild route!

Rainbow Riches Megaways comes complete with a cascading wins feature. This is a feature that is included in other Barcrest slots but is definitely fit for a slot of this magnitude. So how does it work? Okay, so whenever you trigger a win here in the game the participating symbols are removed and replaced, thus giving you multiple chances to win again — think of this feature as like a domino effect, knock one symbol down and others will follow. 

Another feature that we should mention here is the super gem bonuses feature — we'd be daft not to mention it to be completely honest! Just match the super gem symbol on any reel and all visible gem symbols on the board will be transformed into a randomly selected gem symbol to form a winning combination. This is a fun little way of earning a big pot of cash without having to push that hard, trust us, we've had it happen to us a few times.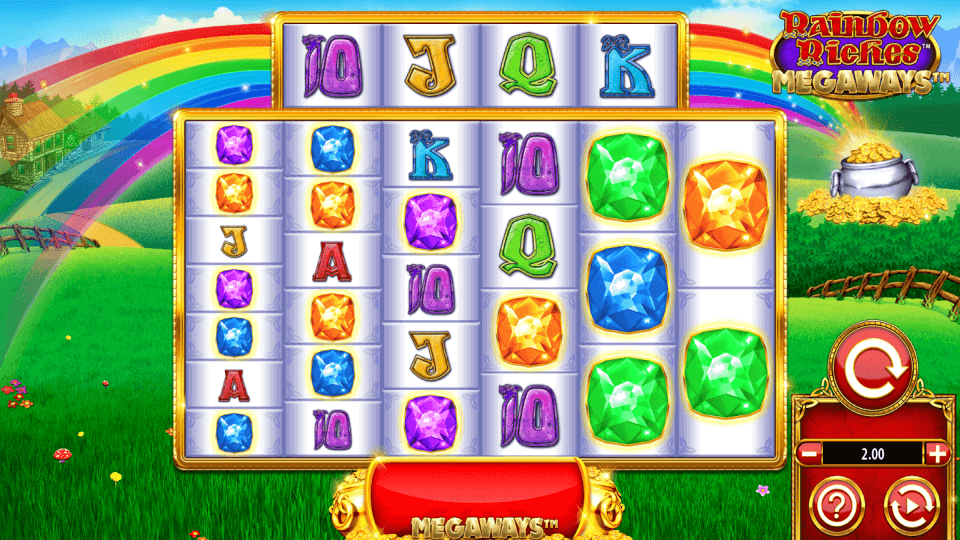 Final Review of the Rainbow Riches Megaways Casino Slot

Rainbow Riches Megaways does enough to warrant its own existence in our personal opinion. Yes, this Megaways version is essentially just a copy and pasted version of the original, but we were looking for an excuse to jump back into this Irish slot anyway! It is possible to rack up boat-fulls of cash here, which is all you need to know really. This is the pinnacle of Irish-laden experiences, trust us, oh and play now!