Lost Island Slot
Here's a superb new slot games online from NetEnt. The explorer in you will relish the mystery and tension of Lost Island online slots game.  No one wants to be lost, but should you find yourself without a map in unknown lands, Lost Island is the place you'd hope to be.  It's home to many fascinating and valuable artefacts and treasures just waiting to be discovered, and bonus features as rich and exotic as its setting.  In fact, you might even find yourself wandering deeper into the undergrowth, marvelling at the scenery and hoping never to find your way back.  So, spin the reels of this entrancing and atmospheric NetEnt game, and lose yourself in its heady atmosphere and complex gameplay. If you love promo's, get the best gambling promotions

About the Developer
Every NetEnt game is a journey to somewhere exotic and uncharted.  This highly reputable, ingenious developer is known for its cinematic offerings, in which slots gaming substance always matches style.  It's hard to find games with graphics quite as dazzling and high-res as those in their titles, which include the enormously popular:
Guns 'N Roses
The Invisible Man
Pyramid Quest for Immortality
Evolution
Emoji Planet
They've always been at the forefront of online gaming, and they were the first to develop Java-based online casino software.  And their continual growth and development, with their tools of creation and their up-to-date game content, has given them a well-deserved reputation as online slots giants.
Check out our entire list of slot online games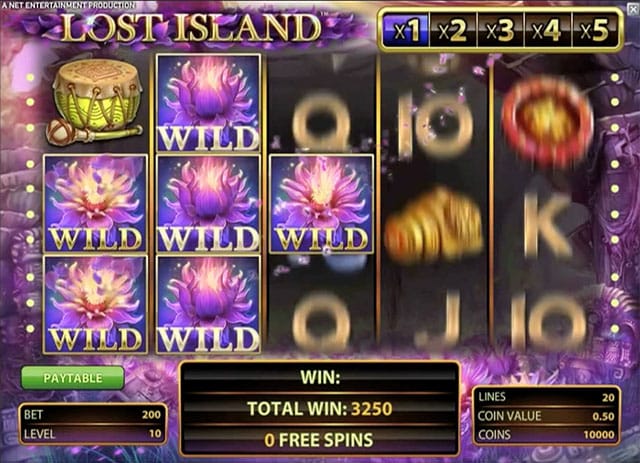 About the Game
The backdrop to the game screen lands you right in the heart of Lost Island's enchanting and uncharted depths.  Surrounding the reels, you can see exotic and alien-looking plants, and carved stone statues (erected by whom?  This island seems to be other-worldly.  There's certainly nowhere quite like it on Earth).  Behind the transparent reels, the background fades into darkness, enhancing the air of mystery.  The music, too, is enigmatic, and adds greatly to the atmosphere.  The large and beautifully-illustrated symbols on the 5 reels include a gemstone necklace, a decorative drum, and 3 different curious artefacts, one golden, one red, one stone, that look as though they might each hold some great secret.
There are 20 bet lines, and myriad features to spice up the gameplay.  These include:
WILDS – the glowing purple flower represents the WILD symbol, which substitutes for any other symbol apart from SCATTERS.
MULTIPLIERS – WILDS trigger multipliers equivalent to the number of WILD symbols that appear. For example, 3 WILDS results in a 3x multiplier (the multiplier is capped at 5x, even if more symbols than this appear).
SCATTERS – 3 or more SCATTER symbols (these resemble a golden coin or amulet with a turtle design) trigger Free Spins, during which additional Free Spins can be won, resulting in great winning streaks.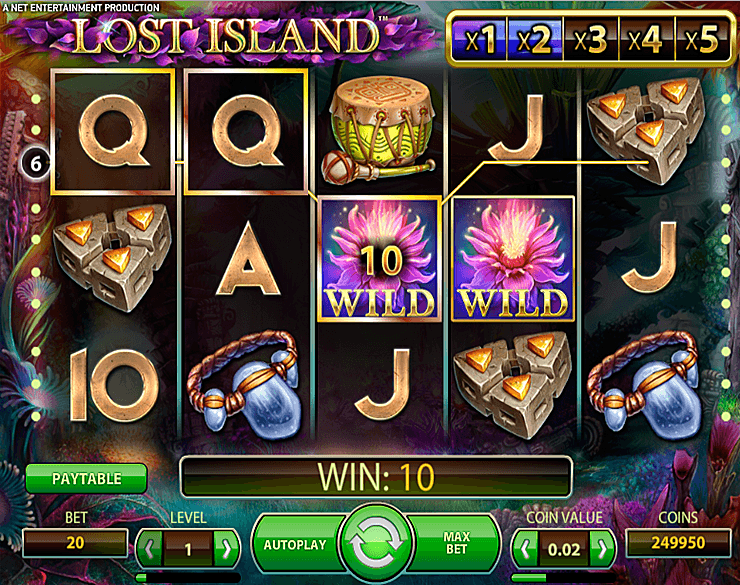 The Verdict
Lost Island is everything you would expect from a NetEnt title: visually captivating, immersive, and full of hidden secrets and treasures to discover as the game unfolds.  This is one island you certainly won't mind getting lost on (and perhaps you'll find your way home with some treasure as a souvenir) If you enjoyed Lost Island Slot then you might also like The Lost Riches Of Amazon