Finn and the Swirly Spinn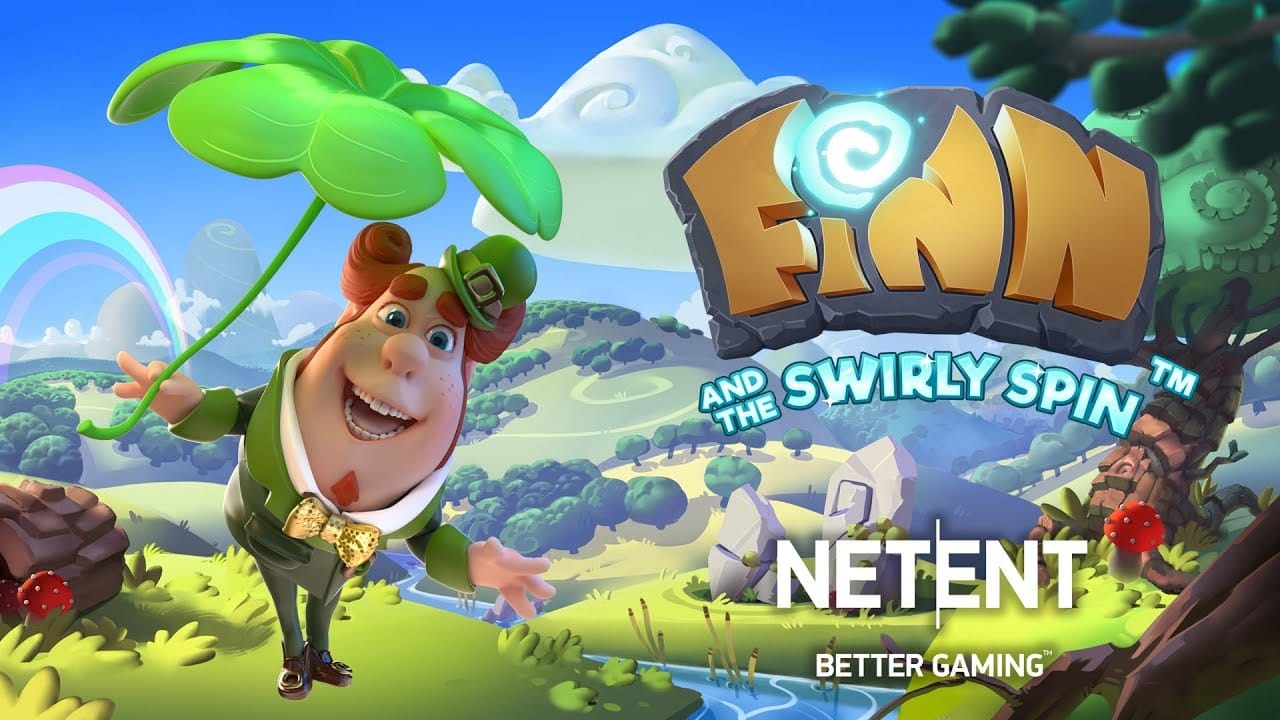 Here's a brand new online slot from NetEnt. A pioneer in its own right, Finn and the Swirly Spin raises the benchmark for cluster pay slot games. This new online slot game has a 5x5 grid system, totaling 25 spaces, each occupied by different symbols. The symbols, as the name suggests, swirl every time there is a win bringing the Lucky Key (Scatter) closer to the center, which unlocks the Free Spins. (If you love promo's, get the best top casino promotions)

Swirly Mechanics aside, the Free Spins and Random Features of this online slot game are spectacular. It's almost like you're saving up in the base game to go for a legendary pub crawl. There are 4 very unique drinking establishments you can go to for the Free Spins of this casino slot games. Each bar differs in style, ambiance, and random feature.
All in all, it's a really good effort by NetEnt – a lot of work went into this, and it shows. Instead of making just another Irish-themed online slot game, they introduced a completely new mechanic, amazing graphics, and of course an endearing Leprechaun – Finn. 

Also, not only is there a play-for-free version available, this casino game is mobile-optimised, and
playable from just 10p. You can check out our entire list of slot games.
Quick Links: Diamond Strike | Bonanza  | Jungle Jim - El Dorado | Big Bad Wolf | Irish Luck | Fluffy Favourites Fairground | 3 Genie Wishes | Chilli Heat

The developer of Finn and the Swirly Spinn slot
With a reputation for both features and graphics, NetEnt has acquired a bit of a cult following especially amongst slots players. It's not difficult to understand why: they are highly progressive and innovative while capitalising on emerging trends such as mobile gaming – in fact, approximately 40% of their revenue comes from their mobile platforms. A lot of their games regularly rank on lists for best slots, some of these include:
Wild West
Eggomatic
Gonzo's Quest
(and dozens more!)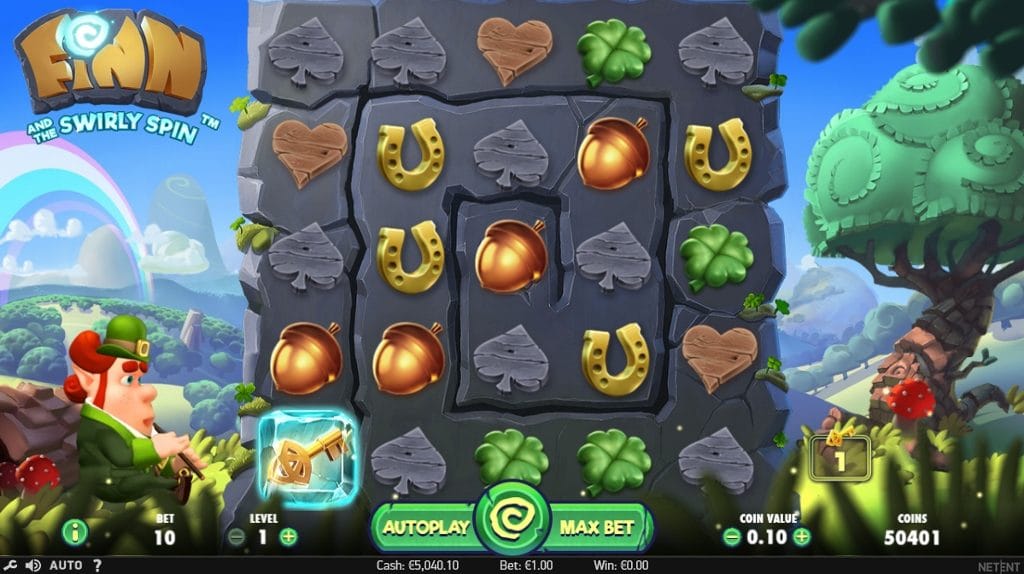 Gameplay on this Spinny UK Slot 
A refreshing change from icons falling from above, NetEnt have outdone themselves with this new slots game. It opens with a lovely introduction which leads to an opening page showcasing the highlights of the game with colorfully apt icons. In the center of the page is the friendly leprechaun Finn himself, looking right at you with a slight bow – almost as if he's welcoming you to his land.
The game operates with an Avalanche Swirly Mechanic. With 25 spaces on the board, the objective is to get 3 or more of the same symbol either horizontally or vertically to secure a win. The winning combination is confirmed with the explosion of these symbols, while the neighboring symbols slide into their place, bringing the Lucky Key (Scatter) closer to the center.
The symbols have a rustic charm to them, they are as follows: Horseshoe, Spade, Heart, Clover, Acorn, and Ruby. The Ruby seizes the biggest reward, landing 5 in a row will get you 50x your stake! And when you do land a winning combination, Finn makes you feel even better about it; he cheers you on in his own leprechaun fashion – from tipping his hat to doing a cute little dance.

The swirly mechanics of this slot game are more than just a novelty factor, they add a level of foresight to this unconventional slot game. With every circlet the symbols make, you see yourself getting closer to unlocking the free spins without having a definitive timeline. It lays the foundation of optimism though laced with a dose of apprehension – making it a rather titillating experience.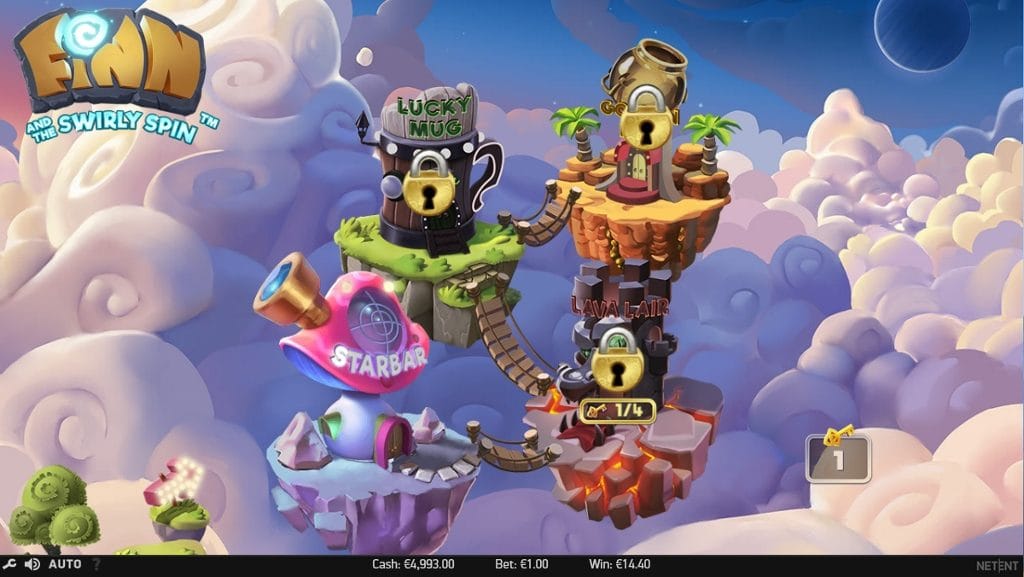 Bonus Features
WILD SYMBOL
The wide-eyed gold star represents the Wild symbol in this online slot game. It appears after every winning combination, replacing one of the combusting symbols. Despite its adorable appearance, this star is quite the igniter – it can not only substitute any symbol (except for the Key) but with each explosion, it takes with it every adjacent symbol.
SCATTER SYMBOL
Scatter works slightly differently in this casino game. Instead of appearing in multitudes to trigger the Free Spins Round, Scatter in this slot game needs to travel to the center of the board to unlock the Free Spins.
Represented by the Lucky Key icon, the Scatter begins its journey from the bottom left corner of the game, and with every winning combination, it swirls a few places down itching towards the center where it can unlock the land of the Free Spins in quirky bars.
FREE SPIN FEATURES
After Finn leads you through a vortex of clouds, you land in the Magical Free Spins World. Here, you get to select between 4 uniquely themed bars. The catch is each bar requires a number of keys to enter, so you have to work towards collecting these keys – every entry to the Free Spins World gives you 1 key. There are 4 bars in total, each one with its own theme and random feature.
- STAR BAR: A violet room in the sky with a massive semi-circle window in the middle
of the room which overlooks the clouds.
(Key: 1 | Spins: 7 | Feature Trigger: Starfall Wilds)

- LAVA LAIR: The music here instantly changes in tempo and instruments, giving it a bit of a grunge vibe. It's an amber coloured room resembling a Dragon's Den, almost as if foreshadowing the Dragon Destroy trigger.
(Keys: 4 | Spins: 3 | Feature Trigger: Dragon Destroy)
- LUCKY MUG: A typical Irish Pub with deep green and brown tonalities, and pints of beer in old-school wooden mugs. The background music further adds to the quaint Irish pub ambiance.
(Keys: 9 | Spins: 4 | Feature Trigger: Irish Luck)
- GOLDEN POT: This is the most lavish of the Free Spin venues. It is gold-themed with a grand staircase on either side and huge columns that open to a decadent bar.
(Keys: 16 | Spins: 2 | Feature Trigger: Magic Transform)
RANDOM FEATURES

There are 4 random features that are tasked with making more symbols disappear, increasing your total wins. Below is an outline of what they do.
- STARFALL WILD: Between 2 to 5 Starry Wilds materialize and replace the same number of symbols, allowing for more combustion

- DRAGON DESTROY: Symbols are picked at random and flamed. This makes plenty of room for another avalanche

- IRISH LUCK: An entire horizontal or vertical line is replaced with the same symbol, giving you both a maximum winning combination and an avalanche
- MAGIC TRANSFORM: The low-paying symbols (Spades and Hearts) are magically transformed to higher-paying ones, increasing your total number of points on winning combinations.
Final Verdict on Finn and the Swirly Spinn
Overall, Finn and the Swirly Spin is a highly entertaining online slots game with captivating graphics, revolutionary mechanics, and an overall great experience. Finn definitely takes you on a journey so our advice is: take your time with this one. Enjoy the journey, take in the sights and sounds, and (hopefully) you'll make some money along the way! If you've enjoyed this game, then why not play... Alternatively, you can try out blackjack