Centurion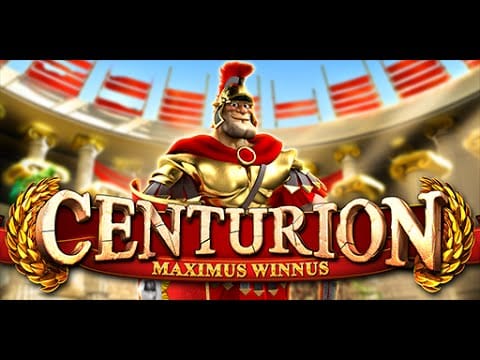 Welcome to the colosseum known as Centurion from Inspired Gaming, a place where legends are born and great fortunes are earned through intense battles! Ancient Rome slots have always been incredibly popular with online slot enthusiasts, which is why every notable developer has their own offering. Centurion is an interesting one, there is something special about it that all the rest lacks, trust us when we tell you that this slot is money!

Centurion is a 5 reel slot, one that is played over 20 fixed paylines total. There are many reasons to play Centurion, but the main one comes down to the number of features on offer here. It's possible to enjoy endless wins here as long as you are spinning often enough guys, just be wary of what lies ahead — Centurion is a game that can crush you or make you, so which will it be? Continue reading to learn more! Play at Britain's finest - Slots Baby, the best online slots sites!

Quicklinks: Fiddle Dee Dough Slot | White Wizard Slots | Rio Bingo | Forest Mania | Burning Desire Slots | Rainbow Riches Pick n Mix | Rainbow Riches | Tornado Farm Escape

About the Developer of the Centurion Slot - Inspired Gaming 
A developer that has more than proven themselves capable of putting together a top-flight experience for punters everywhere, it is our pleasure to introduce to you, Inspired Gaming, one of the best in the game right now for lasting gaming experiences! Now, these guys might not be as known as some of the other bigger developers out right now, but that isn't to say that they aren't just as talented. 
Their catalogue of games seemingly grows by the month — which is never a bad thing when you find out just how good each of these games truly is. Their slot machines are feature-heavy, putting emphasis on various ways of coming out on top with every spin. We have many favourites in their catalogue, which is why we've gone to the liberty of highlighting a couple worth checking out once you've finished sparring with some gladiators in Centurion, take a look: 
Delhi The Elephant

Legend of Triton

Spirit of the Samurai

And many, many more!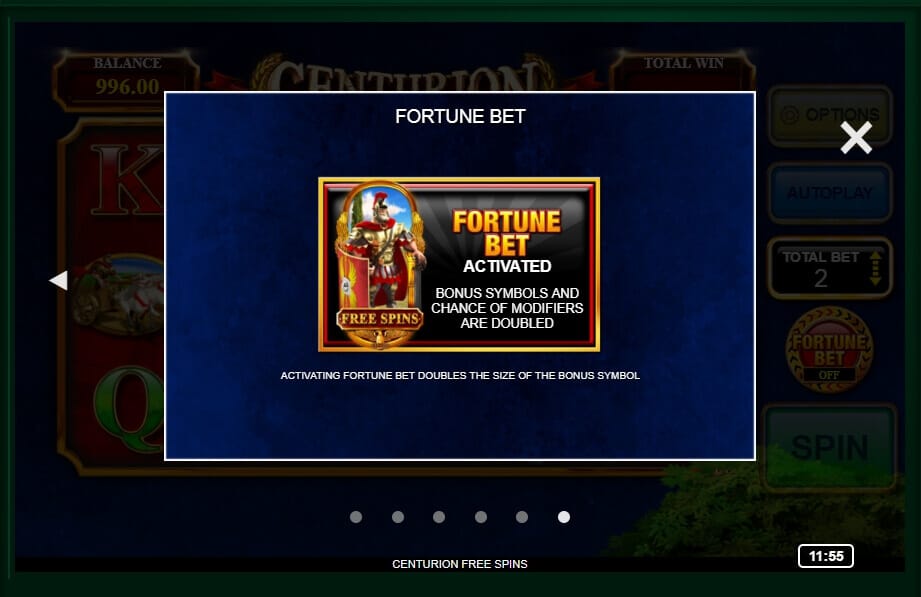 About the Centurion Casino Game/Bonus Features 
Are you a fan of the movie 300 by any chance? Well, Centurion will be the online slot for you, we'll tell you that for free! Inspired Gaming is giving you the chance to jump into a world that time once forgot, a place that is quite unforgiving if you are going in blind — which is why you've made the right decision by reading this review here! Did you know that the Romans were incredibly rich back in the day? Let's see if you can follow in their image.

One can play Centurion fro as little as 20p up to £250 depending on how one likes to spin. You will need to present an offering to this slot before you can spin it for yourself — you can input your bet by using the arrow keys you see at the bottom of the screen. Once you are satisfied with your bet simple hit spin, just keep in mind that fortunes favour the bold here, meaning the higher the bet the more you'll earn. There is an autoplay mode here too guys, quite a handy mode to have.

As far as the look and feel of the game goes, Centurion does a bang-up job in making you feel like you are spinning to an audience of thousands — it helps that the soundtrack is incredibly catchy, and fits the mood of this slot machine perfectly. The symbols you find on the reels are also incredibly detailed. All symbols here work to immerse you here also, each taking the shape of something related to the theme at play here — Inspired Gaming should be commended on the overall attention to detail here in Centurion.

The reels here are populated by a mix of low and high-value icons for you to spar with. Low-value symbols in any slot will add to your victories in small doses compared to that of the high-value icons you see. Helmets, swords, colosseums, chariots and more are some of the symbols you'll find here on the reels! Some of the symbols here do have a few hidden bonuses, all of which are helpful in netting you the highest score possible.

Matching the soldier symbol should be considered a requirement to those of you out there looking to earn the most cash possible. The soldier here will have you taken to an alternate screen when found in a winning line, giving you the chance to partake in a prize wheel — a prize wheel that's chocked full of unique bonuses and that sort of thing. One of the prizes here can net you a massive x50 multiplier to your score just like that, 
Wilds and scatter icons are available in Centurion too, two bonuses that one might find in most Inspired Gaming titles. Wilds are the most common of all bonuses here, allowing players to substitute various symbols on the reels, adding scatters to the fray! Wild symbols are represented by the squares with the word wild written on them, making them incredibly easy to poach.
Matching the scatter symbols that the wilds leave behind is key in coming out with a high score, since scatters unlock free spins and free spins offer even more multipliers for you to play with! The number of free spins you earn will depend on how many scatter symbols are involved in the winning line, the more the better!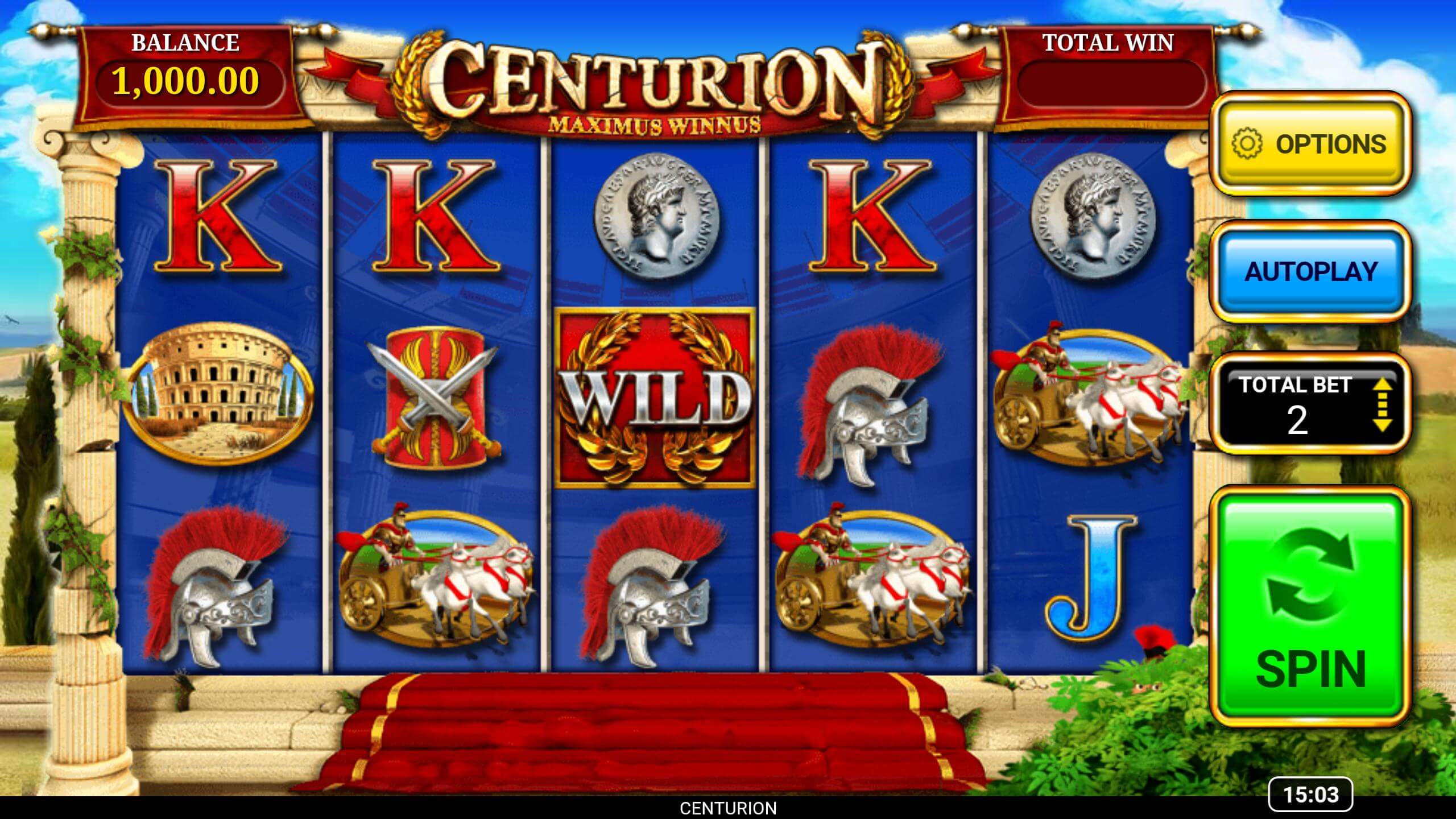 Final Review of the Centurion Slot Game
Centurion is an essential online slot games for anyone who likes making money, simple. Inspired Gaming have done an incredible job in crafting quite an opulent slot machine for you all to enjoy, a game that gets better the more you play. The features here are fantastic, and the gameplay is always smooth as butter. So go, don your armour, and get ready to spin to an audience of thousands, just be wary of lions and chariots!