Boom Brothers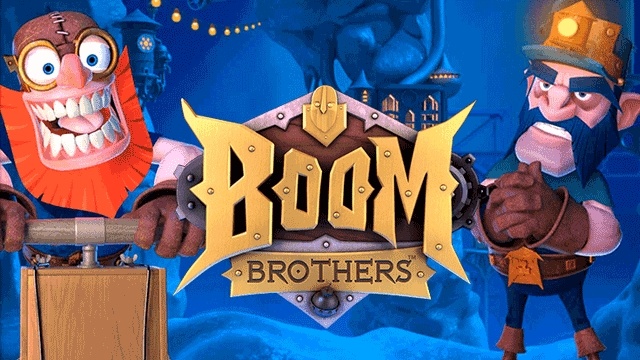 Here's a superb new online UK slots game from NetEnt.
The Seven Dwarves who befriended Snow White in the fairy tale used pickaxes to mine their jewels.  The little people in NetEnt's explosive title Boom Brothers prefer dynamite, which says a lot about the impact of this online slots title.  Welcome to the eclectic mechanical underground lair of the three Boom Brothers, who are mining their way through a diamond-rich cave with the help of some powerful TNT, and eager to shower some of the riches they find in your direction, should the reels fall right! If you love promo's don't forget to check out our Slots Offers.
Check out our entire list of best slots games here at SlotsBaby.
Quicklinks: Fiddle Dee Dough Slot | White Wizard Slots | Rio Bingo | Forest Mania | Burning Desire Slots | Rainbow Riches Pick n Mix | Rainbow Riches | Tornado Farm Escape

About the Developer
NetEnt have spent over a decade forging their own distinctive niche in the online slots industry.  Their games are synonymous with quality, and a level of detail over-and-above anything you might expect from your average slots experience.  Titles like Boom Brothers glisten like jewels with clever comical touches, atmospheric sound effects and superb graphics, and boast a great selection of bonus features to match.  Some other NetEnt titles include:
Excalibur
Jimi Hendrix
Alien Robots
Twin Spin
Starburst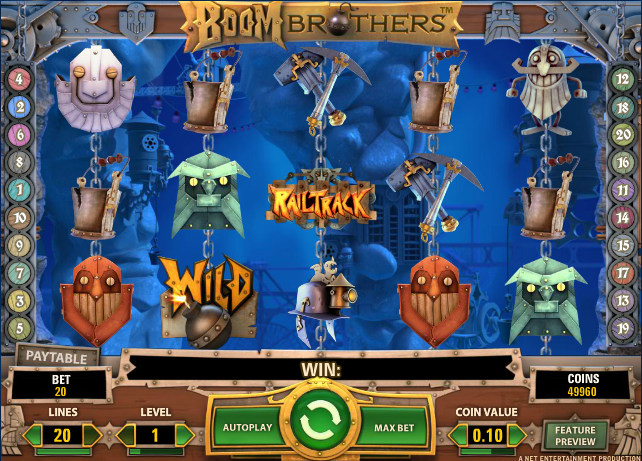 About the Game
Boom Brothers opens with one of NetEnt's signature introductory animations, a comical sequence in which we meet the three small-statured Boom Brothers, out of which the red-headed brother seems most keen on dynamite.  Once we enter the main gaming screen, the background is a blue-lit manmade cave dotted with mechanical structures, presumably designed to help mine diamonds.  The feel to the whole game is very 'steampunk', and the symbols on the 5 reels all appear constructed from bits and bobs of metal, screws, nuts and bolts.  There are turning cogs in the top corners, and the symbols revolve as though suspended on chains, like the parts of a machine.
The bonus features give this game complex but smooth-running mechanics, and include:
Free Spins – 3 or more Free Spins symbols across the reels will earn you anywhere between 8 and 50 free spins, with a 3x multiplier.
Second Chance – Every so often, a Boom Brother might appear and throw a bomb or pull a lever, to provide another chance at a winning combination.
Railtrack Bonus – 3 Railtrack symbols across an active payline will trigger this bonus game. Choose one of three different mine carts to reveal a symbol that will transport the corresponding Boom Brother across the rails towards a prize.  Whichever brother reaches the end first, you are awarded that prize amount.
The sound effects for this game are very immersive, with 'cave' sounds such as dripping water, mingled with mechanical clanks and tones.  There's a handy Autoplay feature, too, which allows you to set up to 1000 auto spins, so you can sit back and watch this well-oiled machine work by itself.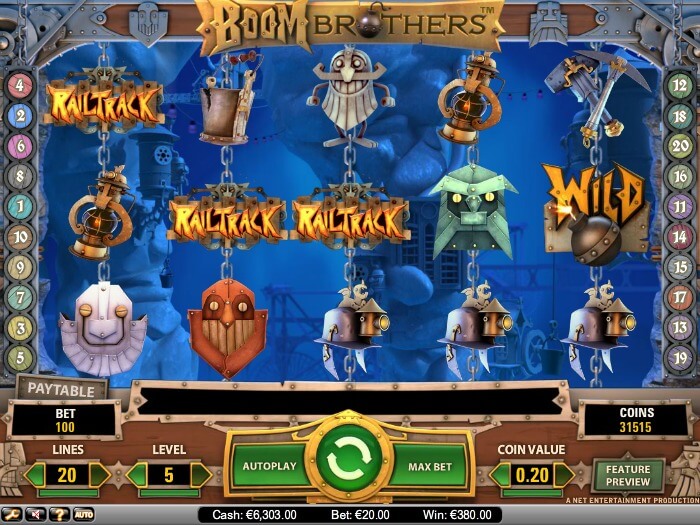 The Verdict
Boom Brothers is a joy to look at, and a thrill to play.  Like so many NetEnt offerings, it's as much an experience as a game, and the look and feel of the game transports you into a whole other world.  It also delivers highly on slots content, and slots players both new and experienced are sure to have an absolute blast playing it. If you enjoyed Boom Brothers then you might also like Dragonz.