Mega Love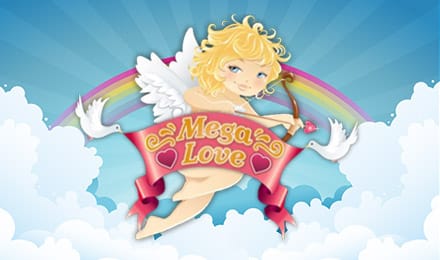 Here's a superb new UK slots casino from Pariplay.
This an online scratch game that you're guaranteed to adore! A lovely combination of quirky symbols and easy gameplay makes Mega Love a super opportunity to win big. Plus you can feel the love wherever you are as you can either play on your desktop, or on the move on your mobile or tablet for a really dynamic gaming experience.
Check out our entire list of slot games at SlotsBaby now.
Quicklinks: Fiddle Dee Dough Slot | White Wizard Slots | Rio Bingo | Forest Mania | Burning Desire Slots | Rainbow Riches Pick n Mix | Rainbow Riches | Tornado Farm Escape

Developer of Mega Love Slot
Pariplay specialise in online instant win, scratch, and other fixed odds casino games. Using the latest software their games are easy to get started with and fun to play thanks to excellent graphics. If you love promos, check Slotsbaby today.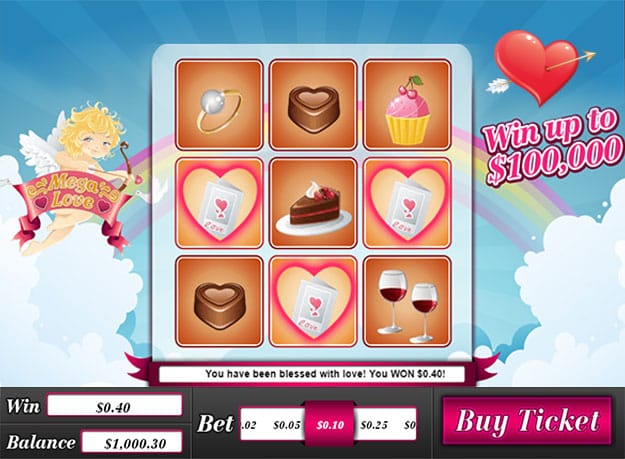 How to Play Mega Love Online
Mega Love is an instant win scratch game you can play without even leaving the house. It's a simple online game with easy wins and the potential for lovely big payouts. If you fancy a break from slots and bingo this could be your next favourite online casino experience.
If you've played physical scratch cards you'll be used to seeing the familiar format. There are no reels or pay lines to get bogged down in, just a simple grid to get cracking on.
The grid has a 3x3 matrix and there are 11 romantic symbols under there that you're looking to find. These symbols have different values, from 0.50 to 5000 credits and all you need to do to win is to find three matching symbols. And you guessed it, the only way you're going to find out what your grid is hiding is to get flipping those squares over. To do that just click on the squares and ta-da, your symbol will be revealed.
If you want someone else to do the 'hard' work for you then simply select the 'show all' button that will pop up when you initially buy your tickets and all the lucky (or not) symbols will be shown at once. Sometimes you just want to sit back and watch the money rolling in, don't you? We can recommend getting a nice glass of something bubbly, maybe a hunky Adonis to fan you and feed you grapes at the same time, go on take the weight off your feet, and relax while Mega Love does all the hard work for you.
The Mega Love gameplay is simple but nice to look at and interact with, there's no special features or bonus rounds, just the chance to reveal all and win big. Talking of which the top prize is 10,000 credits so while it's simple, it can also be a very rewarding play.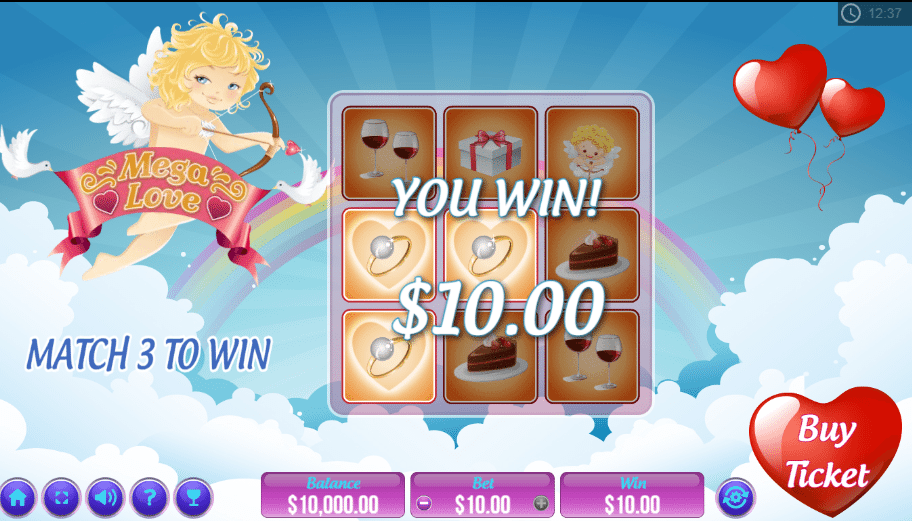 Verdict of this Mega Slot
Mega Love isn't an online casino game that will tactically stretch you, or wow you with 3D graphics. There are no in-play bonus features or scatters, or wilds, or even any reels to keep your eyes on. There is however the chance to get some scratch card action from the comfort of your home, and the chance to get your hands on a pretty tasty win at the end of it – for very little effort! Sounds like a true match made in gaming heaven.  
If you enjoyed Mega Love then you might also like Feline Queen!