Hercules Magnus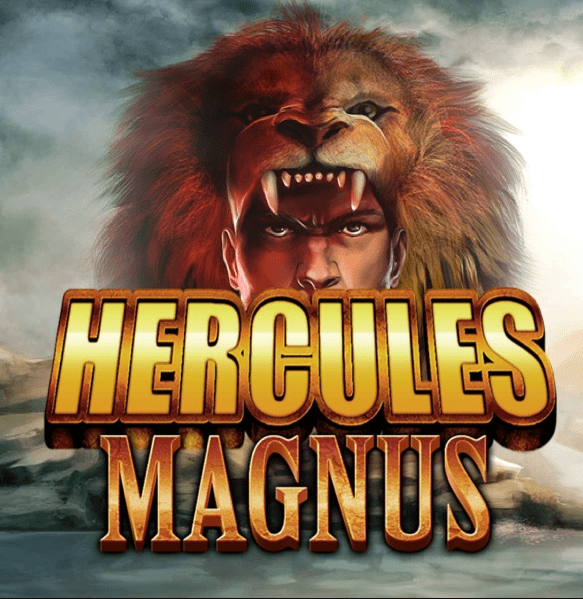 Here's a superb new Slot sites uk casino from Bally Wulff.
Famed for his god-like strength, legendary hero Hercules has reached his limits and needs your help to complete his latest trial. This epic scratch card from Bally Wulff will transport you back to Ancient Greece, with a mysterious pantheon in the background, perched precariously atop a crumbling rocky mountain. The clouds drift eerily past, and every now and then a bolt of lightning tears an electric blue line across the sky.
The rugged face of Hercules greets you from between the jaws of the lion he has most recently slayed. With such a dramatic welcome, your adrenaline will be pumping even before you begin to chisel away at the face of the first Ancient coin, on the hunt for the symbols that will secure you glory. Check out our entire list of Slot games at SlotsBaby now.
Quicklinks: Fiddle Dee Dough Slot | White Wizard Slots | Rio Bingo | Forest Mania | Burning Desire Slots | Rainbow Riches Pick n Mix | Rainbow Riches | Tornado Farm Escape

About the Developer
In addition to having a great name, Bally Wulff Games and Entertainment GmbH has wide ranging expertise across land-based and online gaming. This is not surprising – they have been refining their skills since 1950! Based in Berlin, they have three offices across Germany. They are described as a tradition conscious company, staying true to their roots and the classic appeal of gaming whilst combining the best aspects of modern developments.
If you love promo's, visit SlotsBaby today.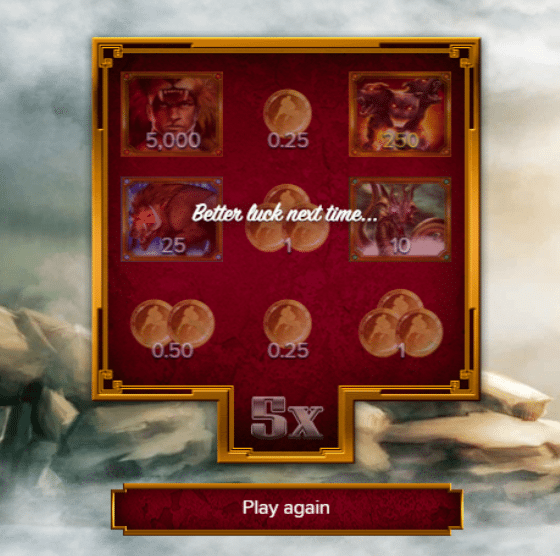 About the Game
This game is easy to play – like most scratch cards, you need to scratch the surface and look for winning combinations that will earn you prizes. The game is compatible on PC and mobile devices, although on PC you best get appreciate the immersive graphics.
Players can scratch away the surface of the coin manually to reveal the 3x3 grid of symbols, or, if the novelty wears off, you can hit the 'scratch all' button to get the serfs to do it for you.
The default bet is 0.5 and the scratch card boasts a hefty jackpot of 50,000 coins! Even Zeus wouldn't turn his nose up at that. It also has an RTP of 85% which is about the norm for scratch cards.
The symbols are easy to understand as they are accompanied by their corresponding payout value. You will get a prize for getting at least three matching symbols on the card. The lowest value symbols are the coins, with higher prizes attached to the mythical symbols related to Ancient mythology. These include a flaming eyed Hound of Hades, a terrifying dragon, and a raging boar with spiky tusks. The highest paying symbol is Hercules himself.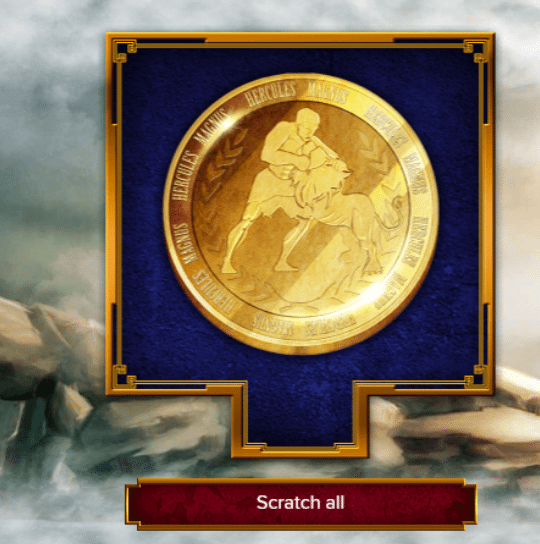 The Verdict
There is often a limit to how long a scratch card can hold your attention, but the phenomenal effort that has gone into the design of this online scratch means that it fares far better than most. The steely glare of Hercules will keep you on track to complete your mission to find the treasure and the glory that goes with it, and the luminous design of the mythological symbols will also keep you scratching away at the surface of the golden coin to see what lies beneath.
If you enjoyed Hercules Magnus then you might also like Arctic Madness.