New casino slots gaming continues to be one of the more successful sectors of the gambling industry, with new games being developed all the time. As gaming technology continues to progress at swift rates, more and more games are being developed that offer much more than just a basic slots experience.
Many games now have bonus features that require players to show some gaming skill, as well as being good judges of a reel spin. The days when playing slots online was an entirely random experience look to be on the wane, as online slots gamers demand more challenge and skill in the bonus features of the slots games that can be found in an online casino.
This article will look at five of the top slots games currently out there in being played in online casinos. All five of these games have excellent bonus features that offer plenty of entertainment, as well as the chance to test your gaming skills and to win big prizes.
Top Online Slots Bonus Features - Sharknado
This game is based on the disaster movies that combined a monster with a natural disaster for extra thrills for the audience. Fans of the cult movie Sharknado will recognise some of the characters from the movie in this game, as they are used as symbols on the reels. There is also a still photo of the harbour setting of the movie that functions as the backdrop to the action on the reels.
The music is somewhat better than you will hear on many other slots games, and the HD graphics really put you in the heart of the world of the movies. The shark functions as the game's wild symbol, and there are three bonus features for players to enjoy in this game. One of these bonus features is Sharknado Mode, where a series of multipliers can boost your wins. This mode lasts from five to 12 spins.
Another bonus feature is the Fin's Random Wilds game, which involves a helicopter flying across the screen bombing the wild symbols on the reels. If you land three or more chainsaw symbols on the reels you will receive five to 10 free spins, in the third of the bonus features.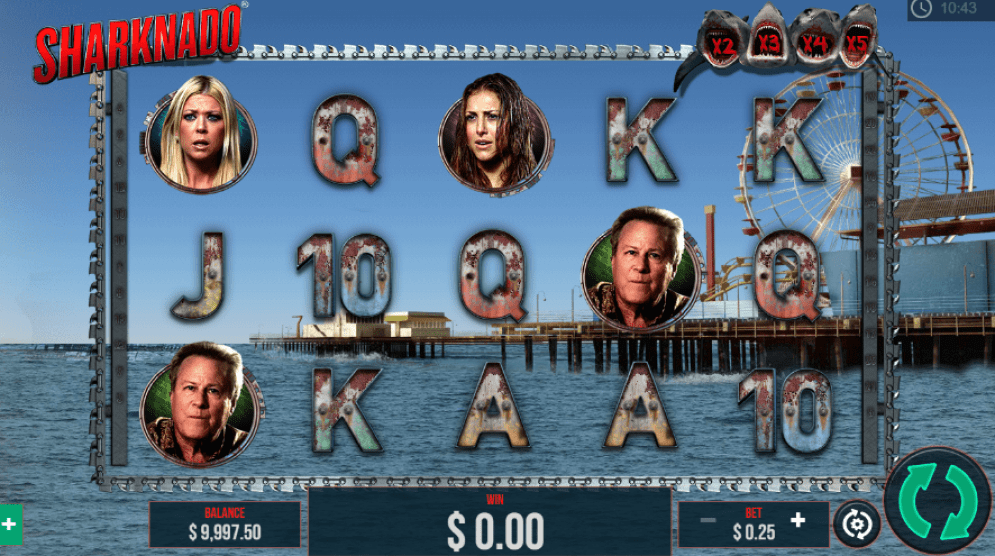 Voted amongst the best Online Slot Rounds - Forest Mania
Forest Mania is a 2019 slots games from iSoftBet which offers five reels and 100 paylines of actions to players. Set in an enchanted forest full of magical creatures, this game stocks its reels with gemstone symbols. It also features two sets of reels which spin independently from each other, adding a layer of complexity and skill to proceedings.
One really good feature of this game is the way that normal symbols can suddenly change into wild symbols, and then be copied across both sets of reels, bringing in more winning combinations. This happens at random, though, so don't expect to be able to control this process. In another bonus feature, whole reels can become wild and bring you in more wins. Again, this happens at random, though, and you have no control over it. Play Forest Mania today!
Play Reptoids at most Online Casinos
Reptoids is a game that was developed by Yggdrasil, a famous Scandinavian games developer. Based on classic 1950s Hollywood sci-fi films about aliens taking over the world, this game has five reels and 20 paylines of action to offer to you. The main bonus feature in the game is the Repto Detector, which gives you the chance to benefit from standard symbols on the reels turning into wilds.
There is also a Free Spins feature where you can pick up seven free spins. You can use the Repto Detector feature during these free spins too, allowing you to turn detected Reptoid aliens into sticky wilds, which can create new winning combinations on the reels for you.
Check out the Best UK Online Slot Bonus Round at Tornado Farm Escape
This NetEnt game offers you five reels and 20 paylines of entertainment. It has some nice graphics and is based around a country theme of farm animals trying to escape from their confinement at the farmer's hands. There are few animations to distract your attention in this game, but the graphics are sharply rendered and gameplay is smooth.
When it comes to the bonus features on offer, there is a free spins round which offers you the chance to triple your winnings. There is also the Storm feature, which is triggered at random during gameplay, which generates wild symbols to create more winning combinations for you. There is also the Tornado Feature, which is triggered when a Cold symbol appears on reel one and a Hot symbol appears on reel five. This features shifts symbols around the reels to help you bring in more wins.
Players top choice for bonus features - Beehive Bedlam
Beehive Bedlam is an entertaining online slots game that has some outstanding bonus features for you to enjoy. Set in a beehive, as you can probably tell from the title, the busy graphics to this game look great, and the sound effects help you to feel immersed in the buzzing world of the hive. This game does not have conventional reels of the kind that you find on many other online fruit machines, though.
Instead, a kind of hexagonal grid system is used. There are seven horizontal and vertical positions, and wins are formed by groups of five or more matching symbols lining up adjacently to each other. The Pollen Count on the right of the screen keeps track of these wins. The Free Falls bonus feature offers you plenty of chances to win, and there is also a Honey Jar bonus game. The Islands and Worlds bonus game offers an additional chance to pick up big prizes.
Role of Technology in the iGaming Industry
As can be seen from the above article, there are plenty of great online slots games with great bonus features for you to enjoy at your favourite online casino. As technology continues to march forward at a massive rate, there are sure to be many more great games to enjoy in the future too. Keep your eyes peeled for more great slots games with superb bonus features!