As digital technology continues to march forward at high speed, the range and complexity of new online slots has increased. Many slots games now go beyond the paradigm of simply watching the reels spin, and deploy superb graphics alongside excellent sound. Many have bonus features and extra games that provide you with a truly memorable experience.
Here, we'll take a closer look at 10 of the top slots games currently out there. All 10 of these games are proving very popular in 2019, and all are well worth some of your time.
Best UK slots - Frankie Detorri's Magic Seven
Any game which makes use of legendary Italian jockey Frankie Detorri is bound to be popular with UK gamers. This slot commemorates the iconic day when Frankie won all seven races on the card at Ascot in 1996, including the Queen Elizabeth II stakes. The game has five reels, three rows and 25 paylines of action on offer. Players can benefit from expanding wild symbols, and there is a nice free spins bonus too, that can see you win 7777x your stake.
Deal or No Deal - Top Slots Games
TV presenter Noel Edmonds might not be Britian's most popular media personality, but he can certainly pick a winner when it comes to entertainment. Deal or No Deal was one of the 21st century's first big TV hits, taking a deceptively simple concept to a mass daytime television audience and bringing Edmonds back into the mainstream in the process. This slots game version of the TV show offers five reels, three rows and 20 paylines of action. There is also a progressive jackpot and some really good audio effects that give this game a really immersive atmosphere and recall the TV show.
Circus of Cash - making it to our top 10 popular slots
This game, based, as you might be able to tell from its name, on a circus theme, is a game for people who really enjoy the bonus features in online fruit machines. There are no fewer than nine different bonus rounds to enjoy in this game, and there is also a progressive jackpot to help you retain your interest. The graphics look a little bit like an old style animated cartoon, and it's a lot of fun to play.
 
Thunderstruck 2 - the sequel of the players' favourite slot
This sequel to the original Thunderstruck has retained all the best features of the original game while also beefing it up in places. Based on Norse mythology, with the great god Thor as its main character, this game has a really epic feel to it. There are five reels, three rows and a colossal 243 paylines for players to enjoy, as well as some slick graphics and great sound. This is definitely one for the fans of bloody historical epics to install in their library of games. Play Thunderstruck 2 here.
A Night Out
It was only a matter of time before someone decided to base a slot game on the great British night out, and this is it. This game features three rows and five reels of action, with the symbols all consisting of staple features of a typical British night on the tiles – drinks, mainly, though the bonus symbol is a bar tender shaking a cocktail mixer. There are also three young women who are the main characters of the game. Careful playing this game - things could get messy!
Best video slots - Desert Treasure
This is another game with a clue to its theme in the title. Based around a narrative of desert treasure seeking, the five rows and three reels are stocked with symbols that reflect the storyline, like a compass, an oasis and letters adorned with desert animals. The main bonus feature is the hidden oasis, while there is also a beautiful princess to look out for.
Top online slot game - Starburst 
This game should be a delight for anyone who enjoys playing slots online. Starburst by Net Ent game has five reels and 10 paylines, but has no overriding theme or narrative framing its action. It relies purely on the excitement of the spinning reels, which are adorned with traditional fruit machine symbols like the number seven, as well as gemstones of varying colours. The gameplay is very smooth, and this is a very slick, classy online slots game for you to enjoy.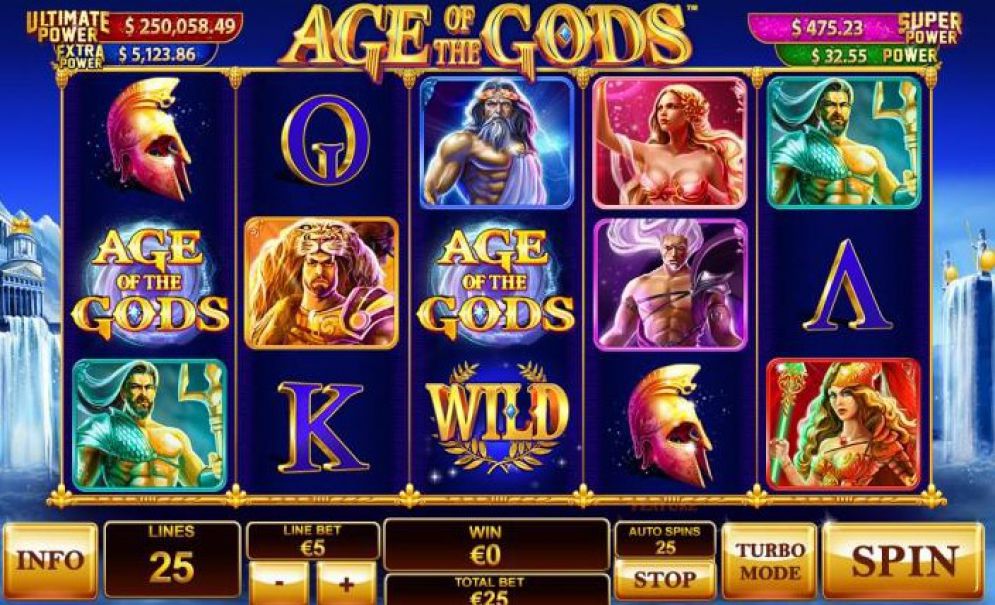 Try your bets in Age of the Gods
This is the root game for a whole series of Age of Gods themed slots, with a plethora of sequels also carrying the same title. This three-row, five-reel, 20-payline game is based on the Ancient Greek pantheon of gods, and Zeus, Athena and Poseidon, as well as the famous demigod Hercules, all feature on the reels. There are some great bonuses available, with one multiplier being worth an incredible 7000x your stake.
Beach Life - A Top UK Slot
This is a slots game for players who like to go in search of the really big prizes. There is a top jackpot prize available in this game of an incredible £2 million on average. Based on a theme of a trip to the beach, and deploying cartoon style graphics, this game has five reels and three rows of entertainment to offer to players. There are some nice scatter and wild symbols, and the graphics look good, but it is the big top prize that really makes this game popular.
Gonzo's Quest
Gonzos Quest slots game has attained iconic status since first being released in 2011. In the eight years since then, this Net Ent title has become one of the most popular online slots games in the world. Based around the theme of a Spanish explorer adventuring in 17th century South America, the game has great bonus features, like Avalanche Reels and Free Falls, as well as some very generous multipliers. The main character is actually based on a real-life Spanish explorer, Gonzalo Pizarro, and there are five reels, three rows and 20 fixed paylines of action to enjoy. The 3D graphics are superb, the jungle noises and music will keep you immersed in the world of the Peruvian jungle.