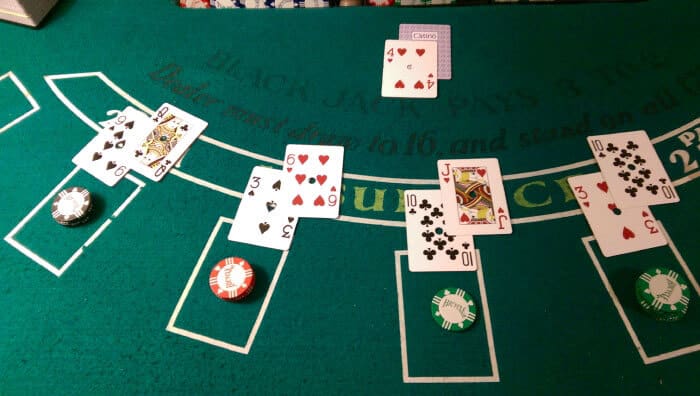 If you're a lover of all casino games, then you probably know how to play a game of blackjack. Blackjack is one of the most popular online casino games one can find, right up there with slots and roulette. It is a card game that focuses on the player versus the dealer. Although a lot of players are wary when it comes to blackjack because of all the calculations and strategies required, with a little practice, you'd discover that the game is quite easy to play. More on how to make money in blackjack here.
When it comes to blackjack, it's not only about being well versed in card counting. You also have to know different strategies that will come in handy when playing. If you already know how to play blackjack and you want to give it a try, visit Slots Baby today!

Blackjack Rules
You can't learn strategies if you don't know how to play blackjack. Luckily, the rules you need to know when it comes to blackjack are easy to remember. After practicing a few times, you would be able to play blackjack with real money at Slots Baby.
The objective of a player in blackjack is to beat the dealer. In blackjack, the player who is the closest to 21 or on 21 wins. By 21, we mean having a hand value of cards that add up to 21. Before learning how to play, you need to be familiar with card counting.
Face cards, which are Q, K, and J, count as 10.

An ace has a value of 1 or 11, depending on what is needed then.

Cards 2 through 10 count at face value.
To beat the dealer, you have to achieve three outcomes.
You have to draw a hand value that is higher than that of the dealer.

The dealer has to draw a hand value that is higher than 21.

You have to draw a hand value of 21 with your first two cards.
If any of these three outcomes happen, then you have won against the dealer. You can also end up losing to the dealer if your strategy doesn't work out. There are two ways in which you can lose to the dealer. Firstly, if your hand value is higher than 21, you will lose to the dealer. Secondly, if after playing the round, the dealer's hand is higher than yours, then you have lost.
You can try your hand with free blackjack at Slots Baby today so that you will be prepared for playing with real money, online slots uk are also available there. 
Blackjack Simple Strategy
Now that you know how to play blackjack, it's time to get to the main point of this guide, which is simple strategies you can use. Blackjack is not a game of chance or luck. Instead, it focuses on calculated moves and thinking.
Blackjack strategy is essential to learn when you play. You can make up your strategies if you're a well-versed player, but if you're starting in the world of blackjack, you need some simple strategies to help you win.
These strategies would help you out a great deal when you practice when with free blackjack games. If you don't practice the plan, you might end up losing a lot of your money on a real online blackjack game. Luckily, you can practice the strategy that I'm about to show you on Slots Baby!
First, here are some terms you should be familiar with:
Hit: This is when the player requests for another card or the dealer has to take another card.

Stand: This is the decision made by a player to take no more cards or when the dealer is not allowed to take cards anymore.

Double Down: If a player has a good hand value, that player can double their bet and take an additional card so that they can win more.

Split: If a player has two cards of the same value (a pair), you can make another wager so that the dealer will split the two cards, making each card the first on two new hands.

Surrender: If you don't like your hand value, you can surrender and receive half your bet.
Here are simple blackjack strategies that you should keep in mind. You can memorize them before a game:
If your hand value is between 17 and 21, stand.

If you have a hand of 8 or less, hit.

If your hand is between 9 and 16, hit first. Then, stand or double down.

If the dealer has a hand of 7 or more and your hand value is between 12 and 16, don't split or stand.

If the dealer has 2 or 3, hit until you have 13 or more.

If the dealer has 4, 5, or 6, hit until you have 12 or more.

If the dealer has 7, 8, 9, 10 or Ace, hit until you have 17 or more.

Never take insurance. There is a high chance that it won't benefit you during the game.

Never split 10's, 5's and 4's but always split Aces and 8's.

If the dealer has 2, 3, 4, 5, 6, 8 or 9, split 9's.

If the dealer has 3, 4. 5, and 6, split 6's.

If the dealer has 2, 3, 4, 5, 6, and 7, split 7s.

If the dealer has 4, 5, 6 and 7, split 2's and 3's

If you have an ace, hit until you have 19, that is, if the dealer has 9, 10, Ace, or 18.
In blackjack, you always have to be calculative so that you know when to hit, stand, double down, split or surrender. This simple blackjack strategy should guide you in playing so that you can win against the dealer.
Blackjack at Slots Baby!
If you're looking for the best place to practice the new rule and strategies you just read, Slots Baby is the best choice. Apart from blackjack, the site offers a wide range of other casino games from different online slot games uk and bingo to different variants of roulette and blackjack. Take a chance at winning today!