A lot has happened in the previous decade, as you would expect for a ten year period of time in which the likes of Donald Trump and Kanye West exist. While no-one could have predicted that the former would become the President of the United States, many people did predict just how much the online gambling industry was going to grown over the past ten years. The online slots gambling industry is absolutely thriving, largely so thanks to the great work developers, the development of technology and of course, the rise of the handheld smartphone device, from which so many people are able to access their online casinos and online slot games of choice. 
One particular genre of gambling that has really thrived in recent years is that of the online slot game. The video slot machine is no new invention and you can find the humble flirt machines of yesteryear still active in clubs, pubs, bars and chip shops up and down the country even now. However, what we do have online now is an all-new, action-packed experience when it comes to online video slot machines, making the pastime better than ever before. In the slot games of 2020, you can expect impressive graphics and the slickest animations yet, along with really ambitious themes and narratives that have pushed the very boundaries of what is possible with the age-old format. As we enter 2020, it seems like a good time, to sum up all of the above and bring you the best 2020 has to offer in premium video slots. As you know, we've already broken down the best online casinos sites of 2020. On the list we have some retro flavoured classics that could have existed and thrived in any decade, as well as some modern masterpieces which are sure to be spun well into 2020 and beyond.
Boom Pirates Slot
We start with a bang as with Boom Pirates, you can expect some explosive fun at sea. The 5 reel slot games are really well designed and the video graphics are second to none. Sitting somewhere between Pirates of the Caribbean and a seaside adventure, this pirate-themed slot game has a lot to enjoy. There are an impressive is 1024 pay lines to work with, so there are many, many ways to win on what is a rather uniquely laid out slot game in this respect. You join the crew of Captain Mary, a ragged looking bunch who, despite their appearance, are perfectly friendly and easy to get on with, especially if the reels are in your favour. The Jolly Roger boat plays your host and the graphics in the backdrop are really spot on. A random bonus is always a confidence boost when things are not going your way and Captain Mary is on hand, form time to time at least, to provide you with just that. Amongst the other features that this action-packed game, Boom Pirates have, the random bonus will see Mary swing in on any non-winning spin to change the reels to a winning combo. Ahoy.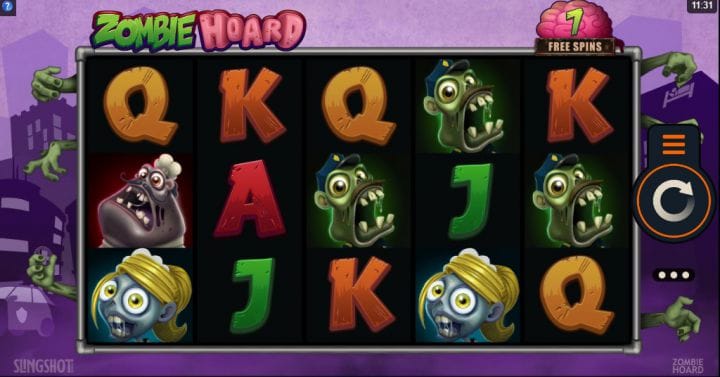 Zombie Hoard Online UK Slot
Here is a slot game that embodies the possibilities of modern online slot games. Zombie Hoard has some of the best graphics we have ever seen in a video slot and they are used to great effect in what is a truly entertaining title with an original theme. If you had not already guessed it, zombies are afoot in Zombie Hoard, as players try to weave in and out of the undead characters on the screen and create some wins on the reels while doing so. The game has 5 reels and just 9 pay lines, so a very simple layout, especially in an online slot game world where games seem to be getting more and more complex. The game has fantastic welcome bonuses. The simplicity of the game emphasizes the narrative and that is, making sure you do not have your brains feasted on by the hoard of zombies from which Zombie Hoard takes its name. Despite the horror theme, there is certainly an aspect of comedy involved too, so don't be too put off of Zombie Hoard if you consider yourself to be squeamish. More Shaun of the Dead than Dawn of the Dead, the zombies in this game are quite fun to play with and are brought to life nay cartoon-style graphics. As for the bonuses on offer, the best extra feature to note in the free spins round for sure. Up to 34 free spins can be won at a time and better still during any free spin, super-stacked wilds will appear across all 5 of the reels. This greatly increases your chances of winning and increases your chances of fleeing the zombie hoard with some profit for your troubles. A great game with a great narrative, for sure.
Book of Pharaoh Casino Game 
While the above UK slot games are filled with animation and non-stop action, this title here has more of a retro charm - something that is still very much welcome in the modern gambling landscape. Book of Pharaoh is one of a whole load of games that use the mystical past of Ancient Egypt as inspiration for its reels, making it tricky for many of them to stand out. However, Book of Pharaoh does so by keeping things simple. 5 reels are on offer with hieroglyphics marking the majority of the symbols, all of which are theme relevant. As much as the theme here is Ancient Egypt, the theme here is also classic slot machines, and this will become clear with the simple gameplay. The 5 reels are the mainstay of the game, offering a few outcomes but not so many that the game gets confusing. What it may lack in fancy features, though, Book of Pharaoh does not lack in potential jackpot winnings. Up to 250,000 credits can be won playing Book of Pharaoh, making it a very popular title since it was released in September 2019. Games may have more graphics and features, but few offer as big a winning treasure as Book of Pharaoh.