Bonuses are a big part of the offer that online casinos make to their customers, either in slots sites games or on other games. In order to lure more customers in, casinos will usually offer some form of bonus credit to persuade people to sign up with them. These bonuses can take a variety of forms, but the most common is extra credit for you to play with. The amount you receive will normally be a percentage of the amount you first deposited into your new account.
So, if you have signed up at Sots Baby, and you want to know how you can claim their welcome bonus, read on! You can also find out a little bit more about how to claim bonuses in general, and how to make the most of them once they are in your account.
The Slots Baby Bonus
The online casino Slots Baby offers a bonus which is pretty unusual, at least in terms of the benefits that it offers to new customers. Rather than offering to match your opening deposit with an amount of bonus credit, the Slots Baby welcome bonus is a spin on their Mega Reel. This spin gives you the chance to claim a number of prizes, one of which is 500 free spins on one particular slots game, Starburst. There are also a number of other prizes available, including Amazon vouchers, which is pretty unusual for an online casino.
The minimum opening deposit that you can make in your account is £10, and the maximum amount that you can win from the bonus is £8 from each cluster of 10 spins. It is also important that you do not close the Mega Reel pop-up window before the game is complete, as this will end the bonus and not allow you to begin the claim process again.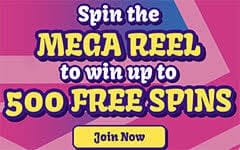 How to claim the Slots Baby Offer
In order to claim the Slots Baby bonus, you need to follow this simple set of steps:
      Click the Join Now tab in the top right corner of the screen on the Slots Baby homepage. This will open up the online registration form that you need to complete in order to open an account at Slots Baby.

      When this window opens, you are given the chance to carry out a quick registration, by logging in using your Paypal details. This allows you to choose your payment method and register your details in one step, which might make things simpler for you.

      In the registration window, you will be expected to provide your contact details, with the form requiring an email address and a telephone number from you. You also need to provide your date of birth, in order to confirm that you are of legal gambling age. You will also be asked whether you are male or female.

      Next, you need to register your home address details.

      Last, you need to register choose a username and a password for your account, before clicking Join Now.

      The last stage of the process of claiming the Slots Baby bonus is to make your first deposit in your account. This needs to be at least £10. You will then be awarded your free spins on the Mega Reel.
Other casino bonuses
When it comes to claiming welcome bonuses of other types, like the matched deposit bonuses that many casinos offer, the process is pretty similar to that described above. You will always need to provide some personal details in order to open an account. Once you have opened the account, the act of depositing money in your account for the first time will usually trigger the bonus claim process.
Tactics to use when you are playing on an Online Casino
Now that you have secured a welcome bonus and have the bonus credit in your account, it is time to start playing. You need to adopt a strategy for playing slots games that takes full account of the fact that slots games are based on pure chance. Any possible spin can bring in any possible combination of symbols thanks to the presence of random number generators.
These random number generators, also known as RNGs, are the mathematical concept on which all slots games are based. They ensure that games are fair by keeping the outcomes on the reels completely random. This makes it very hard for players to actually shape the action that takes place in the base game. Bonus games often have more of an element of skill in them, but chance is still the biggest determining factor for success.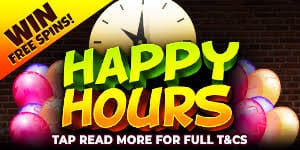 This means that you main tactical decision when using a slots bonus is how big to bet. Betting the maximum amount often allows you to access jackpots or progressive jackpots. It can also bring in bigger wins, obviously, but it can also exhaust your available funds very quickly. Betting big is often a good idea if you have plenty of bonus credit available, though, and it can also burn through restrictive wagering requirements pretty quickly.
Always remember, though, that nothing is guaranteed when it comes to playing online slots, they really are completely random. Never bet more than you can afford to bet, and always stop if you become angry or frustrated.
Last thoughts on Slot Welcome Bonuses
As you can see from this article, the actually process of claiming a bonus from an online casino is pretty simple. You just need to follow the steps that a casino gives you when you click on their 'Join Now' tab. The Slots Baby bonus is a good example of the type of bonus that fans of playing fruit machines in online casinos can claim. The steps that we have outlined above can be applied to almost any welcome bonus from any online casino, though, obviously, there are some variations between casinos in some ways.
When you have claimed your bonus, always remember to use it wisely. Our tips that we have given you above will come in very useful for this. Always remember that slots games have their outcomes determined by Random Number Generators, so patience is more important than skill in this type of gaming.