Online gaming slots are nothing short of a phenomenon. Ranging in sizes, shapes, layouts and themes, the online fruit machine or online video slot game has become the go-to method of gambling for thousands of online gamblers and gamers, if not more. They are the natural predecessor to the humble fruit machine that still stands, flickering gently, in the corners of pubs and bars to this very day. The difference is that online slot games are an altogether more exciting experience, combining incredible graphics with vibrant animations, lively soundtracks and above all, big prizes. But the reality is that you don't even need to pay to play such titles and gambling does not have to be part of your online slot game experience. Play free slot games on Slots Baby.
It seems mad to say, especially when you consider that the fruit machine and slots game machines were invented and enjoyed specifically with gambling in mind. That risk and reward formula that so many people love and long for, and that finely balanced distance between a win and a loss that makes gambling a pastime enjoyed all across the world. However, in a climate that has never been more well educated about the dangers of gambling addiction and in an online gambling industry that offers so much choice for all - experienced players, new gamers, high rollers and those without a budget at all - it is perhaps no surprise that the thrill of the reels can be enjoyed at no cost at all.
Why would you play free online slot games?
This is a pretty valid question still, but no one without some pretty valid answers, too. So, why would you play a slot game that is free to play? And what are the advantages of playing a slot game? Some people will find it hard to motivate themselves to play a gambling classic when there is no real money on the line, but perhaps these reasons will educate them a little.
Get to know games better before playing for real
Some people see free online slot games as a practice ground. A means of research for some, free online slots offer the chance to spin the reels of a slot game with no risk of losing any money. With so many online slot games to choose from, ranging greatly in slot features, jackpots and even RTP percentages, it is wise to try a few out before settling on one that you wish to invest some time and crucially, some money into. Playing for free allows one to play the field a little. Try out certain games and see if any have features that you really like and may want a bit more of when money is on the line. If you are brand new to a title, what better way to get to know it than by physically spinning it's reels and seeing what kinds of outcomes the game offers. Slot game reviews and reviews of online casinos are a great way to read up on your gambling favourites and potential new favourites before having a flutter, but there is no better way to get know a game for real than by playing it yourself. This is one advantage of free slots.
Free slots and responsible gambling
The high-quality service that online casinos of today provide, and the easy accessibility to this service thanks to smartphones, tablets and desktop laptops, has led to more people gambling online than ever before. Like Facebook, Instagram and the like, the online casino industry is reaping the rewards of 3G and 4G connectivity, that much is clear. The high volume of people gambling online though does have it's drawbacks. While the standard of online gambling games has never been better, the levels of gambling addiction have never been more prevalent. Admirably, there are a number of schemes and campaigns in place to tackle the issue, but there is only so much that the government, gambling commission and online casino brands themselves can do.
One way you can practise responsible gambling is by playing one of these aforementioned free online slots. Unlike the slot games that you must gamble on to play, these online slots do not require you to risk any money and in that respect, they are a reliable way to get some of the thrills of online slots without the reality of losing any money. Of course, there is a decent argument that would contest the very point of slot games and how they are gambling games where you must risk money in order to win something. But on the other hand, we would like to urge people to remember the very point and purpose that gambling has within our society. It should be a form of escapism and entertainment, rather than a form of stress or something to worry about.
Free online slot games put the emphasis upon the game itself, taking it away from the money and putting the focus on fun. And these titles are more fun than ever, with great narratives behind their reels and captivating 3D graphics now being fairly standard across the online slot game landscape.
Best free slot games
Now you know some of the advantages of free to play slot games, it is a good time to learn about some of the best titles available. There are so many to choose from that we could not include all of our favourites on the list, but we have done our best to provide some great free online slots that cover all sorts of themes and styles. Ranging in developers, too, the one thing they all have in common is a great sense of fun and a focus on that entertainment value, that makes them a slot game worth playing even if there is no money on the line.
40 Super Hot Slots
First up we have a family classic looking slot game. The retro feeling game uses the age-old format of fruit on the reels, with the addition of a lucky number 7 that is integral to the game's more exciting features and bigger sized coin wins. This is a game for those looking for some slot game nostalgia as all of cherries, lemons, oranges, plums, melons, grapes appear in the reels. What with all of the ambitious and original themes that slot game developers are designing, it is becoming more and more rare to see a well designed classic fruit machine for the online format but this is definitely an example of one. The game is called 40 Super Hot because it has 40 pay lines and various hot, flame-inspired graphics decorate the backdrop to the reels as you spin. This makes for heated competition too even without the added thrill of the monetary game, as the wins have a nature of coming thick and fast in 40 Super Hot. A bonus feature comes in the form of a gamble feature which allows you to increase your wins, something that you will find a little easier to risk when playing for free. The game is also available for players who want to place bets, too, making it a versatile and widely accessible game for players of all kinds across all major platforms.
Oil Company II Slot
One of the best things about the modern online slot game is it's potential to conjure up some really interesting and original themes. Oil Company II definitely has one of these great themes that gets your attention instantly, with it being a fairly comical take on the oil industry of today. One of the most politically controversial markets in the world's economy, the oil industry is mocked by this tongue and cheek slot game. Great cartoon graphics bring the game to life and characters such as an Arabian oil baron, a Texas oil baron and various equipment needing for mining oil, can be found on the well-designed reels of this popular slot game. Oil Company II is, of course, the sequel to Oil Company and brings improved graphics and improved jackpots for those looking to put money on it. However, with its great theme and narrative, it is the perfect slot game to enjoy for free, such as the added content and inspiration behind the game aside from the prospect of winning money. The game has a 5x4 layout which makes it fairly simple to understand and laughs come at the same time as wins. In many ways, a game which mocks financial greed should be available to play for absolutely free. Power to the people.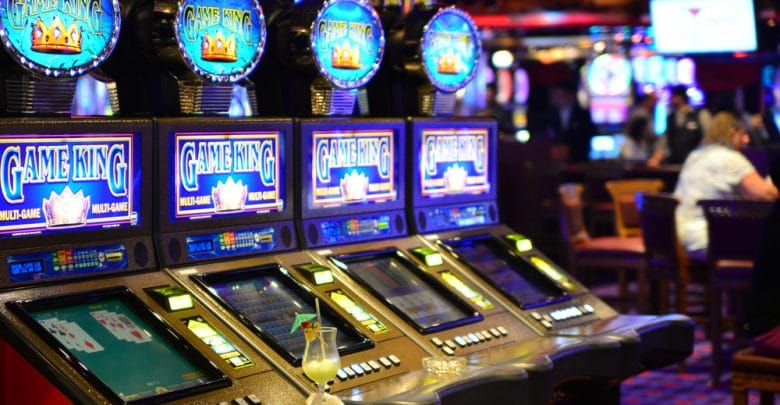 Murder Mystery Slot
Here is another fine example of a slot game with a great theme. Again, Murder Mystery uses a 5 x 4 layout to create what is essentially a very simple and easy to play slot game. The simplicity puts the focus on the creativity of the game, with its theme centred around a rather captivating murder mystery. The game seems to be set in the 1920s - judging by the protagonist who leads the game and their rather unmistakably early 20th-century hat and facial hair combo. He is just one of many characters involved in this murder case, with a rather snooty butler and woman in a red dress also appearing on the reels.
There seems to be more at stake here than a slot game and this is thanks to the really unique narrative and well-delivered theme that is on offer. Murder Mystery is a game developed by Playtech, a company who rode themselves on all of the above. Playtech can be relied on to bring refreshing, original and ambitious themes to the reels. Furthermore, they always make their games accessible as possible. This is achieved with Murder Mystery thanks to its wonderful playability and full optimisation across all major platforms. Whether you play on your smartphone device, a tablet device or simply by desktop, you will get the full experience of Murder Mystery. Great graphics and a superb narrative and theme make this title another great free slot game to try. Even if you do not win any money, the chance of unravelling a mystery and catching a murderer is enough motivation to get you to spin these quite brilliant reels.
Happy Birds Slot
Yeah, so, we have all heard of that game Angry Birds. That global phenomenon that started as an iPhone app, turned into a movie and ended up on Everton Football Club's shirt sleeves? Well, have you heard of Happy Birds? This slot game might not result in a Hollywood movie anytime soon but has ended up being a great online slot game that players can enjoy for the cost of absolutely nothing. A bit of a parody of the more famous Angry Birds, Happy Birds turns the concept on its head a bit and provides some really smiley, happy creatures to play with.
The game uses tropical birds and as such is wonderfully colourful. You can expect to see vivid colours and a blue sky that is perfect for flying in. The layout of the game is an exciting one with 243 ways to win on these reels. The game combines birds and balloons and one of the bonus features involves the latter. The lucky player who activates the mini-game on offer and then shoots the right balloon, popping to reveal a prize, can win up to 138,750 coins. Whether you are playing for money or not, that's an impressive outcome that is not to be scoffed at. This is another free slot game with a good sense of humour and an original theme. It is traits such as these that are so important when playing for free, as money cannot provide the motivation as it does in pay to play slots. That said. Happy Birds does also offer a game in which you can gamble and, if you were to be so lucky, those 138,750 coins could result in a rather large win. Still, free slot games deliver once again with fun titles like Happy Birds. Find other movie slot games!