Piggy Riches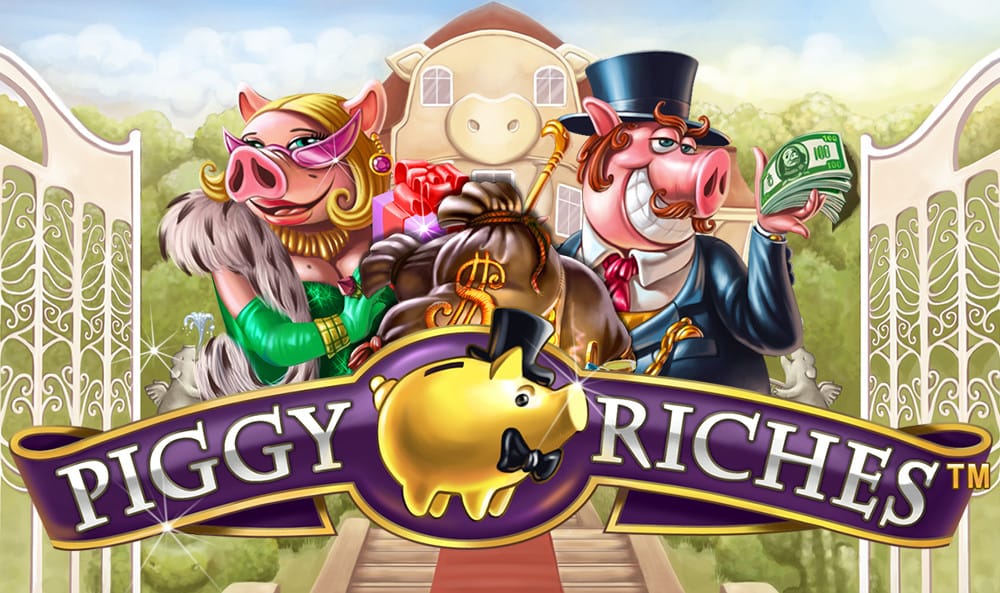 Here's a superb new online slot sites game from NetEnt. Wealth is something that we all strive to accumulate for various reasons. Whether it's for material purposes like buying cars or houses or engaging in the pursuit of the sheer social capital that it will bring. The rich and famous are eulogised throughout culture but some deal with it better than others. Play this amazing slot online games now!
Piggy Riches is a game about a pig who has somehow fell into vast sums of money despite only having the development and brain power to eat hay and roll around in the mud. For some reason this pig has evolved and now possesses a large country estate and wears dapper country suits and has some preened facial hair. Fittingly, the game's logo opts for the purple and yellow vibe with the game's imagery not falling far away enough for any Nigel Farage / UKIP connotations to be made.
Nevertheless, Piggy Riches is a wonderful online slot game from NetEnt that promises to put you on the right tracks to winning a whole load of money and free spins when you spin through the game board filled with a load of gaudy diamantes and piggy banks filled with vast amounts of cash. It seems weird that a pig has a piggy bank but never mind it's still a great slot game.
If you love promo's, get the best UK slot bonuses available.
Quick Links: Diamond Strike | Bonanza  | Jungle Jim - El Dorado | Big Bad Wolf | Irish Luck | Fluffy Favourites Fairground | 3 Genie Wishes | Chilli Heat

NetEnt Slots - Piggy Riches Developer
NetEnt are arguably the leading online slots provider in the industry with over 20 years' experience behind them. They have pioneered a market from its fruition and acted as the driving force behind the success of the industry and many platforms that have been associated with it. The sign of a good developer is visible in the gameplay; You can always tell a NetEnt game by their maker's mark, a certain level of graphics and animation along with an intrinsic eye for detail and subject matter. See below to view a number of Net Ent's latest titles.
Finn and the Swirly Spin
Planet of the Apes
Gonzo's Quest
Eggomatic
Jack and the Beanstalk
Guns n Roses Video Slot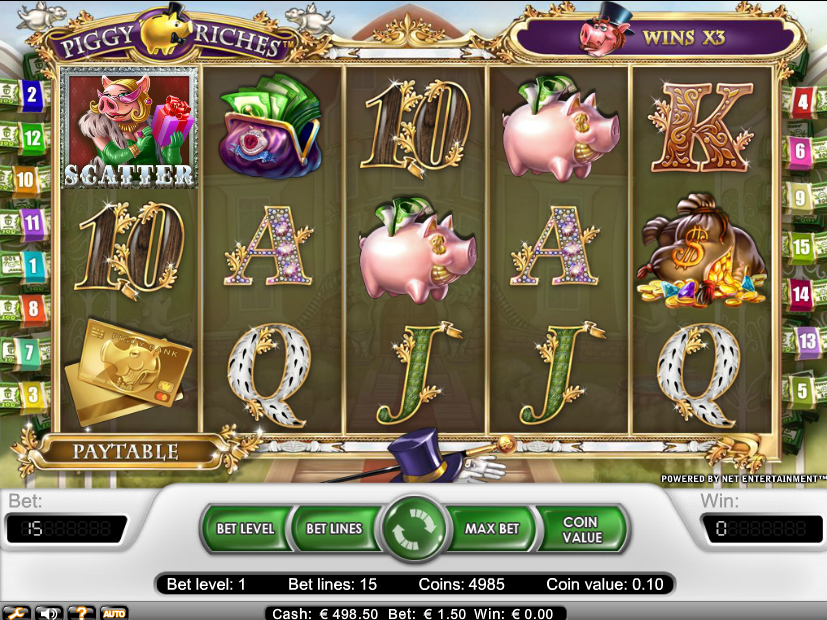 Gameplay on Piggy Riches Slot 
Piggy Riches is a 5 reel, 15 payline video slot where you will encounter some of the richest pigs you'll ever encounter. The pigs of this mansion are 100% prime pork sirloin. Perhaps this is a game that vegetarians and vegans alike will admire, finally pigs are getting the representation they deserve and moving up the social ranks. This game is compatible with Windows, Linux, and Mac computers as well as across all mobile platforms in addition to NetEnt Touch.
Join these debonair pigs in their luxurious mansion and search for bags of gold coins, credit cards, cash and the keys to the pig's wheels. Who knows what sort of car a pig would drive? Who knows why a pig would require a car? Piggy Riches is a dystopian vision of a world to come, the pigs have gotten smarter, the humans have died of consumption and the stock market is ran by Pork Pigs in suits and hats.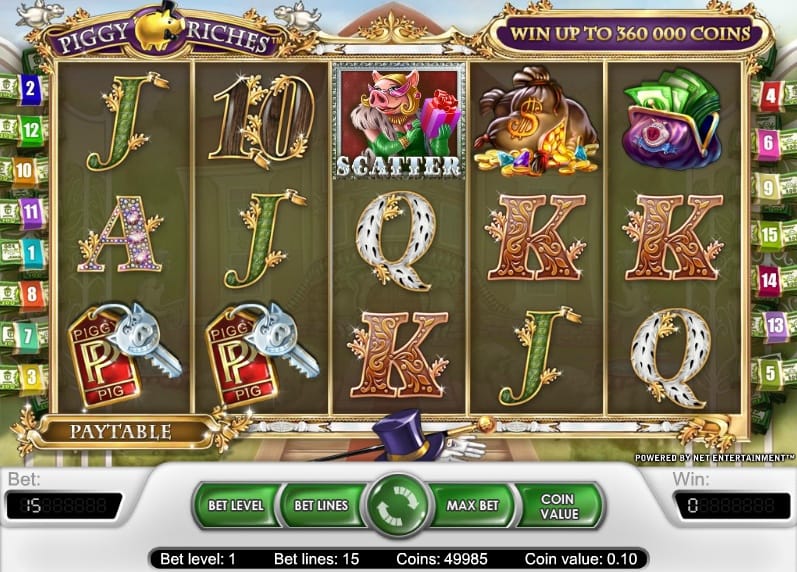 Despite all the surrealism the pigs are happy to distribute the wealth down the chain, offering a more communist approach to the economy. They are the bourgeoises and we are the proles feeding off the mass wealth of generous land owners and philanthropist animals. The game can draw certain connotations to George Orwell's Animal Farm but we'll stop there and get on to talking about the game and the wonderful features and bonuses that it has.
There's a number of features that NetEnt have introduced to make your online slots playing days as enjoyable as possible and Piggy Riches comes with a sumptuous Autoplay feature that allows you to sit back and relax and watch the money roll in. It couldn't be simpler, simply click the autoplay button, choose your spins and wait.
Piggy Riches possesses quite a rare feature in the Stop Spin. The stop spin feature allows the player to click when they want to spin and click when they want to the reels to stop. This enables the players to create custom combinations and requires a certain level of skill to create a combination that rewards the highest payout. There's also a handy pay table that allows greater insight into the winnings available via each symbol accumulated. This can be accessed on the menu pages or mid game via the side bar.
In a similar fashion to most other 5 reel slot games, Piggy Riches features WILDS and SCATTERS that can appear anywhere on the reels and be substituted for any other symbol or accumulated to generate up to 50 free spins at a time. The SCATTER symbol on the game is the astute and respectable female middle-aged pig. Donned in jewels and mink fur drapes she certainly possesses the air of a new money bride. Nevertheless, find 3 of the female pork woman across the reels and you will be rewarded with some luxurious FREE SPINS.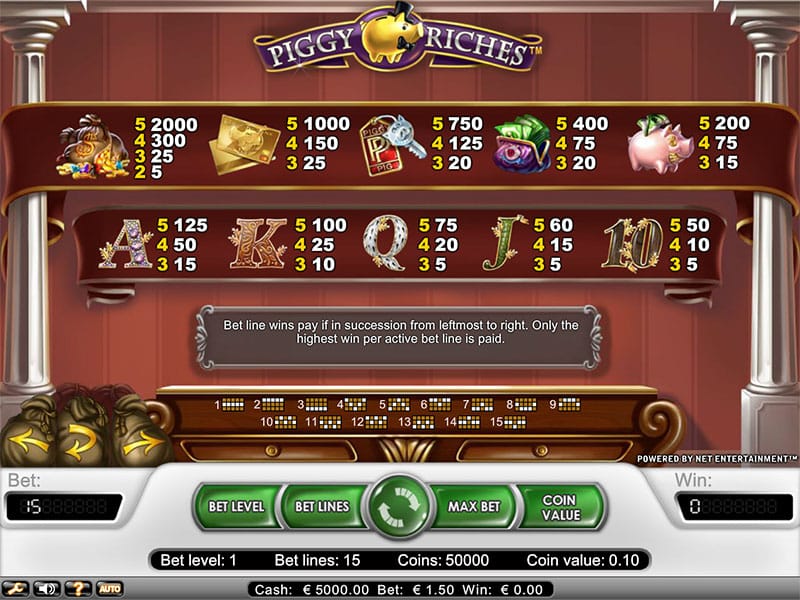 The WILD is of course the master of the house and the protagonist of the game. Chief Pig. Dressed in a dapper suit and holding a cane he is a well-evolved male pig whose desperate to distribute his wealth to the lower echelons of Pig society. Locate and substitute your WILDs for other symbols to amass paylines that put you one first train to victory.
Final Thoughts on this UK slot
NetEnt have done a great job at developing the theme that makes up Piggy Riches. If you're looking for the opportunity to make some new friends and amass some huge wealth, then take a spin on Piggy Riches and meet this welcoming debonair couple. Slots Baby would give this game a solid 9/10. Encompassing a great theme and a depth of gameplay sets this game apart from the rest and cements the slot game in the upper echelons of NetEnt's repertoire. Why not try some of NetEnt's other game's that feature across the site, or if you enjoyed this slot, why not try Foxin Wins.