Fruit Shop Christmas Edition
A very merry version of the classic Fruit Shop slot that you know and love!
Are you as big about Xmas as we are? Then you'll probably find that Fruit Shop Christmas Edition has everything you could look for and more this holiday season. Again this slot comes to you from developer NetEnt, and sports 5 reels and 15 pay-lines full of Xmas fun. When playing only a handful of spins we were able to rake in massive wins in repeat succession. If you happen to be someone who is a massive fan of Xmas ports of some of your favourite online slots, then there should be no reason as to why you haven't yet checked this one out for yourself. Be sure to check out the rest of our written review for more information! Knowledge is power and all that jazz!
About the Developer
NetEnt are synonymous with success, after releasing countless online slots that all make bank in some way shape or form. These guys have worked hard so that players across the globe can have something worth talking about. There is always going to be the cynics, but have they even played a NetEnt slot before? It appears that they are just limiting their experiences in this medium; NetEnt are very gifted at what they do and strive for the best with everything they touch, which just so happens to be the reason why you will want to check out any online slot they create.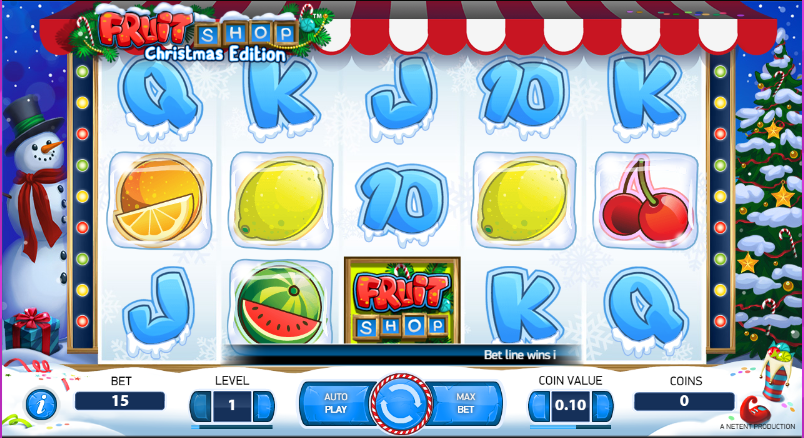 About the Game
Fruit Shop Christmas Edition is everything you remember from the base game only in a somewhat different light. The visuals in this slot do an excellent job in re-creating all of those Xmas vibes that you know and love. You'll still be matching all your juicy favourites from the base game, only they're covered in patches of snow and things of the like. If you are here for the additional features, well NetEnt have got you covered, these features include:
Free Spins: Like in the base game, these free spins come with multipliers that can increase your scores tenfold when used properly. Not only that, but the free spins in this one can be re-triggered when matched in a very specific way.

Wilds: Like in most slots with a fruity flavour, there are wild symbols that will throw symbols around the reels in one continuous motion. They will actually add a big boost to your scores as well as give you more chances to match the scatters outright.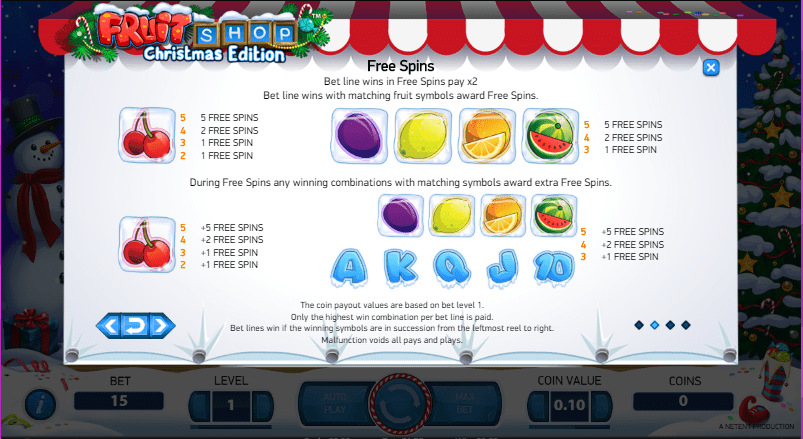 The Verdict
Why you should be playing Fruit Shop Christmas Edition is due to the same reason why you will want to play any online slot: they're fun and they can pay-out massive amounts of cash in one go! The more you play of this slot the more money you'll earn, be sure to check out Fruit Shop Christmas Edition if you're looking to ring in the new year with a wad of cash in your hand!