Fishin Frenzy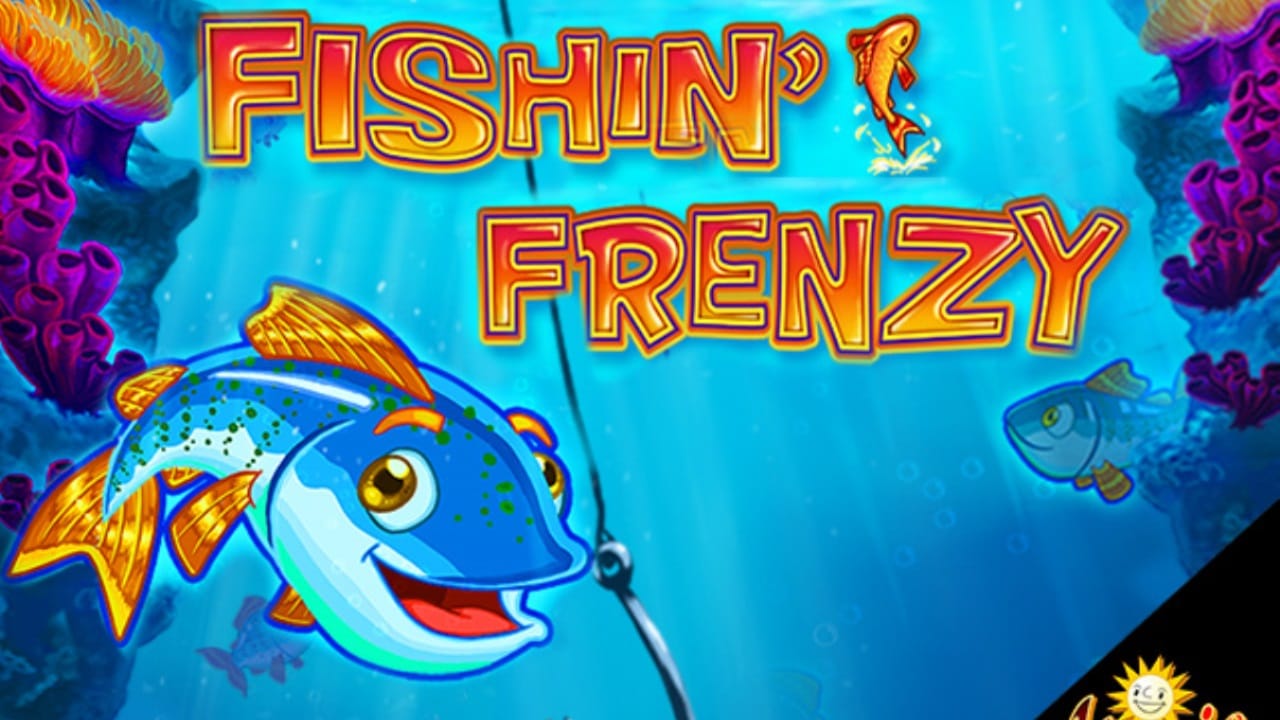 If you're a lover of fishing or sea life, this video slot game presents you the opportunity to experience that again.
This time, you don't have to leave your house to the sea, but you can experience it right there in your home with Fishin' Frenzy one of the exciting new slots!
Fishin' Frenzy was first released in September 2014 by Reel Time Gaming. It was recently licensed out to Merkur and Blueprint Gaming whose versions have slight differences. It is still one of the most played games in many online casinos. It was first created for playing at land-based casinos but the developers took the extra step to design an online version.
From the name of the game, one can tell that it is a fishing-themed slot. It gives you a sense of relaxation and peace like you feel when on the sea. The realistic sound effects and the natural look make it look so real. It immerses you in a lagoon of blue-colored waters which is surrounded by coral.
Fishin Frenzy online slot has 5 reels, 3 rows, and 10 pay lines. It comes with wilds, scatters, free spins, and a bonus feature. You are presented with the opportunity to win a payout of up to 5,000 times your total bet. This generous payout, the excitement, and the fun the game brings is what makes it loved and chosen by many players. Click to view slots games online!
Quicklinks: Fiddle Dee Dough Slot | White Wizard Slots | Rio Bingo | Forest Mania | Burning Desire Slots | Rainbow Riches Pick n Mix | Rainbow Riches | Tornado Farm Escape

Reel Time Gaming - The Developer Of Fishin Frenzy Video Slot
Since its inception in 2009, Reel Time Gaming has released numerous popular casino games played around the world with the use of fantastic casino offers. The company is a highly prolific one founded in Queensland Australia where the headquarters is located. With about 50 developers forming a formidable team, they have created over 100 titles of games.
The company started off developing land-based gaming cabinets, giving its slot machines to players within the brick and mortar sphere. The land-based platform called "Game rings" features up to ten different slot machines of different styles. These slot machines are available in each land-based terminal.
Despite its success with land-based games, Reel Time Gaming did not stop there. The developers made sure the games came online. It struck a deal in 2013 with GameAccount Network (a leading distributor of online video slot games in the Europe world) to introduce its slot machines into the online world. Reel Time Gaming's partnership with GameAccount helped them distribute their slots to many countries including Spain, Italy, Uk, and others.
The slots are usually developed with HTML5 and they are of different themes and levels of variance. Most of their slots are 5 reels video slots and they feature exciting themes and amazing bonus features. Looking at the slots will make you think there's nothing special about them, only to find unique and rewarding features when you start to play.
Reel Time Gaming have been proven to understand online casino gaming as they always work on improving to meet the players' preferences. One way this is done is by releasing products of high quality. They also understand that some players love to familiarize themselves first with the games before playing for real money. Therefore, they have free play versions available for most of their slot games. You can always play first without having to deposit and without making any cashout.
However, to play most of their games, you need to have flash player installed on your browser. You may not be able to play without that.
The company has about 20 slot titles apart from Fishin' Frenzy. Some of the popular slots are:
Fruitinator
Triple Flame
The Diamond Game
Trophy Tycoon
El Torero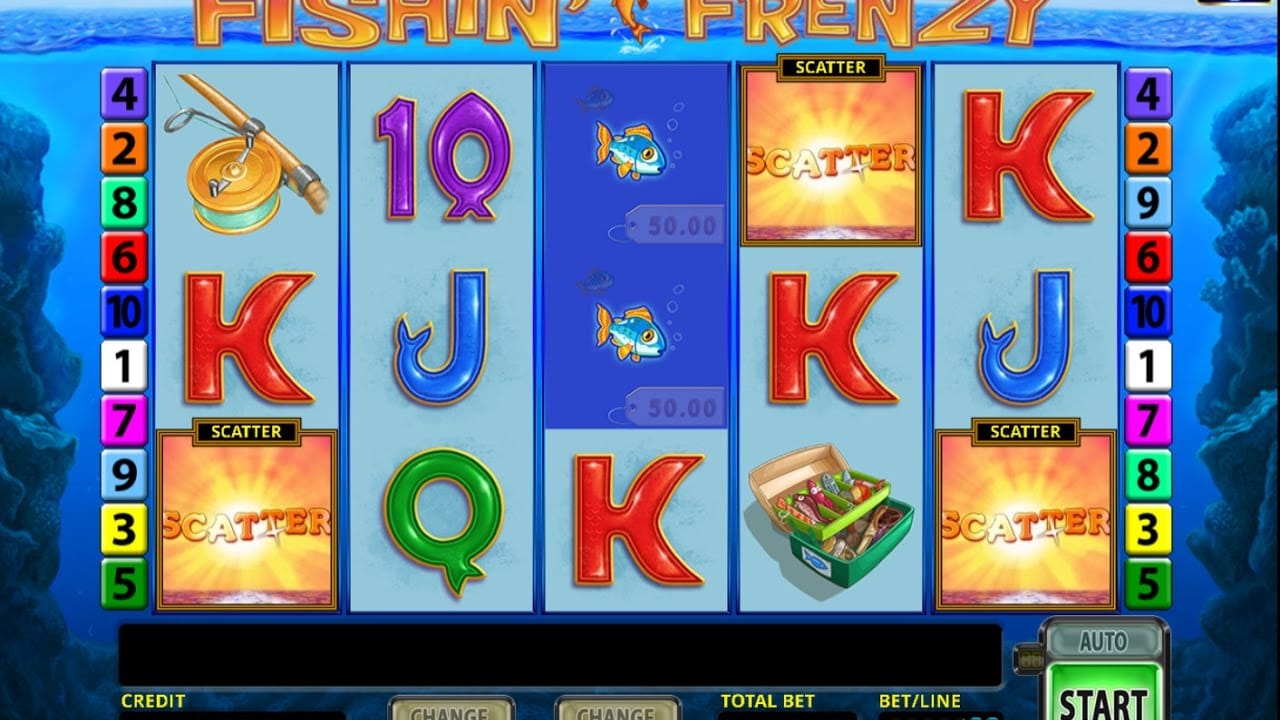 About Fishin Frenzy Casino Game
Fishin' Frenzy comes with great graphics and amazing visuals like a lot of the new free slot games. The game feel and look of the game is designed to make you feel relaxed and have fun. The animations are also beautiful and they pop out whenever you make a winning combination.
The quality of visuals and graphics is the same even on the smallest screen size. The coral reefs are well detailed and there are rays of sunlight penetrating the surface to turn the water to a beautiful blue color.
The return to player rate of this slot is 96.12% which is slightly above the Industry's average. It has a low to medium variance which means you get the opportunity to make many smaller wins and some bigger wins.
It was designed by Reel Time Gaming with JS/HTML5 and for now, this version can only be played on desktop. It is uncertain if it is supported on mobile phones.
The free play/demo mode is also available for play on several sites. The free play version is played just like the real game. You only would not need to deposit real money to play the free play version. You also cannot make any payout in the free play version. All you get is experience and an opportunity to familiarize yourself with the game.
Most of the game symbols are related to fishing, all represented in bright and attractive colors. The symbols are actually what makes the game a real fishing-themed slot. They consist of high paying and low paying symbols, just like many other games. We have the fish, the box of bait, the life ring, the fishing rod, and the pelican. We also have the generic card symbols: A, K, Q, J, and 10.
To make a win, you have to match at least three of the low paying symbols. You also match 3 of the high paying symbol, except for the Pelican symbol which can give you a win when you match only two. The generic card symbols are the low paying symbols of Fishin Frenzy. Here is a breakdown of payout you receive for matching each symbol.
Card Symbol 10: No win for matching 2, 5 times your bet for matching 3, 25 times your bet for matching 4, and 100 times your bet for matching 5.
Card Symbol J: No win for matching 2, 5 times your bet for matching 3, 25 times your bet for matching 4, and 100 times your bet for matching 5.
Card symbol Q: No win for matching 2, 5 times your bet for matching 3, 25 times your bet for matching 4, and 100 times your bet for matching 5.
Card Symbol K: No win for matching 2, 5 times your bet for matching 3, 25 times your bet for matching 4, and 100 times your bet for matching 5.
Card Symbol A: No win for matching 2, 5 times your bet for matching 3, 25 times your bet for matching 4, and 100 times your bet for matching 5.
Fish Symbol: No win for matching 2, 10 times your bet for matching 3 fishes, 50 times your bet for matching 4, and 200 times your bet for matching 5.
Box of bait symbol: No win for matching 2, 20 times your bet for matching 3, 100 times your bet for matching 4, and 500 times your bet for matching 5.
Life ring symbol: No win for matching 2, 20 times your bet for matching 3, 100 times your bet for matching 4, and 500 times your bet for matching 5.
Fishing rod symbol: No win for matching 2, 30 times your bet for matching 3, 150 times your bet for matching 4, and 1000 times your bet for matching 5.
Pelican symbol: 5 times your bet for matching 2, 50 times your bet for matching 3, 200 times your bet for matching 4, and 2000 times your bet for matching 5. The Pelican is the highest paying symbol of Fishin' Frenzy.
Before you get the chance to make matching combinations or even spin the reels, you have to start by setting your wager. You choose the number of paylines you want to make active. You can activate as low as only one payline. All you need is to select the number of paylines with the buttons available.
We have wager options of 0.01, 0.02, 0.05, 0.10, 0.20, 0.50, and 1.00 coins. This means the minimum and maximum total amount you can wager are 0.01 and 10 coins respectively.
Just underneath the bet button, there is the settings button. Clicking the setting buttons gives you options to get the instructions and rules of the game and details of the symbols. You can also set the sound option. You will find the "Spin" button on the right side of the reels. Clicking this "Spin" button sets the reels in motion. You also have the chance to set the number of spins and leave the reels to spin automatically without interruption. That is done by clicking the "Autoplay" button which is underneath the spin.
Free Spins And Bonus Features
Apart from the decent wins by the regular symbols in this video slot, there are still scatter and wild symbols. The scatter symbol is represented by the fishing boat sailing into the sunset. The wild symbol is represented by the fisherman and he awards you some lovely wins when it is matched.
In the base game, the fisherman substitutes for all other features in the game except for the fishing boat. When you get five of the wild symbols on an active payline, you receive a payout of about 5000 times your bet.
Adding to the fun and excitement of the game are the bonus features. The first is the free spins feature which is activated by landing the scatter symbols. Landing three scatters gives you 10 free spins, landing 4 scatters gives you 15 free spins and landing 5 scatter symbols gives you 20 free spins.
It doesn't just end with the free spins, there's more to this feature. When you land the fisherman symbol during the free spins round, the fisherman catches some little fishes which give you cash prizes. You can get up to 50 times your total bet for each fish caught by the fisherman. Unfortunately, the free spins feature cannot be re-triggered in Fishin Frenzy.
You also have the opportunity to multiply your wins in the Gamble feature. It is presented to you whenever you land a win. Regardless of the wins acquired, they can be multiplied in this feature. All you need to do after making a win is click on the "Gamble" button. Clicking takes you to the feature where you have the chance to double your wins or quadruple your wins.
After clicking, you will be shown a couple of different options. The first option gives you a 50% chance of winning, you will have to select a red card or a black card. When you choose red and the option indeed reveals a red card, your wins would be doubled. However, when the opposite of what you chose is what is revealed, you will have to forfeit all your wins.
You can also take it to another gamble level where you can quadruple your wins. This level gives you a 25% chance to win. You have only one option of guessing the suit of the card that will appear next, there are four different choices you can make. When you guess correctly, it awards you with 4 times your wins. The two options in the gamble feature can be done up to four more times after the initial gamble.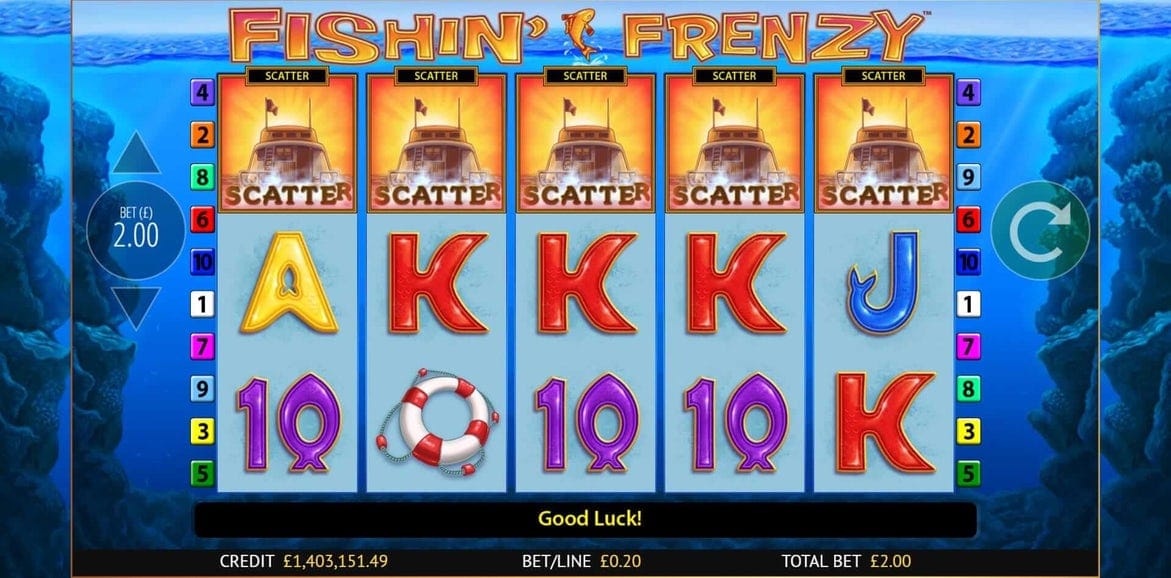 Last Thoughts On Fishin Frenzy Video Slot
This game has been done so excellently by Reel Time Gaming. Everything about the game: the theme, the reels, the symbols, and even payouts are so on point. The design is also great, allowing you to use the controls easily and enjoy smooth gameplay.
Fishin Frenzy will get you immersed and keep you entertained. The only downsides of the game might be that the background looks a bit dated and the lack of numerous bonus features. However, this is still not enough to make the game less exciting than it is. The free spins available and the amazing fisherman wild makes it a perfect game for all fun lovers.
This video slot is not the only slot game with a fishing theme but it's simple and straightforward gameplay and features make it unique. With 10 paylines, a bonus feature, free spins, and a gamble feature, you can have an amazing time fishing and having fun in this Fishin Frenzy slot.
But if fishing themes are not your cup of tea, and you are looking for something with a more traditional theme, why not give the Eye of Horus Slot with an exciting Egyptian theme.