Eye of Horus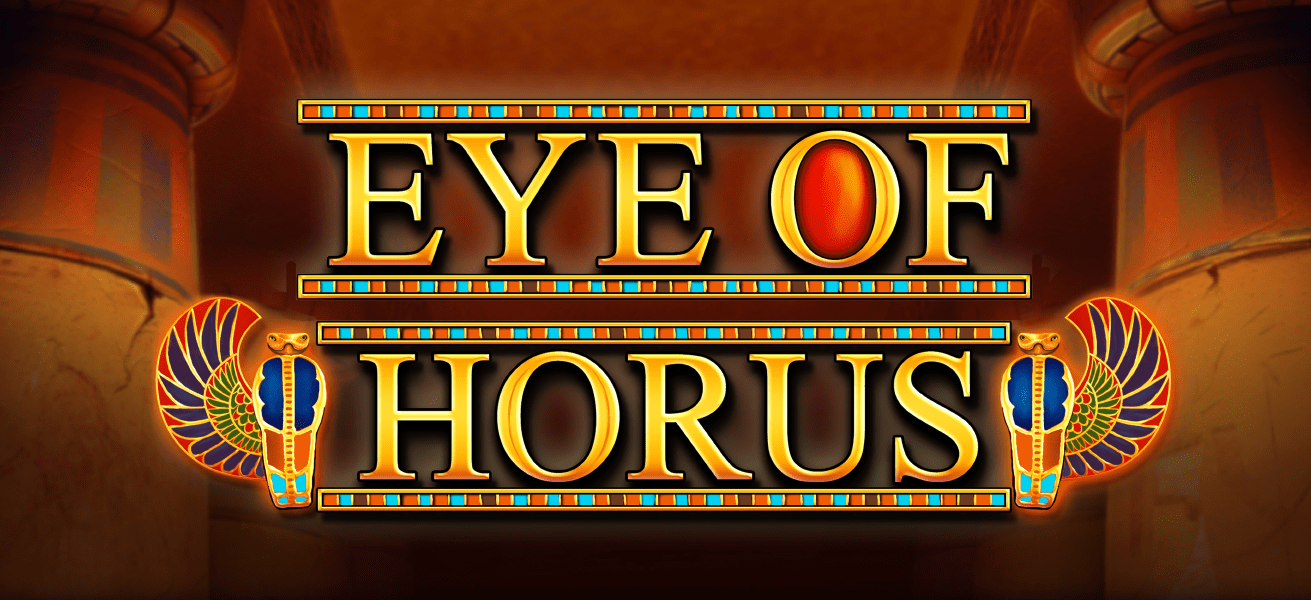 Eye Of Horus online slot is one very popular slot game played around the world.
The Eye of Horus slot machine was designed by Merkur Gaming Company and released in 2016. It provides players an exciting experience and smooth gameplay. The amazing graphics and visuals make it the favourite of many game players around the world. This new slots consists of 5 reels and 10 pay lines with many rewarding and interesting features.
The theme of the slot is Ancient Egypt and it is based on the powerful god named Horus. Horus whose parents were Isis and Osiris was worshiped in the form of a falcon. His father served as a King in Lower Egypt before he died. Horus' father was killed by Seth, the god of violence and disorder. Horus in trying to take revenge for his father's death lost his left eye in a fight.
Another god called Thoth healed Horus left eye and transformed it to Wedjat, a magical amulet. Horus took control of Egypt and ruled. His eye was known as an icon of health, healing, good luck, and protection to those who wore the amulet. Click to view slots games online.
In one myth, Seth and Horus were fighting for the throne after the death of Osiris when Seth took out Horus' left eye. When Horus' eye was returned by Thoth, Horus tired to offer the eyes to his father in hopes of bringing back his father to life. The eye hereby also signifies sacrifice and restoration. Therefore, the eye symbol is one of the powerful symbols in the game.
The game will require you to snatch the treasure from the Egyptian Sun God. This Sun God takes you through the journey in the magical land.
In 1989, a computer game of this same title was published by Fanfare for Amiga which is a brand of personal computers. The computer game featured Horus with the mission to find pieces of his father and assemble them, so as to defeat the evil enemy, Seth. Years after, Merkur Gaming decided to bring this game into the gambling world, for you not to only have fun but also to get rewarded.
You have the opportunity to make multiple winning combinations with the ten paylines and receive decent payouts. The game also includes free spins, two gamble features, scatters, and wilds. It has no multiplier feature.
Get ready to take advantage of our brilliant casino promotions and enjoy an adventure in Egypt with Horus and experience a thrilling gaming experience.
Quicklinks: Fiddle Dee Dough Slot | White Wizard Slots | Rio Bingo | Forest Mania | Burning Desire Slots | Rainbow Riches Pick n Mix | Rainbow Riches | Tornado Farm Escape

Merkur Gaming - The Developer Of Eye Of Horus Video Slot
Merkur Gaming is a casino games developer based in Lubbecke, Germany. The company carries out its work with passion, innovation, and creativity when creating new slots games. It is a subsidiary of the popular Gauselmann group known for its high relevance in the world of casino machines and gaming.  Currently, the Gauselmann Group employs over 13,000 people in more than forty countries of the world. In 2018, they generated a business volume that surpassed EUR 3.6billion.
Merkur was founded in 2005 when it began to make casino gaming systems. The company provides reel machines, video lottery terminals, multi-games, cabinets and jackpot systems. Though still a developing company, they have created many exciting and interesting slots over the years.
The company is fully dedicated to its customers. It ensures the operators and game players have everything in order. It has increased over the years and created several physical gaming machines, casinos, and facilities for amusement. It's physical gaming structures are not only limited to Germany, but they have also spread out of Germany.
Though they have now added online slots to their portfolio, they never stopped creating land-based games. They recently launched a smart jackpot system named Jackpot rain. It is a 3-leveled mystery jackpot with a rain feature. It brings more jackpot winners and more fun, excitement, and action.
Merkur Gaming slots are usually very creative, imaginative, and innovative. They are created mostly in full HD quality, which ensures every game player enjoys a good gaming experience. The slots have good graphics and design concepts with great bonus features.
The themes are usually unique and well thought about. They have plenty of titles to suit the tastes of numerous players. Most of these slots have 5 reels and 3 rows but there are some titles with 3 reels, some with 4, and some with seven reels. The developers have a particular game titled "Beat The Devil" which has only one reel.
The company seems to focus more on providing entertainment and fun for game players rather than huge wins. Their betting limits and payouts are usually small. Most of the slots are created with low variance, intended to offer lower payouts to players more frequently. However, many players love their games for this reason. They also have popular games that come with a high variance.
Other Merkur games you can play include:
El Modinador
Golden Mechanics
Spirit Of The South
221B Baker Street
Electric Burst 20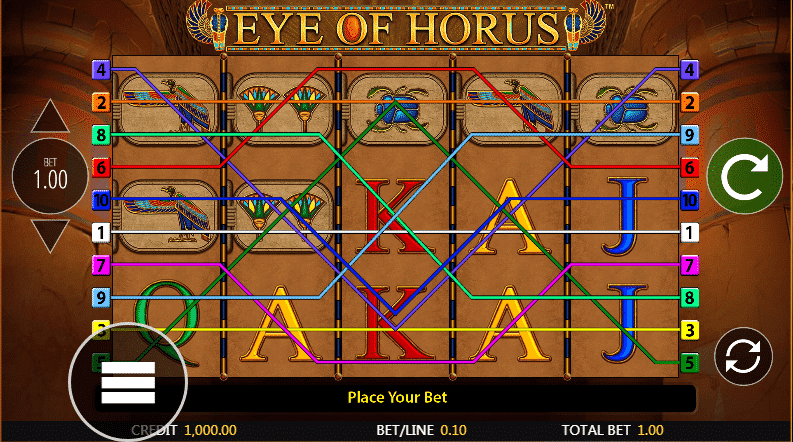 About the Eye Of Horus Casino Game
Eye of Horus has 5 reels and 3 rows like many other regular slots. It has a neat and clean design that makes the gameplay smooth. The reels are set against an ancient pyramid walls background. The whole design shows some important things which make you feel you are in Egypt. The soundtrack is also a perfect fit and keeps you in tune with the game.
Betting Options
The controls can be seen at the bottom of the game. You are allowed to make a choice between coins of values 0.01, 0.02, 0.05, 0.10, 0.20, 0.50, 1.00, and 2.00. This button is found on the left-hand side. Just beside it is the button to select the number of paylines to activate. You can activate one payline up to all ten paylines. The next button after that gives you the option of placing the maximum bet instantly. The minimum total bet for the game is 0.01 coin and the maximum is 20.
The spin button is on the right-hand side and there is an "Autospin" button just before it. You can set up to 100 reel spins to go on automatically without interruption. At the top right-hand corner is the button for the paytable, beside it is the button to show instructions for the game and also a button to adjust the sound.
Eye of Horus video slot is simple and easy to play but has catchy symbols that offer you chances to win big.
Symbols & Payouts
The video slot contains colourful and well-represented symbols such as a blue scarab, two lotus, two ankhs, a sphinx, the Bennu(a phoenix-like bird), the mysterious eye of Horus, generic card symbols (A, K, Q, and J), and Horus the deity (symbolized with a bird). The lowest paying symbols are the card symbols. You can get a payout when you match any three of the symbols. The payouts are as follows:
Card Symbol A: 0.1 times your bet for matching 3, 0.4 times your bet for matching 4, and 2 times your bet for matching 5
Card Symbol K: 0.1 times your bet for matching 3, 0.4 times your bet for matching 4, and 2 times your bet for matching 5
Card Symbol Q: 0.1 times your bet for matching 3, 0.4 times your bet for matching 4, and 2 times your bet for matching 5
Card Symbol J: 0.1 times your bet for matching 3, 0.4 times your bet for matching 4, and 2 times your bet for matching 5
The Two Ankhs: 0.2 times your bet for matching 3, 1 times your bet for matching 4, and 4 times your bet for matching 5
The Two Lotuses: 0.2 times your bet for matching 3, 1 times your bet for matching 4, and 4 times your bet for matching 5
The blue scarab: 0.4 times your bet for matching 3, 2 times your bet for matching 4, and 5 times your bet for matching 5
The Bennu: 0.4 times your bet for matching 3, 2.5 times your bet for matching 4, and 6 times your bet for matching 5
The Sphinx: 1 times your bet for matching 3, 4 times your bet for matching 4, and 8 times your bet for matching 5
The Golden Pyramid: 0.40 times your bet for matching 3, 4 times your bet for matching 4, and 10 times your bet for matching 5
Eye Of Horus: 2 times your bet for matching 3, 5 times your bet for matching 4, and 10 times your bet for matching 5
The Horus represents the wild symbol and it substitutes for all other symbols on the reels except for the scatters (the pyramid). This means you have plenty of chances to get rewards from all the hidden treasures in the game.
Free spins Feature
The free spins feature can be activated when you make a matching combination of the golden pyramid scatters. Matching 3 scatters awards you up to 12 free spins. If you land the Horus symbols during the free spins, you get more free spins. Landing 1 Horus symbol will give you 1 free spin, landing 2 gives you 3 free spins whilst landing 3 gives you five free spins.
Additionally, landing the Horus during the free spins feature upgrades the value of low-value symbols. These symbols include the lotuses, the ankhs, the blue scarab, the Bennu and, the Sphinx. This means, for example, if you land the ankhs symbol, the value is paid out is that of the blue scarab which is higher than it. This helps to increase your wins.
The Gamble Feature
Eye Of Horus slot game comes with two additional gamble features. You get the chance for this gambling feature whenever you make a winning combination. You can choose to bet your total wins or just half of it. The feature is not available during the autospin mode.
The two options in this feature are the Card gamble game and the Ladder gamble game. For the card gamble game, you will be required to guess the colour of a hidden card. You have red and black buttons to choose and you select which one of the two you think is the hidden colour.
On the other hand, the Ladder gamble feature requires you to step higher or lower on the ladder. This is done by clicking the gamble tack with a ladder symbol. Before taking any of these gamble features, prepare in your mind to lose. It's a 50/50 chance. You might just want to walk away if you can't bear the risk.
RTP & Volatility
The RTP of the slot is 96.31% and a house edge of 3.69%. The variance is medium and many game players have no issue with it.
House of Horus Slot On Mobile
In case you're wondering if this slot game can be played anywhere and at anytime, the developers took care of this. The slot is available for play on any type of device, be it PC or mobile. It is developed with HTML5 and can play smoothly on your browser, as long as you have a good internet connection. It works on Androids, iPhones, iPads, tablets, and Windows.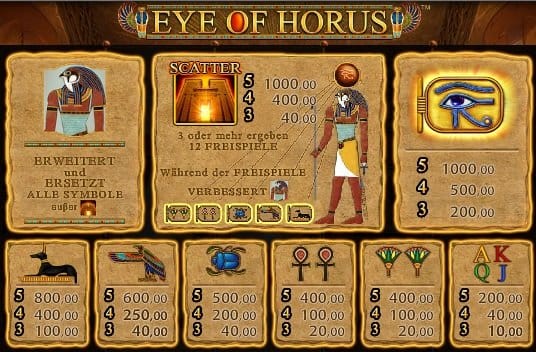 Last Thoughts on Eye Of Horus Video Slot
Eye Of Horus video slot is definitely one of those games that ensures the game players have no dull moment. It can be easily played by all, whether novices or experts.
They are also many things which interest players about the game. These include the adventurous Egyptian theme, the myths and historical storyline, and pharaoh's treasures. It is full of surprises and explorations that will spark your imagination.
To increase your chances of winning big, you can activate all the paylines. Also, make sure you manage your bankroll well. Gamble responsibly and don't play under pressure but for fun.
If you like us, simply cannot get enough of Egyptian themed slots, then I strongly recommend you try out the Book of Gold: Double Chance Slot here at Slots Baby!
*All values (Bet Levels, Maximum Win, etc.) mentioned in relation to this slot game are subject to change at any time