25 Card Cash
25 Card Cash is a brilliant new slot game from the team over at IWG Gaming. Many of you may already be familiar with the set up of IWG games in the sense that many of them take the traditional scratch approach. What's even more true is that 25 Card Cash is perhaps the best scratch variant to hit the market.
It's classy, simple, and offers easy winnings. At the beginning of the game, you will be offered 25 cards that will lie face down. As you proceed in the game you must reveal the colour and suit of each individual card and search for clusters or combinations among the game board. Matching combinations can of course turn your bank balance into a lucrative pot of joy. Try your luck on this IWG classic.

The developer of 25 Card Cash
IWG, otherwise known as Instant Win Gaming are the leading source of instant win slot games across the globe. Their titles are renowned classics between the British Isles and throughout far gone reaches of China. IWG's expertise falls within your standard instant win scratchcards that we know and love all the way up to intense lottery games.
With over 10 years of experience operating within the gaming industry IWG offer consultancy and design services that have been achieved through years of work. Boasting over 250 games in their repertoire, IWG is certainly one of the fundamental players in the instant games market. You may have played one of their games before:
Monopoly
Fast Buck Lucky
25 Card Cash
And many, many more.
Gameplay on Card Cash Slot
25 Card Cash is both simple and traditional, it offers a card-playing experience while transcending the borders of an instant win experience. Look out for the Gold Card, a mainstay of the IWG experience, turning over this card from the deck will be sure to earn you some very nice cash rewards.
When you begin to play this instant you'll be greeted with 25 cards facing down. Set your stake and begin to flip the remaining cards. It truly is as simple as that. Work your way through the gameboard searching for those hidden combos and if you match three, four, or even 5 identical symbols in vertical, horizontal, or even diagonal patterns you will win the prize that equates to the value in question.
If you're a spoil sport and looking for a quick fix then there's also a handy reveal all button that will instantly reveal the identities of the cards, thus showing you immediately if you've won or not. The aforementioned GOLD CARD will promote you to the bonus table where you can take a spin on the prize wheel.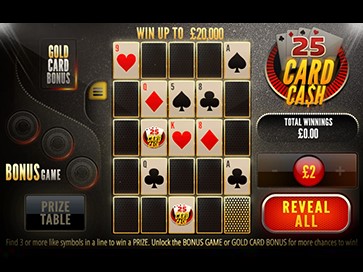 Final thoughts of 25 Card Cash
25 Card Cash is certainly an instant classic from the team over at IWG and long may they claim the mantle. This is very much a game of chance, but we know that's what you like. Take a spin today and hope to find that ever sought after gold card. Good Luck!